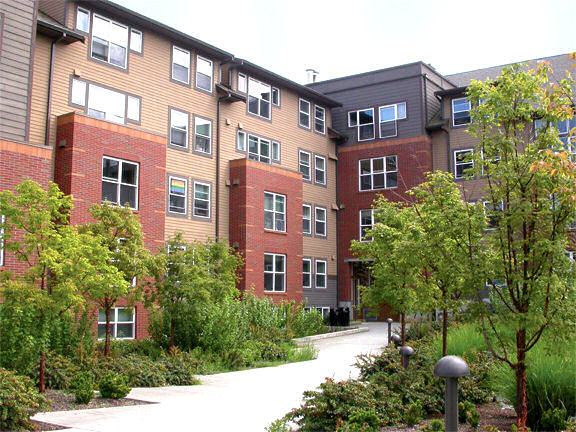 Welcome to South Hall
South Hall is an apartment-style complex, located on the south edge of campus.  The hall has a view of the Olympic Mountains to the west and Mount Rainier to the east.
Upper Division Eligibility and Policies
Students interested in living in an Upper Division Learning Community must be either 20 years old or have achieved 60 credits before September 1 (for the full academic year) or February 1 (for Spring semester).
South Hall residents are not required to have a meal plan and must sign up for one through Dining Services.
Students who are 21 or older may have alcohol in their room under certain guidelines. Please refer to the South Hall Alcohol Policy for more information.
Apply to Live in South Hall
South Hall is a highly sought after building and has a limited number of each apartment type. South Hall assignments are made during Spring semester as a part of the Upper Division Room Selection Process.
Contact Information
Community Director:
TBA
CD Contact Number:
CD Email:
TBA
Front Desk:
253-535-7857
Mailing Address
Student Name
South Hall, Student Room Number
Pacific Lutheran University
Tacoma, WA  98447
Hall Amenities
Wifi available throughout the building 

Centralized laundry room

Multiple lounge spaces 

A large main lounge with comfortable seating and study tables
A smaller lounge with ping pong table

Front desk (limited operating hours)  

Mail services will deliver envelopes and packages to the hall front desk for convenient pick up

Students may check out cleaning (mops, vacuums, brooms) and cooking  (pots/pans) supplies as needed

Fitness Room
Elevator and stair access to all floors of the building
Apartment Styles
South Hall has a single and multi-bedroom apartment layouts including:
Studios of varying sizes [categorized into Studio A, B, and C based on square footage]
One, two, and five bedroom townhouses
Two and four bedroom apartments
Apartment type costs can be found on our Rates and Dates page.
Married Housing
The Lofts in our apartment style residence hall, South Hall, offer housing for students who are married.  Family student housing is unfortunately not available. Assignments are typically made in February for the following Academic Year.  If you are either married or planning on getting married, email us at rlif@plu.edu with your questions.