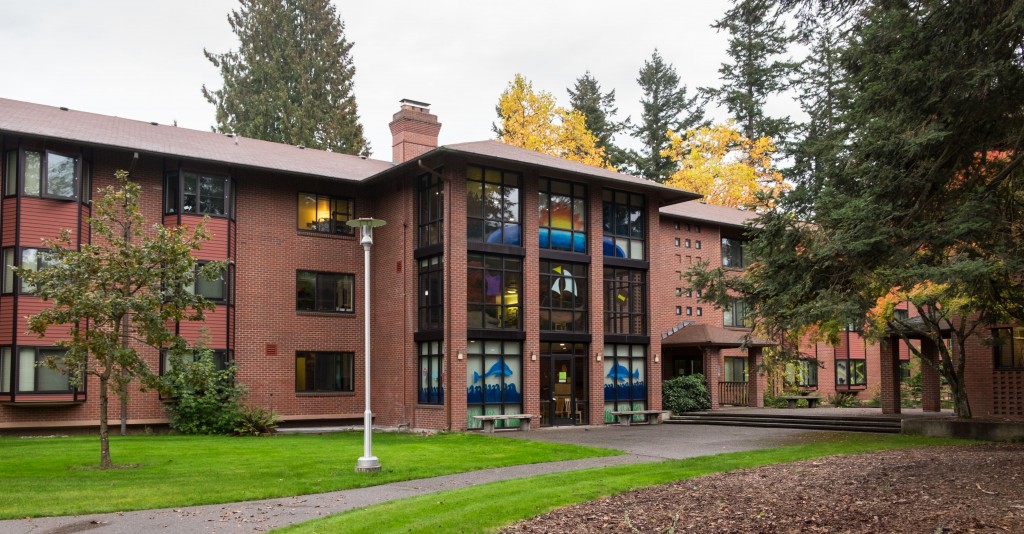 Welcome to Stuen Hall!
Stuen offers more privacy, independence and a discounted rate for upper division residents. Stuen tends to be more quiet than other halls, and its residents have the same type of independence that South Hall or off-campus residences offer, yet still provides the traditional-hall on campus experience.
Location
Stuen Hall is located on upper campus and is next to Hauge Administration building. In either direction, students can easily access Ingram Hall or the Library. Not too far away, students can make late night runs to the University Center at OMM or can enjoy a concert at the Mary Baker Russel Music Center.
Upper Division Eligibility
Students interested in living in an Upper Division Learning Community must be either 20 years old or have achieved 60 credits before September 1 (for the full academic year) or February 1 (for Spring semester).
Stuen Hall residents are eligible to choose a reduced Meal Plan E.
Students who are 21 or older may have alcohol in their room under certain guidelines. Please refer to the Stuen Hall Alcohol Policy for more information.
Contact Information
Community Director:
Dream Gonzales
CD Contact Number:
253-535-7700
Email:
dgonzales@plu.edu
Front Desk:
253-535-7726
Mailing Address
Student Name
Stuen Hall, Student Room Number
Pacific Lutheran University
Tacoma, WA  98447
Hall Amenities
Wifi available throughout the building 

Centralized laundry room

Communal kitchens throughout the hall with microwave, stove/oven, and refrigerator

Front desk (limited operating hours)  

Mail services will deliver envelopes and packages to the hall front desk for convenient pick up

Students may check out cleaning (mops, vacuums, brooms) and cooking  (pots/pans) supplies as needed

Gender-inclusive bathroom facilities that feature increased privacy with stall dividers extending nearly from floor to ceiling
Lounges with seating and large TVs
Game room in the basement
Tap card access to resident rooms
Room Furnishings
Rooms will be set up in a single-double configuration and come furnished with the following furniture
One twin-XL mattresses and bedframes

Two desks with chairs

Two built in bookshelves

Two dressers with shared vanity

Two closets

One trash and two recycle bins
Room Styles
Stuen rooms are all single-double occupancy rooms, meaning that they are designed for two students but have only one student occupying the room. All Stuen rooms are billed at the upper division room rate listed on our Rates and Dates page.