With Hong Hall being temporarily closed, pending renovation, the Global Community has relocated to Kreidler Hall until further notice!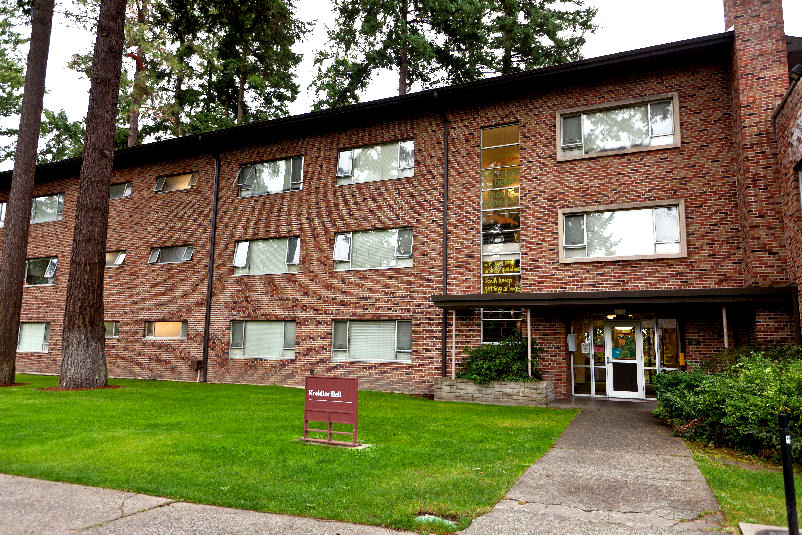 Welcome to Kreidler Hall!
Kreidler Hall is known for its small, tight-knit community of students with zest for fun and learning. It is an incredibly welcoming hall that creates a supportive home and a hopeful environment, challenging residents to become fluent in languages and conversant with international issues.
Learning Communities
Kreidler Hall is home to the Hong Global Community. 
Within the Hong Global Community, there are 6 sub communities, including:
Language focused wings

International Honors (IHON) Wing
Global Studies Wing
Location
Kreidler Hall is a central location on upper campus. Located right next to Mary Baker Russel Music Center, Ingram Hall,  this building is also only a short walk from the Hauge Administration building, Library and Karen Hille Phillips Center for Performing Arts. Kreidler is also next to a staircase that leads right to Rieke Science Center and the rest of lower campus.
Mailing Address
Student Name
Kreidler Hall, Student Room Number
Pacific Lutheran University
Tacoma, WA  98447
Hall Amenities
Wifi available throughout the building 

Centralized laundry room

Communal kitchens throughout the hall with microwave, stove/oven, and refrigerator

Multiple lounge spaces

Front desk (limited operating hours)  

Mail services will deliver envelopes and packages to the hall front desk for convenient pick up

Students may check out cleaning (mops, vacuums, brooms) and cooking  (pots/pans) supplies as needed

Kreidler is home to the Language Resource Center, including in-hall tutors and a language media center
Two study rooms
Room Furnishings
Rooms will be set up in a double-occupancy configuration and come furnished with the following furniture
Two twin-XL mattresses and bedframes

Option to loft bed 

Two desks with chairs

Two built in bookshelves

Two dressers with shared vanity

Two closets

One trash and two recycle bins
Room Styles
Kreidler Hall is comprised of double-occupancy rooms that are identical in size and layout across the building.