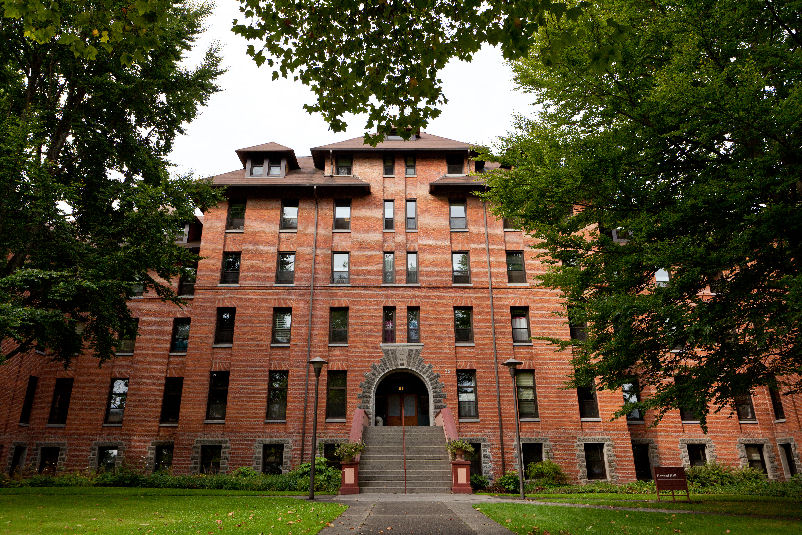 Intimate, unique, friendly. All describe Harstad Hall.
Harstad Hall is the most historic building on campus, named after Bjug Harstad, PLU's founder and first president. Harstad Hall housed the entire university from 1894 to 1912. Today, this community is home to the Women's Empowerment and Gender Equity Learning Community (LC), promoting this theme through programming, activism, education, leadership opportunities, and reflection.
Some programs that women have been able to experience in Harstad have been: Women's Empowerment and Health, Themed Craft Nights, Cookies and Careers: Being Hired as a Woman, and our annual all campus event, PlayDate!
Harstad has some of the largest rooms on campus, with varying room sizes that add character to the five story hall. It is conveniently located between the library, University Center and Garfield Street, which is home to numerous stores and restaurants. Living in Harstad is being a part of the entire PLU and Parkland Community!
WiFi throughout the building
Harstad rooms vary in shape and size, with some rooms boasting high ceilings and unique layouts
There are a variety of room types in Harstad, including designed single rooms, double rooms and a single room with bath
Laundry rooms are centralized and laundry is no additional charge (included in housing cost)
A fireplace is located in the 4th floor lounge
There are 5 floors of living space, with elevator and stair access
All beds are twin extra long
3 kitchens are available for creating light meals, each include a table for family style dining
4 lounges with community TV's
4 lounges with whiteboards for studying
Mailing Address
Student Name
Harstad Hall, Student Room Number
Pacific Lutheran University
Tacoma, WA  98447