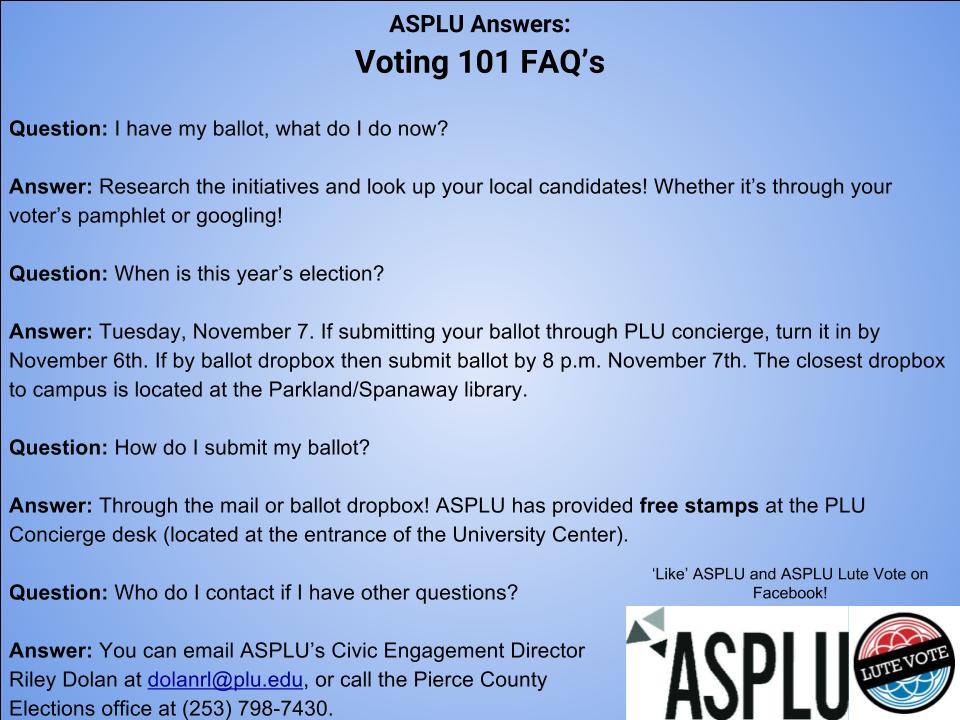 Upcoming Events
Get Out the Vote Phonebanking Session! Saturday November 4th, 2017|5:00pm
This Saturday, November 4th, ASPLU Lute Vote will be hosting a Get Out the Vote Phonebanking session from 5-6 p.m. at the ASPLU office! We will be calling people that have registered to vote to remind them to submit their ballot before November 7th.
No experience needed to volunteer! Free pizza will be provided at this event, so please RSVP by emailing dolanrl@plu.edu so we know how many pizzas to order!
Past Events
UW Tacoma Rocks the Vote!
Wednesday, October 25th, 2017 | 7:00pm | University of Washington Tacoma

Rock the Vote event at The Swiss in Tacoma. There are 11 seats in the shuttle and are available on a first come, first serve basis so fill out the form soon right here! 
There is music, discounted food, and a chance to talk with and hear from Tacoma Mayoral candidates Victoria Woodards and Jim Merritt, Lt. Governor Cyrus Habib, and Pierce County Auditor Julie Anderson.
You can turn in your ballot to auditor Anderson, so remember to bring your completed ballot!
This shuttle service is being provided for free by CCES and ASPLU. If you have any questions, please email Riley Dolan at dolanr@plu.edu.

Sponsored by Lute Vote
PLU Rocks the Vote!
Friday, October 6th, 2017 | 5:30pm | Red Square
Live music and free food will be available to all, along with the opportunity to register to vote. Come join us and get politically involved!
Sponsored by Lute Vote
Pierce County Prosecutor Mark Lindquist
Wednesday, October 4th, 2017 | 6:00pm | AUC 201
Pre-Law Association (PLA) is hosting Pierce County Prosecutor Mark Lindquist Wednesday, 10/4/17 in AUC 201 at  6pm . Prosecutor Mark Lindquist is a high elected official in the Pierce County District Court. It is a great opportunity for students, especially those considering law school.
Guest Speaker: Pierce County Auditor Julie Anderson
September 14 | 1:45 p.m. | Xavier 201
Pierce County Auditor Julie Anderson, who oversees Pierce County Elections and a wide variety of other local government services, will be visiting Associate Professor of Politics and Government Kaitlyn Sill's course on American government. All PLU students are welcome to attend the course for this Q&A discussion.
Who Will Win the White House: The Current State of the Race
September 14 | 7:30 p.m. | Rieke 103
PLU Visiting Assistant Professor of Politics and Government Michael Artime and presidential historian Mike Purdy will discuss the party conventions, the vice-presidential picks, fluctuating polls and the upcoming debates.
Topics on Tap: Election Edition
September 20 | 5:30 p.m. | Garfield 208

An informal discussion among students, staff and faculty about how to listen critically and be an active citizen in the upcoming election.
Sponsored by the PLU Diversity Center.
Presidential Debate Watch Party
September 26 | 6:00 p.m. | The Cave

PLU students will be watching the first debate between presidential candidates Hillary Clinton and Donald Trump in The Cave at the Anderson University Center.
Sponsored by Lute Vote.
Guest Speaker: Representative David Sawyer
September 28 | 1:45 p.m. | Xavier 201

Rep. David Sawyer represents Parkland, Spanaway and parts of Tacoma and Lakewood in the Washington State House of Representatives. He will be visiting Associate Professor of Politics and Government Kaitlyn Sill's course on American government. All PLU students are welcome to attend the course for this Q&A discussion.
Ruth Anderson Public Debate: A Third-Party Vote is a Wasted Vote
October 4 | 7:00 p.m. | Karen Hille Phillips Center for the Performing Arts
The 4th annual Ruth Anderson Public Debate will feature PLU debaters Mariah Collier '17 and Charles "Tate" Adams '19 along with Washington State Senate Democratic Caucus Communications Specialist (and former PLU debater) Aaron Sherman '11 and University of Washington-Tacoma Assistant Professor of Security Studies and Conflict Resolution Ben Meiches.
Sponsored by the PLU Speech and Debate Team.
Let's Talk About: Gender
October 6 | 6:00 p.m. | Xavier 201
Panel discussion on how gender equity, identity and trans rights have been represented locally and nationally in election 2016. Confirmed panelists include Associate Professor of Religion Seth Dowland, Assistant Professor of English Jenny James, Assistant Professor of Chemistry Andrea Munro and Rainbow Center Crime Victim Advocate Vaan Melendez.
Sponsored by the Center for Gender Equity, Women's and Gender Studies Program, Center for Community Engagement and Service, ASPLU, Lute Vote and American Association of University Women (AAUW).
Let's Talk About: Islamophobia and Hispanophobia
October 13 | 5:00 p.m. | Xavier 201
A discussion of how hateful rhetoric directed at immigration, Muslims and Latinos is shaping the 2016 election. Confirmed panelists include Associate Professor of Politics and Government Maria Chavez-Pringle, Assistant Professor of Anthropology Katherine Wiley, and Executive Director of Tacoma Community House Liz Dunbar and Washington State DACA Program Manager at 21 Progress Wendy S. Martinez Hurtado '14.
Sponsored by the Department of English, Hispanic Studies Program, Department of Anthropology, Center for Community Engagement and Service, ASPLU and Lute Vote.
Department of Politics and Government Open House and Debate Viewing Party
October 19 | 5:30 p.m. | Xavier 201
An opportunity to learn more about the PLU Department of Politics and Government and join politics and government faculty members and students in watching the third and final presidential debate.
Sponsored by the Department of Politics and Government.
Let's Talk About: Education
October 19 | 5:30 p.m. | AUC Regency Room
This November's election will determine the future health of the Franklin Pierce School District, determine Washington's next State Superintendent of Public Instruction and have major ramifications on the future of the Department of Education. A panel of experts will discuss what is at stake for America's education system. Confirmed panelists include Interim Dean of the School of Education and Kinesiology Terry Bergeson, Assistant Professor of Mathematics Ksenija Simic-Muller, and Franklin Pierce School District Superintendent Dr. Frank Hewins.
 Sponsored by the Center for Community Engagement and Service, Franklin Pierce School District, PLU School of Education, Lute Vote and ASPLU

Who Will Win the White House: The Final Sprint to the White House
October 25 | 7:30 p.m. | Rieke 103
PLU Visiting Assistant Professor of Politics and Government Michael Artime and presidential historian Mike Purdy will discuss what the polls suggest will happen on election day, recap critical moments from the debates and look forward to what the campaigns can do to maintain or gain support in the closing days of the race.
Q&A With Congressman Derek Kilmer
October 26 | 1:45 p.m. | Xavier 201
Rep. Kilmer Derek Kilmer serves as the United States Representative of Washington's 6th Congressional District.
Sponsored by the PLU Department of Politics and Government
Lutes headed to (the other) Washington
PLU students, along with Assistant Professor of Philosophy Michael Schleeter and Associate Professor of Politics and Government Kaitlyn Sill, will be spending J-term in Washington, D.C. studying Democracy in Theory and in Practice. As part of the experience, the class will attend the inauguration of the 45th President of the United States. (Note: this program is full and currently not accepting additional applications.)