Wireless Connections
Wireless networking is available from many locations on the PLU campus. In order to take advantage of this resource you must first have a laptop with a wireless network card or some other device that is WiFi enabled. For installation and setup, please proceed to moat.plu.edu if you are on campus to set up your device.
Support is available from the Help Desk for connecting to PLU access points. They can be reached at 253-535-7525 or via email if you have a connection with another device at helpdesk@plu.edu.
Need More Help?
Create a Help Desk Service Request. You'll need an active PLU ePass to log in.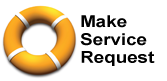 Quick Links