Adobe Acrobat and Creative Cloud Licensing at PLU
Available Licensing:
Adobe Acrobat:
Adobe Acrobat is an application that is a part of the Adobe suite of applications and allows users to view, create, manipulate, print and manage PDF (Portable Document Format) files. All current PLU faculty and staff are eligible to download and install the current version of Adobe Acrobat Pro both on PLU owned and personal devices. You must put in a request at helpdesk.plu.edu to have the license added to your account and you may need additional assistance from an I&TS staff member to have it installed on a university owned device.
Note: Licensing for Adobe Acrobat Pro is not currently available for students through PLU.  If viewing PDF files is all that you require, Adobe Reader is all that is needed and it is already installed on all PLU owned devices.
Adobe Creative Cloud Applications: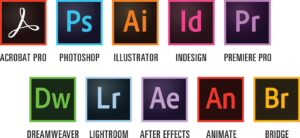 View the full list of 20+ apps at Adobe.com
A limited number of licenses are available for these products for faculty and staff; however, these are only issued after I&TS approval. Please submit your request at helpdesk.plu.edu, and include which applications you need to use and how often you use them for PLU work.
For students that need access to these products (or faculty/staff that only have an occasional need for them), lab computers with the full Adobe Creative Cloud Suite installed are available in the Digital Design Lab in the library or in the Wiegand Multimedia lab in Morken. Simply use your PLU email address to sign into any of these products when prompted. Other specialty labs with these products installed are also available on campus, but may require department permission for use.
Support and Training for Adobe Products:
Various workshops are available to both staff and students for select Adobe products each semester.  Please refer to the I&TS Workshop page for upcoming events and to learn how to get registered for them.  For individual instruction or for assistance with a specific problem with an Adobe product, please put in a request at helpdesk.plu.edu and someone will be in contact with you as quickly as we can.