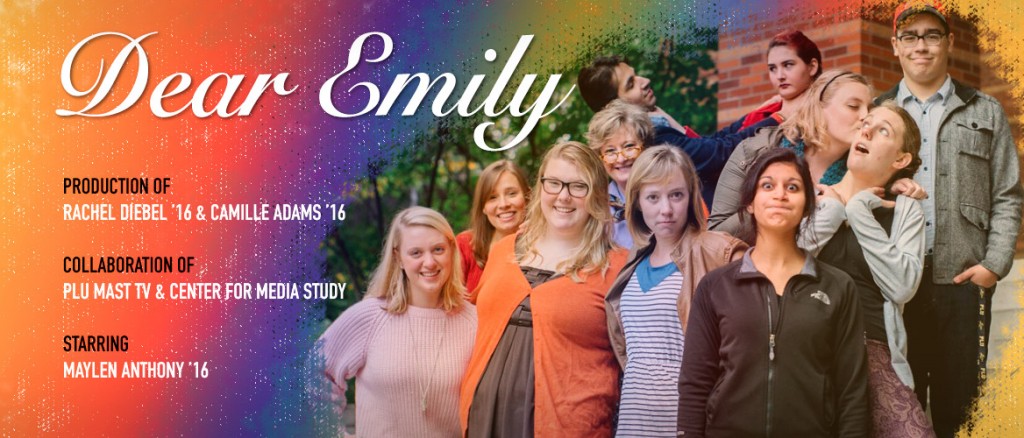 Written/Co-Producer – Camille Adams
Directed/Co-Producer – Rachel Diebel
Editor – Nate Bannister
Assistant to the Director – Haleigh Missildine
Theme song by – Kelvin Adams
Starring:
Maylen Anthony – Sara Crewe
Alex Clayton – Minerva Chinchilla
Courtney Gould – Mary
Leah Gibbon – Irma
Sarah Henderson – Lottie
Denae McGaha – Lav
"Dear Emily" is entirely student written, acted, directed, edited and produced. Modernized for the smallest screen, "Dear Emily" tells the story of Sara Crewe, a privileged 20-year-old diplomat's daughter, raised on an idyllic island. When conflict in her home erupts, Sara transfers to Moss College of Winlock in the U.S. for her college degree. Sara's naive daydreams and storytelling charm butt heads with the grittier lives of the students she encounters and the relationships she forms with her peers. When calamity strikes, Sara must learn to set aside her privilege and see her story through another's eyes.
"Dear Emily" will air on the Mast Student TV YouTube Channel at 9 a.m. Mondays and Thursdays from Feb. 9, 2015 through April 30, 2015.
Special thanks to Rob Wells, Joanne Lisosky, Anne-Marie Falloria, Allie Reynolds, and Matt Salzano.