2018 Lemkin Lecturer – Father Charles R. Gallagher, S.J.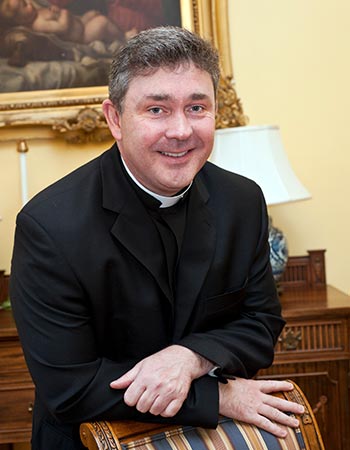 Violence, Espionage, & Anti-Semitism: British & Soviet Spy Ops Against Boston's Christian Front Organization, 1940-1945
7 p.m. | Tuesday, April 3 | Anderson University Center – Scandinavian Cultural Center
Father Charles R. Gallagher, S.J., of the history department at Boston College will speak about his explorations of a heretofore unknown set of intelligence relationships involving Nazi, British, and Soviet spy networks in Boston during World War II.
During the summer of 1940, the leader of Boston's Christian Front organization was successfully recruited by Nazi SS intelligence agents in the United States. The clandestine relationship produced excellent results in the area of propaganda, particularly anti-Semitic propaganda. In 1941, the Nazi propaganda wins caught the attention of British intelligence in the United States – MI6. Without knowing that the Christian Front had been compromised by the Nazis, the British decided to run their own spy operation against the Boston group. In the spring of 1941, the British military returned to Boston for the first time since 1776, this time as spies. With a view to circumventing the FBI, the British founded a front organization in Boston whose purpose was to pressure local Boston politicians and the Boston Police Department to move in and shut down the Christian Front. This operation worked flawlessly.
With the Christian Front out of business, a surge of Catholic anti-Semitic violence emerged in Boston in 1943. Gangs of Irish-Catholic youth roamed the city fomenting riots and beating up young Jews. The situation received national attention in the press at the time. Gallagher's talk will show how this upswell in anti-Semitic violence was really the unintended consequence, or blowback, from the illegal and unwarranted intelligence operation run by MI6 in 1941 in 1942. At the same time, in January of 1942, Soviet intelligence agents also began to take an interest in prosecuting the Christian Front. They too, sent secret agents to Boston to firm up a prosecution of Christian Front leaders. This Soviet operation reached the highest U.S. government officials – including the President of the United States.
Gallagher's work is under contract to be published as a book by Harvard University Press in 2019 under the title The Nazis of Copley Square: A History of the Christian Front, 1939 – 1945.