Currently Reading:
Global focus nets Fulbrights
November 16, 2007
Global focus nets Fulbrights
When PLU was named by the Chronicle of Higher Education as one of the top four masters-level institutions in terms of the number of students currently participating in the prestigious U.S. Fulbright Student Fellowship, everyone at the university was pleased with the honor.
It is the largest U.S. international exchange program offering opportunities for students,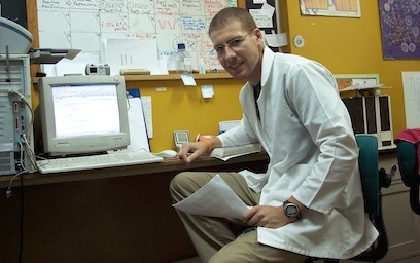 scholars and professionals to undertake international graduate study, advanced research, university teaching, and teaching in elementary and secondary schools worldwide.
However, they couldn't have been surprised – PLU has been doing this for years. In fact, since 1975, 78 PLU students have received the award.
"That PLU ranked so high testifies not only to the quality of PLU, but to the quality of a liberal arts education," said Troy Storfjell, assistant professor of languages and literatures, and the university's Fulbright program adviser.
Sponsored by the U.S. Department of State, the Fulbright program was established in 1946 by the U.S. Congress to "enable the government of the United States to increase mutual understanding between the people of the United States and the people of other countries."
That language from the original congressional legislation – "to increase mutual understanding" – perfectly squares with PLU's focus on preparing its graduates to engage the world. "The Fulbright Fellowship is an ideal match with the global focus of this university," Storfjell said.
The Fulbright is a prestigious fellowship, and both the recipients and PLU deserve recognition for their efforts. But what does it mean for current Fulbright Fellows who are currently abroad as part of the program?
For Michael Wauters '07, that answer is easy. As a senior majoring in biology, Wauters received a fellowship to assist on an epidemiological study of Chagas disease in the Pastaza province of Ecuador.
After he spent the 2006 J-Term in Ecuador with Professor of Biology William Teska, Wauters knew he wanted to return to Latin America. The plan was to spend a year after graduation immersing himself in another culture and working on his Spanish before returning to the United States to attend medical school. When the Fulbright came through, his short-term goals didn't change, but he noted, "I no longer had to sweat the details of funding my dream."
But in the short time Wauters has been in Ecuador, some of his long-term goals have changed. He's still passionate about medicine, but now that he's seeing the world from a different perspective, he wonders if another person on the traditional medical-school path is really what the world needs.
"Practicing medicine (is) a vocation I am passionate about. Yet the longer I am here the more I realize merely practicing medicine will never be enough," he said. "As I start to comprehend the magnitude of the suffering, the injustice, and the pain in our world, I can't just blink and make it all go away.
"I don't really know what this continuing revelation means for my future, I only know I cannot be a bystander. Perhaps working with an organization such as Médecins Sans Frontières or Partners In Health, maybe blazing my own path," Wauters continued. "And each time these thoughts cross my mind I wonder, can I really go through with this? Do I have what it takes to serve to this degree? And more and more the answer is yes, without a doubt, yes."
It is experiences such as these that underscore why the university challenges its students to study away and dare to view the world from a different perspective. Such transformation is hardly reserved for Fulbright fellows. With 40 percent of the population studying abroad at some point in their PLU career, transformations like these happen all the time.