Currently Reading:
A summer job that doesn't suck
July 7, 2008
A summer job that doesn't suck
Of all the potentially tedious summer jobs, here's a new one: spending hours on your knees, rolling over one boulder after another, just to see what's underneath.
For Stephanie Agoncillo '08 and Melissa Youngquist '09, this was a coveted gig. And when Assistant Professor of Biology Michael Behrens is doing the rock-rolling, all the better.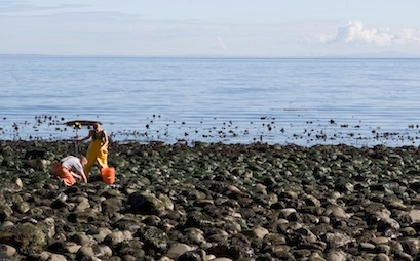 The trio was part of nine student-faculty summer research projects in the natural sciences, many of which conducted fieldwork in the nearby forests, mountains and coastal areas of the Pacific Northwest.
It is why they are here, just a couple hours away from the PLU campus, ankle-deep in saltwater, investigating three closely related species of prickleback fish. The question they were trying to answer: If these fish live under the same rocks, why did they evolve into three distinct species?
Nobody knows for sure. So the fieldwork continues, with Agoncillo and Youngquist taking inventory of the fish, and measuring their elevation and location. Some fish go back to campus to be dissected to determine feeding behavior.
Rock-rolling included, as summer jobs go, this turns out to be a pretty good one. After all, the Strait of Juan de Fuca has pretty good office views.
And when Agoncillo considers how a coveted research project like this might affect her future, the possibilities are limitless. "Grad schools look to see what you have done," she said. "If I want to get into a good program, then I've got to have this kind of experience."