Currently Reading:
Diplomat explores Jewish-German relations
February 2, 2009
Diplomat explores Jewish-German relations
More than 150 people showed up to hear the Consul General of Germany (based in San Francisco) Rolf Schuette talk about Jewish-German relations today.
Before a crowded room last week in the UC, Schuette said he would dive into the topic that is not easy, but after visiting PLU in 2007 felt it was a chance he couldn't pass up.
"It's not only a professional duty for me, but it is also something dear to me," he said.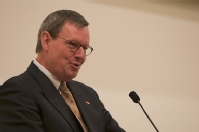 In addition to years of education and experience as a diplomat, before taking the San Francisco post in 2005, Schuette spent a sabbatical year as a Visiting Fellow at Carnegie Endowment for International Peace in Washington D.C., the American Jewish Committee in New York and the Institute of European Studies in Berkeley. Some of his experience also includes work in Israel.
"The Holocaust is still the most important in shaping the mindset of Germans and Jews," Schuete said.
It is a past that can't be left behind or forgotten, he said. In everyday German life it isn't talked about much, but it is always present.
"Most Germans know past quite well," Schuette said, often times form school, television, film and other forms of media.
Many of the concentration camps in Germany still remain, well maintained, as a tribute and reminder of the Holocaust. There is one Holocaust Memorial in Berlin that had 3.5 million visitors last year and the Jewish Museum had 758,000 visits.
Overall polls show, Schuette said, that most Germans feel a collective shame, about 75 percent, about the Holocaust. It has created caution in how the country takes action, he said.
It is always asked "What does the Holocaust teach us?" he said.
There are three relationships that must be considered when talking about Jewish-German relations, Schuette said.
There are German and Israeli relations, which despite being thought of as unfavorable by Jewish people outside of Israel, the two are fairly close.
Nearly 68 percent of Israelis polled said they had a positive view of Germany, Schuette said.
He attributes that to when the two nations were fledging countries after World War II, they needed al1 the friends they could get. Thus, Germany has become one of Israel's strongest allies, along with the United States and the United Kingdom.
The second is German and American-Jewish interactions, which is still developing.
For example, in a recent poll only 15 percent of American Jews felt Germany and Israel were close allies, Schuette said.
The last is non-Jewish German and Jewish-German relationships. Before WWII there were roughly 600,000 Jews living in Germany. By 1989 there were about 30,000.
But after the collapse of the Soviet Union, Germany has seen an influx of immigrants from former Soviet states, Schuette said. Today, it is estimated there are about 120,000 Jews living in Germany, but no one knows that exact amount, he said.
In many ways the immigration has created a renewed Jewish cultural life in Germany, Schuette said.