Currently Reading:
Climbing the wall
March 19, 2009
Something I Thought I'd Never Do: I never thought I'd become a rock climber
Stretched out against a mock rock face
at Tacoma's Edgeworks Climbing Indoor Rock Gym, Kristi Reidel '09 considered her next foothold, as she step-by-step scaled a 30-foot vertical wall with routes named "Big Scary Future" and "Channel the Hate." This test of mental and physical endurance is one of the reasons Reidel, a senior at PLU, decided, almost on a whim, to take an outdoor survival and mountaineering course.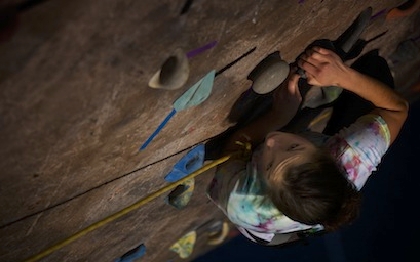 That Reidel had never done this before didn't matter. She wanted to challenge herself. The basic mountaineering class, taught by university fellow and archeologist Don Ryan, familiarized students with knots and carabineers, climbing techniques and how to survive in the wild. He uses these skills while shimmying up and down ropes into Egyptian tombs on his research trips. The half-semester class included an overnight trip nearby into the Cascade Mountains to test skills outside the gym. Of course, it rained the entire time. One of the tents leaked. But Reidel, a Spanish, visual arts and global studies major, loved it."I liked the texture and feel of the rock," Reidel said of another trip to the Peshastin Pinnacles in central Washington state. "And the view from the top was great. You feel so accomplished after you get to the top."Reidel said in her time at PLU, she hasn't come across a class where she loved..every..minute..of…it like this one.
"This class teaches you that with practice, patience and a little perseverance you can do what you might have thought was impossible," she said.
Her suggestions for someone considering the class, even if you can't picture yourself hanging on for dear life atop a 200-foot sandstone spire? Just go for it – you'll be surprised what you are capable of conquering.
Oh yeah, and trim your fingernails.