Currently Reading:
Ted Charles: first entry
January 11, 2010
My first travel update comes not from Uganda, but from PLU. I arrived on campus yesterday, Monday January 3, with all of my gear packed, ready for takeoff. I will be shooting still photographs in Uganda, therefore I have 30 pounds of camera gear stuffed into a carry on.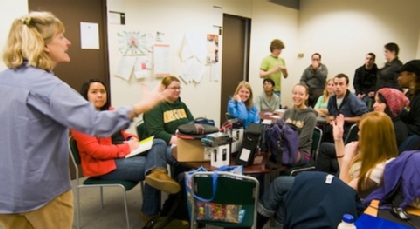 It is a little bit cumbersome, but really worth it, even though I was not able to bring a spare change of clothes.
After several stages of repacking, I was able to fit everything else into one checked bag. Airline regulations are changing so much lately that I wanted to make sure that I had everything checked conservatively. It would be awful to show up to the airport and have to leave half of my gear behind.
I am writing this post from our final class period on campus prior our departure. All of us met during Fall Semester once a week to learn everything from how to edit video to ethical behavior and actions in Uganda. We double and triple checked regulations for the airlines and distributed video recording gear that we recently received from a grant our professor applied for. The energy was palpable while interested students were crammed in the back room of Ingram Hall office space.
I am really excited to learn and explore a country that I know only from intensely reading this summer and several references in Mr. Herzberg's accelerated class in high school. I am a mixture of feelings, between excited and anxious, and I am not sure if it will hit me until I am on the plane.
Find out what Ted and other students are doing during their J-Term Study Away experience at the Sojourner Blog.