Currently Reading:
New Holocaust Chair at PLU
April 22, 2010
New Holocaust Studies Chair announced at Pacific Lutheran University
By Steve Hansen

When the third annual Powell and Heller Holocaust Conference wrapped up its last session on March 20, organizers viewed the three-day event as nothing short of a success, especially with the announcement of a new chair at PLU.
The conference was also a time to celebrate important milestones that will ensure the Holocaust will be studied at PLU for years to come. New gifts in support of the Kurt Mayer Professorship in Holocaust Studies have pushed that endowment total beyond $2 million, making it the third endowed chair at PLU.
The Kurt Mayer Chair in Holocaust Studies again secures the university's position as one of the premier centers for Holocaust studies in the nation.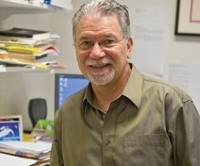 The Holocaust conference sessions were broad as they were engaging – there were stories from survivors of the Holocaust, an eyewitness view of the Rwandan genocide, even a performance of music associated with the Holocaust. Of special importance, educators were also invited to campus to consider ways to better teach the Holocaust – and, certainly, the lessons of tolerance – in middle and secondary schools.
"Holocaust studies is not a new idea at PLU. It is an area of academic distinction and excellence that has been built over the past three decades – made possible by the commitment and support of the university at all levels, by the remarkable leadership of professors Christopher Browning and Robert Ericksen '67, and by the support of many close friends of the university, as well as members of the Jewish community," PLU President Loren J. Anderson said.
In 2007, two prominent Tacoma area families funded the first $1 million in support of an endowed professorship in Holocaust studies at PLU. The gifts were made to honor the memory of their family and friends who were murdered in the Holocaust and to ensure that the painful lessons learned from the Holocaust will be taught to future generations of students.
The donors were Kurt and Pam Mayer, Joe and Gloria Mayer, Natalie Mayer-Yeager, Nancy Powell, Carol Powell Heller and Harry Heller. Together they committed both to giving $1 million and to help raise another $1 million to eventually fund a $2 million endowed chair.
Additional support from these initial donors, plus support from Dale '63 and Jolita '63 Benson and other new gifts brought the endowment to the chair level of $2 million.
The endowment funds supplemental salary for the Mayer Chair, research and travel related to scholarship, enhanced library resources, student-faculty research fellowship opportunities, coordination of the annual Lemkin Student
Essay Contest and the Lemkin Lecture (named for Raphael Lemkin, who coined the term "genocide"), as well as the annual Holocaust conference.
At first glance, PLU might seem to be an unlikely place to be a center of Holocaust study and scholarship. But really, it embraces the Lutheran educational tradition of working for issues of justice and tolerance.
According to Professor Emeritus of History Philip Nordquist's '56 second book documenting the history of PLU "Inquiry, Service, Leadership and Care: Pacific Lutheran University 1988-2008," faculty members were already studying and teaching about the Holocaust as soon as the 1950s. But when Christopher Browning began his tenure as professor in PLU's history department in 1974, he brought with him a renewed interest in the subject.
Browning's 1992 publication "Ordinary Men," is considered one of the leading texts in the field of Holocaust studies. Publication of this and other works brought accolades to Browning and PLU – for one, Browning was named as a visiting scholar at the U.S. Holocaust Memorial Museum, and at the Institute for Advanced Study at Hebrew University in Jerusalem.
Browning has since moved on to become the coveted chair in history at the University of North Carolina at Chapel Hill, but his legacy continues. Browning often returns to campus – he was, in fact, the opening night speaker at this year's Holocaust conference.
"Chris Browning built such momentum here and created this tremendous attention for PLU. Now when people throughout the United States and in Europe hear Pacific Lutheran University, they recognize it as an important center in Holocaust studies," said Professor of History and recipient of the Kurt Mayer Chair of Holocaust Studies Robert Ericksen.
Ericksen himself is an internationally recognized Holocaust scholar, most notably for the book "Theologians Under Hitler." His work at PLU has continued to raise the profile of Holocaust studies, and for his efforts, in 2007 he was named the Kurt Mayer professorship.
That name – Kurt Mayer – is another key reason Holocaust studies have such deep roots at PLU. The Tacoma businessman, philanthropist and community leader, now 80, came to the United States with his parents as a 10-year-old Jewish refugee from Nazi Germany on one of the last ships to leave Europe. Many of his family members perished in the Holocaust.
He eventually settled in Tacoma and in 1957 established the first volume home-building company in the area. The company, now known as Mayer Built Homes, specialized in subsidized and affordable housing.
Mayer was the first person of the Jewish faith to serve on Pacific Lutheran University's Board of Regents, serving from 1995 to 2005. He was instrumental in the development of the university's Holocaust Studies Program.
"When my generation passes there will no longer be eyewitnesses to an event that may yet be defined as the greatest crime in modern history," Kurt Mayer wrote. "I am telling my story because we must continue to learn from the lessons of the past."
And thanks to people like Mayer – and Browning, Ericksen and numerous other members of the PLU community – PLU continues to ensure that future generations will also learn these valuable, and essential, lessons.
— this story was compiled with additional reporting by Chris Albert, Greg Brewis and Barbara Clements