Currently Reading:
Want to volunteer? Start here.
February 22, 2011
Want to volunteer? Start here.
On the first floor of Ramstad, at the end of the hall is a small office where big things happen.
It's the Volunteer Center.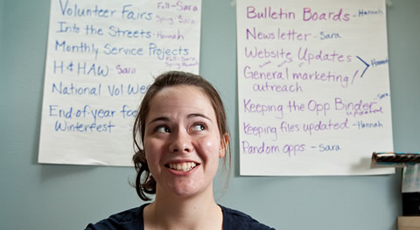 "A lot of students want to volunteer, but they don't know how to get started," Hannah Reece '12, co-director of the Volunteer Center. "We just want to get students out into the community beyond campus."
The on-campus service connects students with volunteer agencies and organizations throughout the area.
The Spring Volunteer Fair will take place from 10:30 a.m. to 2 p.m. Friday, Feb. 23 in the lower level of the UC.
"The fair is a chance for students to talk to different agencies from Pierce County and find out what sorts of things there are to do outside of the Lutedome," Reece said.
Contact the Volunteer Center
This year, the fair's opportunities will focus on environmental volunteer projects, but there are no limits to what students can find through the Volunteer Center.
There are opportunities in schools, in hospitals or even environmental clean-up projects – Reece's favorite.
"I'm a hands on, get dirty kind of girl, so working on things like creek preservation projects fits me," she said. "I like that sort of stuff."Words like "project" shouldn't deter people from looking into volunteer opportunities, Reece said. Just because it's a project doesn't mean it can be a time suck for students who are already pretty busy. Whatever time a student can commit to is needed and appreciated, she said, whether it's an hour a month or more.
And what's the best way to get started? Reece suggests dropping by Ramstad 116 and meeting with her or co-director Sara Main '11. They'll point any curious student in the right direction.
"It's pretty simple for students to come in," she said. "And it's pretty comfortable."