Currently Reading:
Passion for learning
October 28, 2011
A passion for learning is explored
By Chris Albert
The route to being an educator may vary, but a key ingredient is being passionate about being a life-long learner. It's a sentiment the panel of current educators and PLU alumni shared with students during the Career Connections in Education discussion in October.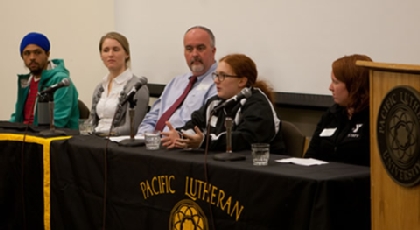 "You have to have that whole idea that you're going to be a life-long learner," said Brian Laubach '84, '95, '02, director of Teaching and Learning for the Clover Park School District. "It becomes your life. It becomes the passion you have."The panel represented a variety of experiences and was moderated by Steve Colgan, clinical assistant professor in the School of Education and Movement Studies. Along with Laubach, the panel consisted of Ronnie Gordan '07, Jenna Dehoney '07, Mary Davis '11 and current Master of Arts in Education student, Ann Hansen.
For most, the path to making education their career wasn't clear, but no matter when a passion for teaching is discovered that spark must be present, the panelists agreed.
"I believe the spark was already in me when I was conceived," Gordan said, a teacher at Mt. Tahoma High School. "It's something you are born with. It comes from within."
Although Gordan knew teaching was something he always wanted to do, for others it was far from their minds when they entered college.
"I didn't want to work in education," Dehoney said. "My parents were both teachers."
But working with children at the YMCA as a college intern changed that. She's now the senior aquatics director at the Lakewood YMCA.
"I didn't know what I wanted to do, but I knew I wanted to work with kids," Dehoney said. "I finally found what I wanted. This is what I want to do with my life. All the pieces came together."
Laubach found his passion for teaching later in life. He had graduated from PLU with a double major in communication and chemistry and took a job as a reporter. During that time he taught a class or two at a local community college and then it clicked –  "I like this. This is for me. I like it," he remembered. So, he went back to PLU and earned his teaching credentials becoming a first-year teacher at 30.
"It kind of gave me different experiences I could bring into the classroom," he said. "I feel satisfied. I really like my job. I like what I'm doing."
Davis is a first-year teacher and first generation college graduate. For her, the inspiration to teach came from a great band teacher, which set her on her path as an educator.
"If I didn't get a degree in education, I don't know what I would be," she said.
Figuring out a path doesn't have to be scary or daunting, the panelists said.
"College is just a world of figuring out what you can do," Hansen said.
It may take time to find the spark, but when it's lit there seems like there was never any other option, they all agreed.
"When I think about education I think about it as a fire you get to pass on to other people," Gordan said.
As educators, every action has an impact, he said.
"We're constant teachers," Gordan said. And learners too, he added.