Currently Reading:
Awards signify a dedication to students
December 1, 2011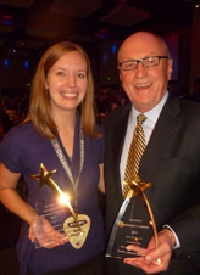 Awards signify a dedication to students
By Greg Brewis
A western region of the nation's largest association of student life administrators in higher education has presented its President's Award to Loren J. Anderson and its Outstanding New Professional Award to Amber Dehne Baillon.
At the NASPA Region V awards ceremony last month in San Diego, the group cited Anderson's sustained commitment to advancing the quality of student life on campus by supporting student affairs and programs.
Baillon was recognized for her ability to inspire and motivate students, student life colleagues and faculty.
Anderson was lauded for his work in support of PLU's student life division, the student experience outside of the classroom and student life programs and facilities. He was also recognized for his deep commitment to student access to higher education nationally and his advocacy for student financial aid.
Baillon, PLU's associate director of student involvement and leadership, was praised for her work in developing a Student Leadership Institute, for being the driving force behind the Redefining Action social justice learning experience and for being a leader in developing the First-Year Experience Program. Laura Majovski, vice president for student life and dean of students praised Anderson for his passionate commitment to the highest quality educational experience for PLU students.
"Throughout President Anderson's tenure, PLU has made great strides in enhancing the efficiency and effectiveness of student services. He has provided program support for an increasingly seamless co-curricular experience," she said.
Eva Frey Johnson '95, dean for student development, and director of student involvement and leadership said, "Amber is a respected colleague to many, a trusted professional for students and a sought after student life expert on campus. She is a bright light for the future of student affairs."
NASPA is the leading association for the advancement, health and sustainability of the student affairs profession. It has 12,000 members throughout the United States and Canada as well as in 28 other countries and eight U.S. territories.