Currently Reading:
Peacemaker visits PLU campus
March 12, 2012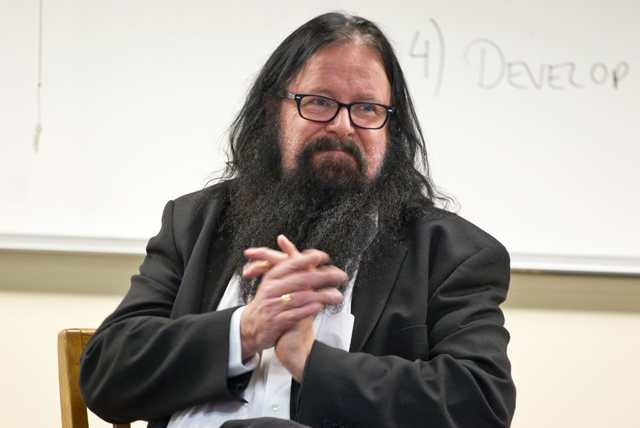 Peacemaker visits PLU Campus
Dialogue involves movement, visibility, relationships, and understanding, according to Nobel Peace Prize Nominee Steinar Bryn.
Bryn was on campus from March 6 to 8 visiting classrooms and talking to students about his work in peace building.
"Dialogue is important because it's necessary to develop a better understanding of your enemy," Bryn said.
Bryn is the lead architect of the Nansen Dialogue Network (NDN). Through his leadership and dialogue facilitation, divided societies throughout former Yugoslavia have made progress towards reconciliation and reintegration, he said.
"People in conflict see two different realities, which is why communication is so important," Bryn said. "If one spent more time on developing a better understanding all kinds of mediation would run smoother."
Bryn and NDN's 2012 Peace Prize Nomination is the fourth nomination he's received.
"The work we do does not get much media attention," Bryn said. "To get nominated is then, 'Yes, somebody is noticing.'"
Bryn's relationship with PLU began in 2004 when he co-taught with Amanda Feller, associate professor of communication, and Edward Inch, former dean of the School of Arts and Communication. Since that time, Bryn and Feller have taught together at PLU and at the Nansenskolen in Lillehammer, Norway. "One motivation for me to visit PLU is to inspire and motivate the Department of Communication to get more engaged in peace building," said Bryn.
On Thursday, March 8, students, staff and faculty had the opportunity to see Bryn at work in a screening of the award-winning film "Reunion." In the film, Bryn is shown leading a seminar for 10 Serbians and Albanians in March 1999, just weeks before the war broke out, and then sitting down with them 10 years later to discuss the war's effects and how things have changed.
"With segregation it's very hard to create a unified state. You can't live like that," Bryn said. "You must have communication."
In the film, Bryn reminds the participants that there is a difference in perception and that they need to understand this in order to move forward.
"When they come to a seminar, there is movement in their perception of each other," Bryn said. "They make each other visible for the other person and they develop a relationship."
Bryn also explained that his work in dialogue has allowed him to gain a better understanding of different groups of people.
"When you don't meet people you don't see their human face," Bryn said. "Being in dialogue means becoming visible and allowing other to become visible to you."
Junior Erik Fahnestock was among the students, staff and faculty who turned out for Bryn's screening Thursday night.
"Conversations influence how people interact," Fahnestock said. "We need to remember what we say influences how we act tomorrow."