Currently Reading:
Great Northwest: Frank & Jill's T-Town to-do list
April 13, 2012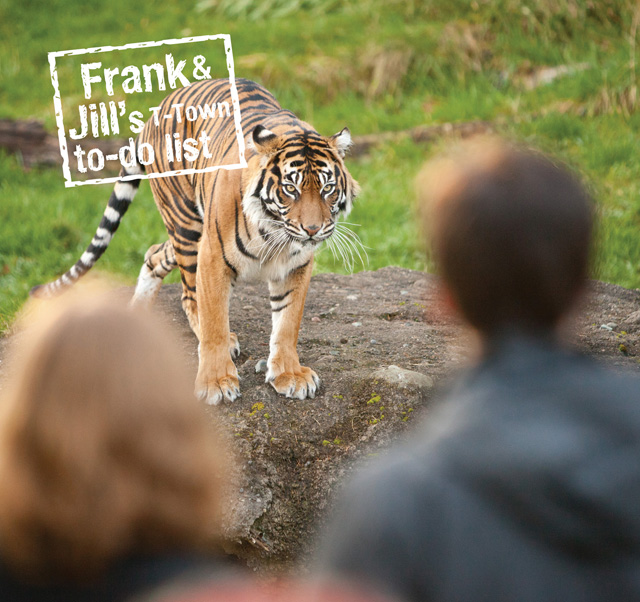 Great Northwest: Frank & Jill's T-Town to-do list
By Katie Scaff '13
Frank Roberts '13 has lived the majority of his life in Tacoma. Before Jill Heinecke '13 came to PLU from Minnesota, she had never even been to Tacoma.
So, we wondered: Can someone who has always lived here, and someone who's never lived here find interesting things to do?
According to the two: Absolutely YES.
"You can go pretty much any direction and find something different," said Roberts.
"There's always something to do, something new you haven't seen." Tacoma has something for everyone whether you're a city lover, outdoorsy, or something in between. "I'm not a fan of large cities," said Heinecke, "but I like having all the restaurants and theaters close by."
In fact, there are so many things that they wanted to do that they decided to create a list to keep track of it all.
"We just have a list of to-do things that we've started crossing off," said Heinecke. "I'm not normally a list person but I'm okay with it, since none of it's stuff we have to do – it's stuff we want to do."
Check out the official Tacoma to-do list from Frank and Jill.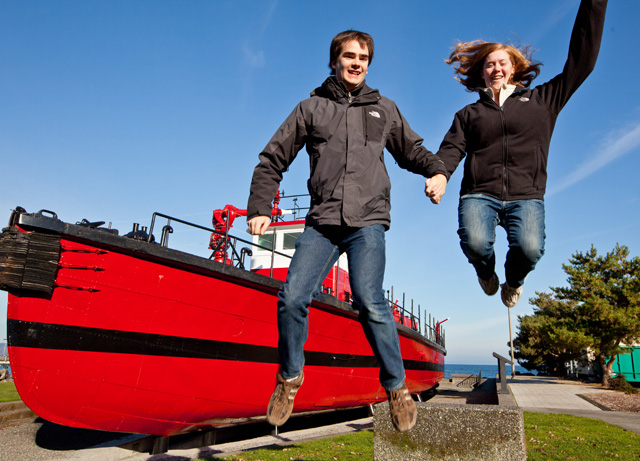 Ruston Way
(13.9 miles from campus) Ruston Way, Tacoma, WA 98407
The two-mile long scenic walkway along Ruston Way offers a gorgeous panoramic view of Commencement Bay, Vashon Island and the Olympic Mountains. Frank remembers coming here to experience Puget Sound's beauty as a kid. "My dad took me along Ruston Way when I was little," said Frank. "It was the first time I was out here on the water."
Chihuly Glass Bridge and the "Hot Shop" at the Museum of Glass
(10.4 miles from campus) 1801 Dock Street, Tacoma, WA 98402
Known as the gateway that welcomes people to Tacoma, the 500-foot Chihuly Glass Bridge links the Museum of Glass with the Washington State History Museum and the nearby Tacoma Art Museum. Frank and Jill enjoy visiting the museum's "Hot Shop," where they can see glass artists at work.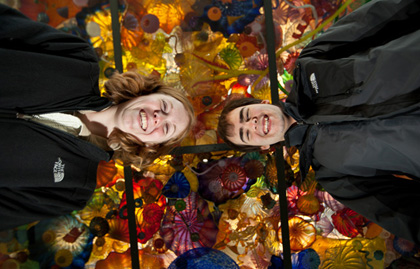 They also enjoy walking along the bridge, which was conceived by artist and Tacoma native Dale Chihuly.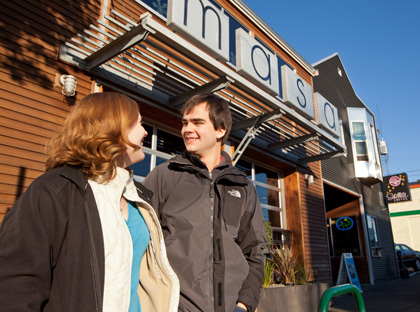 Masa
(10.8 miles from campus) 2811 6th Avenue, Tacoma, WA 98406
Frank and Jill like to get off campus to get a bite to eat together and Masa offers the best of both worlds. Masa is not too expensive and offers a lot of variety, which is perfect for the couple because Frank's a vegetarian. "She's pretty much a carnivore," said Frank. "It's really hard to find places that offer stuff for both of us."
Masa offers vegetarian and non-vegetarian items, including Mexican dishes, soups, salads, sandwiches and burgers for meat-eaters like Jill.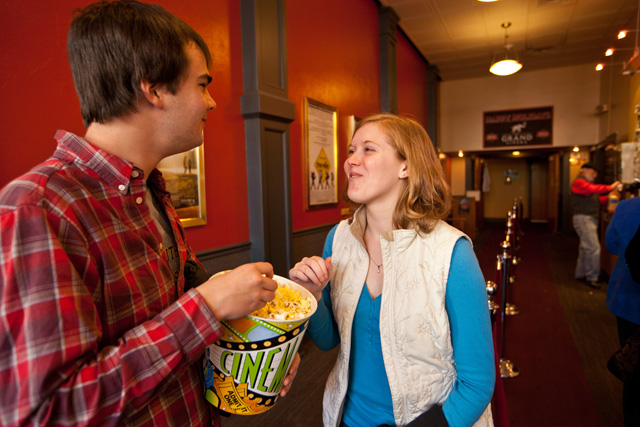 Movie at the Grand Cinema
(11.5 miles from campus) 606 S. Fawcett Avenue, Tacoma, WA 98402
Frank and Jill like to go to the movies but they usually only go to the Grand. It's one of Tacoma's hidden gems. "It's affordable and not crowded like other theaters," said Jill. The Grand shows many films that aren't in traditional theaters and they're sure to not disappoint, according to Frank, who said, "I've never seen a bad movie there."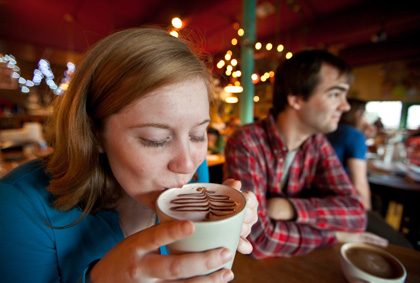 Mandolin Cafe
(11.1 miles from campus) 3923 South 12th Street Tacoma, WA 98405
The Mandolin Café isn't just a great place to get a latté, sandwich or pizza. You will almost always be surprised with what's going on at the funky little indie restaurant – from trivia nights to an all-weekend bluegrass music festival.
(11.5 miles from campus) 501 South I Street Tacoma, WA 98405
Nestled in the heart of Tacoma, Wright Park is a great place to walk around and hangout, according to Frank and Jill. The park is home to a beautiful botanical conservatory as well as several sculptures and even a cannon from the Spanish-American War.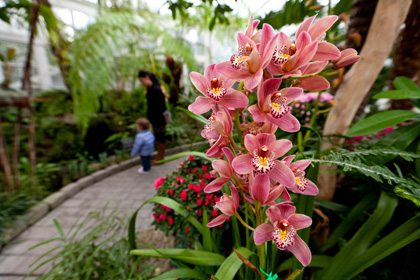 Point Defiance Park & Zoo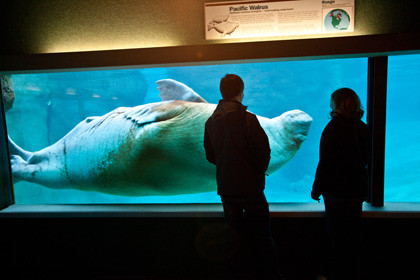 (15.3 miles from campus) 5400 N. Pearl Street Tacoma, WA 98407
The couple also enjoys Point Defiance Park and Zoo, the only combined zoo and aquarium in the Pacific Northwest. Frank has visited the zoo at least once a year for as long as he can remember and now it's something he shares with Jill.
"I really like Point Defiance because there's so many different things there," said Jill.
In addition to the zoo and aquarium, Point Defiance also features a 702-acre park with natural forest, saltwater beaches and spectacular views.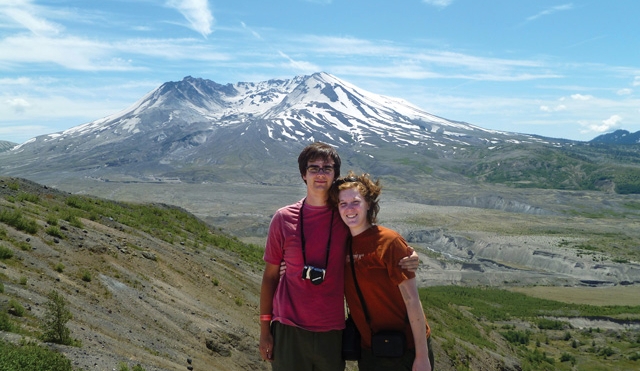 Hiking at Mount St. Helens
(96.1 miles from campus) 42218 Northeast Yale Bridge Road Amboy, WA 98601
Mount St. Helens National Volcanic Monument offers more than 500 miles of maintained trails that lead hikers like Frank and Jill through the magnificent terrain that is still recovering from the epic 1980 eruption. The park also offers excellent opportunities for scenic drives, mountain climbing, and some snow activities during the winter months. And if you don't want to drive all the way there, there's another magnificent volcano to explore that's even closer to PLU – Mount Rainier.
Titlow Beach
(13.1 miles from campus) 8425 6th Avenue Tacoma, WA 9865
"If we have a little bit of time we'll head down to Puget Sound," said Jill. Titlow Beach is one of their favorite spots. They come down here to walk around and to have the occasional picnic. It's a great way to take a break from classes and homework, according to Frank.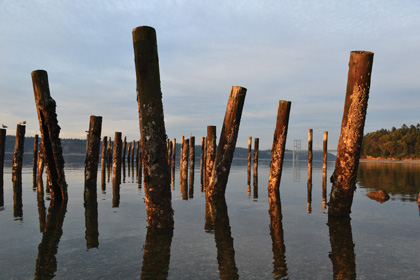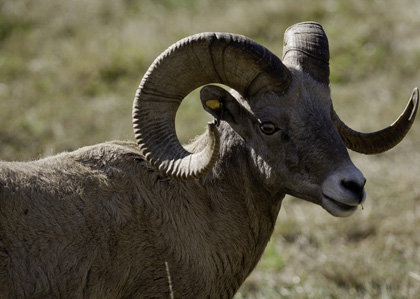 Northwest Trek
(20.7 miles from campus) 11610 Trek Drive East Eatonville, WA 98328
Northwest Trek features a narrated tram tour through more than 400-acres of meadows and forests where you can see bison, elk, moose, mountain goats and other wildlife. The park also has a walking tour where you can see predators and small forest and wetland animals.