Currently Reading:
'Salty, Sour, Hot, and Sweet'
April 13, 2012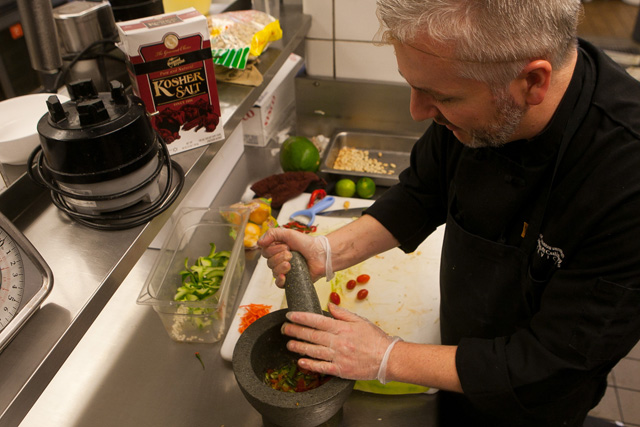 'Salty, Sour, Hot, and Sweet'
By Katie Scaff '13
Green papaya salad makes a light, refreshing summer dish, but it can also be paired with rice for a more substantial meal.
"It's got all those great flavors you see in Thai food," said Cross Culture Chef Tony McGinnis. "Salty, sour, hot, and sweet."
It's one of his favorites.
McGinnis prepares it as a vegetarian dish, but it can be paired with fish, or shrimp or tofu, as he prepared it when it was on the menu in the UC.
They had it on the menu for a while, and, even though quite a few people really enjoyed it, they took it off the menu because it was too much work to prepare.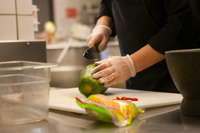 He found the recipe about four or five years ago, when the UC remodel was happening.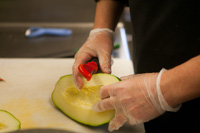 He put it together based on various recipes he found online.
"What I tend to do with recipes like this is look on the Internet and filter," McGinnis said. "Take as many examples as possible and find common threads. I always want to kind of cross reference with about eight to a dozen."
For this recipe, he uses a mortar and pestle to grind together the ingredients and bruise the papaya to absorb all the flavors.
"The dish is also kind of fun because it takes a considerable amount of garlic and chili," McGinnis said. "It handles them really well."The Thai bird chilies and garlic give this dish its characteristic kick, while the lime brings a sense of sour, and pure palm sugar gives it some sweetness.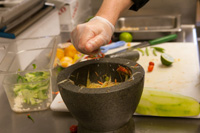 "It's cold; it's refreshing; it's light," McGinnis said. "I just absolutely fell in love with it."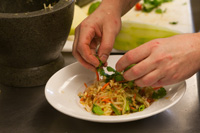 McGinnis and other PLU Dining and Culinary Services kitchen staff will be sharing some of their other recipes during the fifth annual, "Earth Friendly" themed Culinary Week from April 15 until 19.
Throughout the week, the staff will lead free hour-long cooking demonstrations and tastings.
The week will kick off with the Commons on Fire – PLU Top Chef at 8 p.m. on Sunday, April 15 in the UC Commons. Three teams, each with two PLU students, one PLU faculty/staff/administration member, and three Dining and Culinary Services employees, will have one hour to create an entrée and a starter with 12 mystery ingredients. There will also be a free lunch for those with PLU ID on Wednesday, April 18, in the UC Commons from 10:30 a.m. until 2:30 p.m.
Ingredients (for one serving):
2 cups shredded green papaya
1 clove of garlic
About 10 grape tomatoes, quartered
Small handful long beans or green beans
Small handful shredded carrot
1-2 Thai bird chilies, chopped, to taste
2 tsp. dried peanuts, toasted
1 tbs. and 2 tsp. palm sugar
1 ½ tsp. salt
½ lime
Cilantro, for garnish
To prepare:
Put salt in mortar
Add garlic, grind with pestle
Cut chilies and remove most of the seeds, grind with garlic and salt
Add palm sugar, grind
Add grape tomatoes, quartered, grind
Add beans, grind until bruised
Add papaya shreds, grind just until bruised
Add carrots, combine with hands
Lightly squeeze juice from lime over salad
Move salad mixture to serving bowl
Grind peanuts in mortar
Garnish ground peanuts and cilantro