Currently Reading:
In their own words
May 18, 2012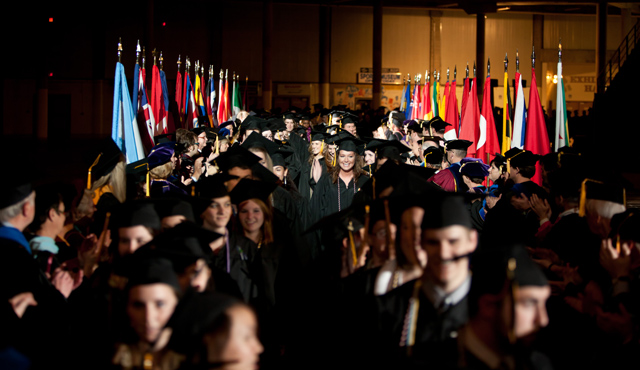 In their own words
Compiled and edited by Chris Albert
This spring, new PLU graduates closed a chapter in their lives and prepared to turn the next page. In the following, some Lutes shared their stories of why they came to PLU, what their experiences have been and what will be the next chapter in their lives.
Some will immediately enter the vocation of their choice, others continue their academic pursuits. They all have found a passion for a vocation and are ready to engage the world. The students who shared their stories here joined more than 850 students who graduated from PLU this academic year.
Abigail Pishaw – Bachelor of Fine Arts in theatre, minor in communication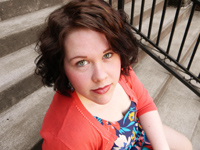 Why PLU? Plain and simple, it felt like home. I remember stepping on campus for my college tour, turning to my mom and saying, "This is where I'm supposed to be. I don't care what it takes, I want to go here."
After I was accepted through early admission, I never applied anywhere else because I knew this was where I was supposed to be, and I have never questioned that.
My PLU experience: My PLU experience has been a whirlwind, how I got to graduation this fast is beyond me. It has been a beautiful journey, full of leadership opportunities, friendships, challenges, growth, and a LOT of theater. I have learned a lot, both through academics and activities/involvement on campus. I have grown as a person and really come into my own; I have sought and I believe found my vocation through the experiences I've had with the theater. PLU has shaped and prepared me for my life post-graduation and I can't wait to take these lessons and experiences with me as I go forward.
What's next? I will be spending the summer working at the Weston Playhouse Theatre Company in Weston, Vt. and then I have an apprenticeship at the Walnut Street Theatre in Philadelphia for the 2012-2013 season.
Alex Limoges – Bachelor of Science in nursing, minors in biology and religion
Why PLU? I came to PLU because it was the best fit for me personally and academically. I knew I wanted to go into healthcare and PLU's biology and nursing programs are very well regarded. Competitive swimming has been a big part of my life and I lettered all four years I swam at PLU.
I was set on PLU after I came for a visit and was received by the Men's Swim Team. I hit it off with some of the guys and that was the last piece that made everything feel right to me. Also, PLU is close enough to home that I could go home when I wanted, but not so close that I would be supervised.
My PLU experience: It has been great. I have had some solid athletic and academic successes and made some enduring relationships in the process. It's been fun. I ended up in nursing because I wanted to do bedside care. It took a five year track after switching out of biology, but I value the extra opportunities that a fifth year of college allowed me to explore.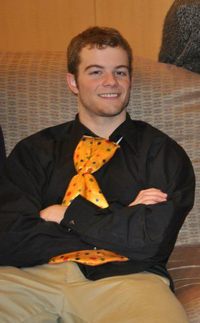 Alex Limoges '12 is from Vancouver, Wash.
Looking back, I don't feel like I have left anything undone or been disappointed by my experience. I am just ready to move forward.
What's next? Immediately, I will be concerned with preparing for and passing the NCLEX examination for my RN certification while I hunt for jobs. I hope to find a job in a critical care new-grad position, but those are difficult to come by. I will probably spend some time on a medical/surgical or telemetry unit before applying for a critical care position as an internal applicant.
Angela Pierce – Bachelor of Arts of social work, minor in sociology
Why PLU? I decided to attend PLU because of the great opportunity it presented me through the Act Six Scholarship. I felt called by the mission of Act Six and the call to be a leader on the PLU campus. As part of the first cadre at PLU, I was very excited to see how our presence and different leadership skills and passions could benefit the campus.
I also attended PLU because of their fantastic study abroad program and also because I knew I would get the best education at PLU by having more one-on-one time with my professors.
My PLU experience: My time at PLU has been a self-discovering journey. At PLU, I was faced with many challenges that each presented me the opportunity to learn more about the world, our community, and my passion to fight against social injustices.
The PLU Diversity Center became a "home away from home" for me and is where I felt I became a leader and learned more about my identity in the world.
Studying abroad in Trinidad and Tobago gave me the opportunity to connect with others outside of the U.S. and to ultimately discover what it means to be a citizen of this world. Lastly, the PLU social work program allowed me the chance to grow in my skills and to feel confident in becoming a future social worker of my community.
What's next? I will be moving to Seattle where I have been accepted into the Dudley Edmondson Fellowship in Youth Development and Education through the YMCA and Americorps. The fellowship is 15 months and I will graduate with a YMCA Certification in Youth Development and Education. I also plan on applying for a master's in social work program in the future with an emphasis in children and families.
Angie Tennant – Bachelor of Fine Arts in theatre, minor in English literature
Why PLU? After taking a tour, I was convinced. PLU felt like home. I was excited about the Wild Hope Project, International Honors, and the small class size. I sat in on a class and the professor knew everyone's name and the class itself was a space where people could come together as valued intellectuals on a common search for more knowledge. There was no feel of hierarchy, just a shared passion for learning. That's exactly what I wanted out of my collegiate experience.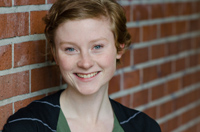 My PLU experience: How to succinctly sum up four years of intense growth, exploration, and expression? I can't. But I'll try. The time I've experienced at PLU has been the most rewarding, challenging, and enriching years of my life. I found my passion here, along with friends I know will stay with me beyond graduation, mentors I intend on keeping for life, and a fervor for asking questions and seeking justice. What do I have to show after my four years? Well, I've added 18 theater productions to my resume, invaluable professional experience as the Theatre House Manager, leadership experience within Alpha Psi Omega and Vpstart Crow, and a Liberal Arts education that focused on honing my passions toward making a positive difference.
What's next? I have been accepted to The New School for Drama in New York City, and will begin working toward my MFA in Acting in September 2012.
Anna Kreutz – Bachelor of Science in biology and chemistry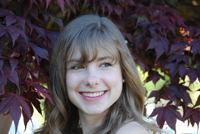 Why PLU? PLU was just the perfect fit for me. In looking for schools for my undergraduate degree, I knew I wanted somewhere with small class sizes, significant student-faculty interaction, and the opportunity to participate in research. One example that I particularly remember was a lunch I attended my senior year in high school. By chance I was sitting with Dr. Matt Smith and was able to speak with him about research, the biology department, and my own interests.
Another piece that made PLU stand out was the school's Lutheran foundation, as well as global and environmental focus — all of which aligned with my own values. I'd heard wonderful things about PLU from a number of people back home, but stepping onto campus was what solidified my decision. The people here all seemed so happy! I loved the smiling faces and caring nature of everyone I interacted with.
My PLU experience: While my academic and career goals haven't really changed since coming to PLU, I have grown into someone quite different from the girl I was four years ago — a considerably more confident young woman. Much of this I attribute to IHON. The first course in the program made me critically evaluate my core beliefs — something I hadn't anticipated. Through IHON, the culture of PLU, and studying abroad in Scotland, I have developed and solidified my own values, as well as become a more global citizen — with a greater passion for issues of diversity and the world at large that will stay with me throughout my lifetime.
As anyone who knows me, though, Rieke is my home. In that building, I gained the knowledge and laboratory experience I came here for, that helped with my graduate acceptance and will aid me in my future career. Some of my fondest memories of PLU are from doing summer research in biology and environmental studies. This summary wouldn't be complete without mentioning the chemistry department, though; even before deciding to double-major last August, they have felt like family.
What's next? This coming fall I will be pursuing a Ph.D. in neuroscience at UC Davis, a school I chose because of my particular interest in autism spectrum disorders. With my research, I hope to increase our understanding of the underpinnings of this rapidly growing disorder and help develop improved therapies for affected individuals.
Ashley Marshall – Bachelor of Science in chemistry, minor in mathematics
Why PLU? PLU's campus is beautiful and I wanted the small college, personable feel that PLU offered. When I first visited PLU I was able to sit in on a class offered by the chemistry department and it gave me a taste of what college would be like.
This was an exciting opportunity and I was able to visualize myself succeeding in the student role in that environment. Also, the community that I saw all throughout campus was something unique that I wanted to be a part of. Seeing the community in the residence halls and the genuine friendliness of students all around campus drew me to attend PLU.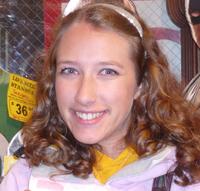 My PLU experience: Throughout my time at PLU I have experienced tremendous support and encouragement from the faculty and staff I have come into contact with, especially those in the chemistry department. They have pushed me to excel, holding me to high standards and providing me with many opportunities to push myself as a student, a researcher and a leader.
Everyone I have met at PLU has seen more potential in me than I saw in myself, forcing me to expand my goals and apply for programs and graduate schools that seemed out of reach. The people here have also helped me find my passions. Students and professors who have found subjects they love and causes they care about have inspired me to do the same and it will direct where I go from here in life. The past four years at PLU I have been doing the things I love while meeting people who have encouraged and inspired me to continue growing after graduation.
What's next? Immediately after graduation I will be relaxing! I plan on doing some traveling and lots of hiking before graduate school starts in the fall. In mid-August I will be moving to Boulder, Colorado to enter the chemistry Ph.D. program at the University of Colorado Boulder. I have been accepted in the materials and nanoscience division and will be getting involved in the Renewable and Sustainable Energy Institute to research improving sources of renewable energy.
The University of Colorado Boulder also has strong ties to the National Renewable Energy Lab (NREL) so I will have the opportunity to work with staff scientists from NREL as well as use the facilities. The Ph.D. program will take 5-6 years to complete and following the completion of my degree I plan to either enter a teaching position or work in public policy relating to renewable energy.
Caitlin Walton – Bachelor of Arts in elementary education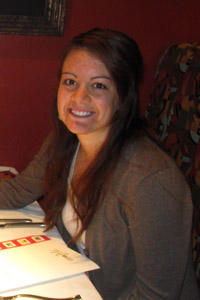 Why PLU? My decision to come to PLU is both eclectic and similar to many others. I was not aware of PLU until a friend confirmed her decision to attend PLU my junior year of high school. I had the opportunity to come and visit her the fall of my senior year and was immediately attracted to the beautiful and friendly campus. This visit set my expectation on finding a university that could rival PLU's friendliness. As a result, I soon realized I wanted to apply to PLU since it proved to be the best fit for my passions.
In pursuit of an elementary education degree, I knew PLU would provide me with unique opportunities in the classroom locally and globally. Through the application process and multiple visits to campus, I grew to appreciate PLU more and more, as I saw various aspects of the university and their mission.
My PLU experience: My PLU experience has been rich in relationships, opportunities and perspectives. In my time at PLU, I have built friendships that will span a lifetime. Four years of being surrounded by incredibly passionate and genuine people has proven successful in building these friendships. The variety of interests and passions shared among PLU students provides a plethora of opportunities to be involved in on and off campus. Being at PLU, I came to know the Puget Sound area and my involvement in classes and clubs took me around Washington — to Mt. Rainier, Leavenworth, Snoqualmie, and the Olympic Peninsula.
In my time at PLU, many of my perspectives have been challenged and I now have a greater hope for the future as I find ways to meet some of the greatest needs of the world. From the streets of Parkland to the countless borders around the world, a desire to be socially aware and involved has developed as a result of PLU. And as continue on, I know I am well prepared and supported by the immeasurable opportunities an relationships afforded to me during the four incredible years at PLU.
What's next? After graduation I have the opportunity to embark on a few adventures. This begins in June, when I will be spending the last three weeks in a remote Alaskan town, teaching in a summer school. The time will be culturally rich as I learn and experience the culture of Native Alaskans. After these three weeks, I will travel back to Colorado to prepare for my next adventure: 16 months in Malaysia. I will be in Malaysia from August 2012 till November 2013 traveling, teaching English, and engaging in community development. I am extremely excited for this opportunity I am being afforded and I expect it will continue to shape my future aspirations.
Ultimately, I want to live in a developing country and pursue avenues for community development — specifically focusing on education systems. In graduating from PLU, I feel as though I am now spinning a globe in search of meaningful adventures.
Chelsea Putnam – Bachelor of Fine Arts in ceramics
Why PLU? I decided to come to PLU for two main reasons. One: I absolutely fell in love with the campus and the area when I came to visit (it must have been a sunny day, such a commodity!). Two: I had been recruited to run track and field here which I did do for two years before I discovered my infatuation with the arts.
My PLU experience: To "sum up" my PLU experience is nearly impossible. I can talk for hours about it considering all the opportunities I have been blessed with and the people that I have met along the way.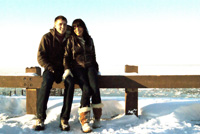 From working in the Diversity Center for four years as a Rieke Scholar and a diversity advocate, being the president of the art club, being captain of the track and field team, having multiple jobs on campus, to meeting my incredible husband and creating friendships that will truly last a lifetime. My PLU experience has been challenging and inspiring but most of all, priceless.
What's next? What's next after graduation? Well, my husband and I are expecting a son on July 24. Immediately after I graduate, I will be moving in with my sister and brother-in-law who are expecting triplets in August. Really, this summer will be full of nesting anxiety and newborn babies! It will surely be a ride to remember. I do plan to continue my schooling to become a high school art teacher but first, my husband and I will do some moving around for the army once he returns home from Afghanistan in October. Welcome to the "real world" right?!
Chris Caseman – Master of Arts in education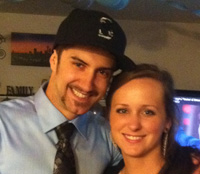 Chris Caseman '12 is from Spanaway, Wash.
Why PLU? I wanted to come to PLU because of its location and my prior experience with the campus. I fell in love with the campus back when I was in junior high. Growing up in the area, I had participated in a college preparatory program (Upward Bound) which was run on the PLU campus. So when it came time to look at graduate programs, PLU was a no brainer.
My PLU experience: My PLU experience was wonderfully intense, fun, educational, and fulfilling. When I enrolled in the MAE program I had no prior experience in the teaching field.
Between my extremely knowledgeable professors, the immediate immersion into a classroom setting, and the help of my peers, I was able to grow and develop into a competent teacher with the desire to get better. Along the way I have gained many friends that have helped set up a support group that will last throughout my career.
What's next?
I have been hired to teach biology at Washington High School in Parkland. I look forward working with the young people within my community as well as further developing into the best teacher I can be.
Clara Ferrer Lightner – Bachelor of Science in biology, minor in Hispanic studies
Why PLU? When I applied to PLU I didn't know what I wanted to do with my life, or even if I really wanted to go to college. I made the decision to attend PLU for many reasons; it was the school that offered me the best education and lifestyle.
I chose a school close to my family and my job, and a school that I knew would give me a well-rounded education. With a PLU professor for a mom I knew PLU pretty well, so it was an easy choice.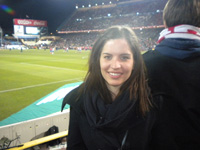 My PLU experience: I started at PLU with absolutely no idea what I was going to do with my life, and now leaving PLU I've discovered my life dream and feel like I have a promising future ahead of me. Although I've never lived the PLU campus experience, I've made amazing friends in the science departments. I've studied countless hours and sacrificed a lot, but it's been worth it to be able to graduate and continue on with my career. My four years at PLU have been a transformation from a teenager into a successful, confident biologist.
What's next? The next step for me is medical school. I've been accepted to Trinity College in Dublin, Ireland, and will be starting my medical education this September. Hopefully I'll be able to spend the summer on the beaches of my home city, Barcelona, before starting this next adventure. I will be living in Ireland for at least the next five years of my life, before realizing my dream of working as a doctor back in Spain.
Diana Sellers – Bachelor of Science in exercise science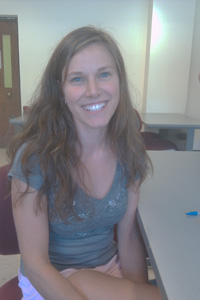 Diana Sellers '12 is from Kent, Wash.
Why PLU? Upon deciding to continue to get my bachelors degree, my first interest in PLU began with the movement studies department, as I knew I wanted to pursue a degree in health and wellness. Along with my interest in movement studies, I also considered PLU because of class size and location. Being a single mom of twins, I didn't want to move too far from where my children and I have already been established and I thought smaller class size would give me better access to my professors – something I would definitely need.
My decision was confirmed as a good one the summer of 2010 when I tried to contact my advisor, Dr. Evans, regarding my anxiety over fall classes. Being that it was summer, Dr. Evans contacted me from home even after a day of errands at Les Schwab. He was so approachable, helpful, and reassuring that I continued with my journey at PLU. I am so grateful for Dr. Evans' extra assistance and so happy that I continued.
My PLU experience: My experience at PLU has been life changing. Being an older student, I came to PLU thinking I would just be getting a degree to further my career. I didn't realize it, but in addition to my degree, I also grew as a professional, a mother, and friend. The many hours invested in studies and the constant juggling of PLU with my additional responsibilities at home has taught me to be more confident in my abilities, patient, and understanding. I am extremely grateful for my time spent at PLU and will stand proud as a Lute graduate forever.
What's next? I have been interning for the past five months in the cardiac rehab department at Tacoma General and I love it. After graduation, I will continue to work on obtaining the 500 hours needed to sit for the ACSM Clinical Exercise Specialist Certification necessary to pursue a career as an exercise specialist in cardiac and pulmonary rehab. In addition, and most importantly, I will be spending more time with my two amazing 6-year-olds, since they have been patiently waiting for mommy to "finish her homework."
Gretchen Elyse Nagel – Bachelor of Arts in German, minor in religion
Why PLU? I chose PLU as a transfer student from the University of Oregon because I valued the warmth of the smaller campus community and the dedication to international involvement and travel. I saw opportunities within that smaller community to build meaningful, impactful relationships with both faculty and students.
Language immersion is promoted strongly on campus and through study abroad programs, which encouraged me to major in German and trust that I would be surrounded by wonderful resources and support. I think the overall environment and values of this University drew me in and kept me.
My PLU experience: I have had an incredible, challenging and rewarding experience at PLU. I have gained so many memories that have helped shape who I am, both abroad and on campus. Phenomenal people have crossed my path who have been with me as I attempted to find my direction and through all of the involvement on and off campus I have made friends and memories to treasure for a lifetime.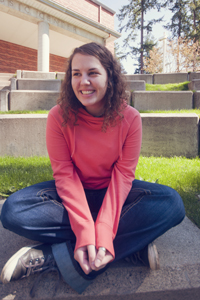 Gretchen Elyse Nagel '12 is from Portland, Ore.
My growth during the past three years is astounding and I feel so grateful and humbled. My time at PLU has guided me onto a wide path I did not see as possible, one that encompasses my passion, emphasizes my strengths and fills me with excitement. Though I have thoroughly enjoyed my time here, I trust that I am prepared to take my next steps; steps that will reflect PLU and the life experience and knowledge that I have collected here.
What's next? After graduation I will be flying to Baden-Württemberg, Germany to assistant-teach English through the Fulbright program for a year. I am unbelievably excited to begin this adventure and I look forward to seeing where it leads. It may lead to graduate school at the University of Oregon to pursue a degree in either Linguistics or German and Scandinavian Studies or it may lead to opening up a bakery in Germany. As long as I'm doing what I love, the possibilities are endless!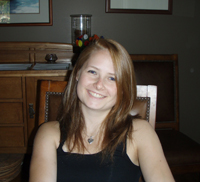 Why PLU? I wanted to go to a small university with a passion for music and community. Not only was PLU highly recommended for my career goals, but I was totally hooked after visiting just once. The people were so kind, the campus so beautiful and all the staff and faculty were welcoming and excited for my future!
My PLU experience: At PLU I have been academically challenged and enriched in subjects from gender studies, environmental justice and jazz. I've learned to take risks and always found a community to fall back on.
Because so much time is devoted to looking at issues and topics from a perspective other than my own, I have been challenged to discover my own capacity for compassion.
What's next? I'm hoping to get hired to teach music somewhere in the Northwest. Elementary, secondary, band, orchestra, choir – I just want to teach music!
Heidi Weston – Bachelor of Arts in business administration
Why PLU? I came to PLU because I wanted to stay in the Pacific Northwest, play tennis, attend an esteemed university with small class sizes, and be able to become a part of an involved community. PLU was extremely unique in the sense that it let me do all of these things. My mom graduated from PLU in 1976, so she was also an influence, and spoke highly of her time spent here.
My PLU experience: My experience at PLU has been nothing short of extraordinary. I absolutely fell in love with the community, and the collective goal of finding what it was that I wanted to do with my one wild and precious life. The concierge desk, and the school of business have both played a huge role in my college career.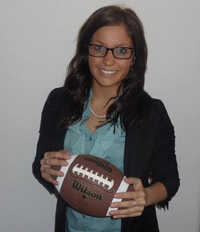 To both, I have dedicated all of my hard work and effort over the last three years, and they have led and helped me grow into the person that I am today.
What's next? After graduation my dream is to work in sports marketing, specifically in a larger professional franchise. I have nothing set up yet, but I have been encouraged by many to take a week or two off of work, and just spend some time relaxing and enjoying my last bit of time off. I look forward to staying in the Tacoma area, and seeking out smaller marketing opportunities with other associations such as Chambers Bay, in order to work up to my dream career.
Joseph Olson – Bachelor of Science in physics, minor in mathematics
Joseph Olson '12 is from Boise, Idaho.
Why PLU? I decided to come to PLU because it was the right fit for me. Coming into college, I knew that I wanted to do something in physics or engineering while still continuing music. Going to a state school for science or engineering meant I would have had to give up guitar, which was unacceptable.
The broad education offered at PLU appealed to me because I could get my degree but still learn about so many other interesting topics. That multifaceted culture was evident in the students that I met in my visits, and I knew that I wanted to be a part of it.
My PLU experience: What I appreciate the most about my education at PLU is that I was able to make it exactly what I wanted. With smaller class sizes, I was able to really get to know my professors and find my place in the department and the school. My professors here at PLU were amazing and instantly acted as mentors, shaping my beliefs and values. Outside of physics, I embraced the liberal arts side of my education, gleaning the most of my non-major classes to better prepare me for my role in the larger world. PLU provided the opportunity to truly define who I am; I can't say that I would have been so well off at another school. PLU has prepared me for the next stage in my life and I am incredibly honored to have been a part of the PLU community.
What's next? Next fall I will start my graduate education at University of Wisconsin-Madison pursuing a Ph.D. in plasma physics. It was my experience with professors and tutoring physics for the Academic Assistance Center that really influenced my decision to get a Ph.D. My ultimate goal is to return to a university like PLU and teach physics. I hope to build up a physics program and create the same relationships with students that my professors have done with me.
Why PLU? I initially chose PLU because their school of nursing has an exceptional reputation for excellence. After visiting the campus I realized that PLU has many other attributes besides their exemplary nursing program. I felt that the size of the classrooms, student population, and campus would both facilitate my learning and ensure that I never felt like just another face in the crowd. In addition, the location of PLU appealed to me because it allowed me to receive a bachelor degree from a highly respected university without having to move too far away from my family.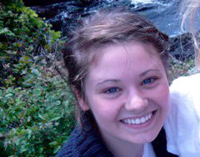 My PLU experience: My PLU experience has been wonderful. Throughout my time at PLU I have gained vast amounts of knowledge and have had invaluable experiences. Such knowledge and experiences primarily regarded nursing and healthcare, however I have been fortunate enough to take other various classes at PLU as well. Although such classes were not in my field of interest, they none the less proved to be interesting, well-designed, and highly beneficial. In addition to receiving an exceptional education, I have also been able to enjoy the beautiful campus and the diverse student population that exists at PLU.
What's next? After graduation I will begin my search for a registered nurse resident position in emergency nursing. After gaining several years of experience, I hope to be able to delve into the specialty of trauma nursing. I have also not entirely eliminated the option of obtaining a master's degree in nursing so that one day I might become a nurse educator. However, prior to further exploring the option of graduate studies I would like to gain experience working in the field.
Jordan Beck – Bachelor of Fine Arts in theatre, minor in music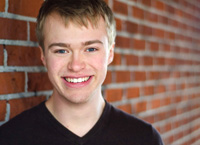 Why PLU? I came to PLU because of Kaarin Praxel, my incredible admissions counselor who helped me see myself at PLU, and why it was the right learning environment for me.
I was offered a President's Scholarship which meant I designed a trip to come up and do my interview for the Regents' Scholarship. The campus was beautiful, the people were great, and the whole weekend was magical.
During my interview I met Cliff Rowe and we had an incredible discussion about education and what it means to live in community. I walked away thinking "what a great conversation – who cares if I get the scholarship." I was offered a Regents' Scholarship and that sealed the deal.
My PLU experience: I've done over a dozen stage shows, from buffo opera to gritty kitchen sink realism. I've directed, assistant directed, stage managed, sound designed, composed, arranged, acted, sang, danced, and improvised. I've sang with Choir of the West, University Chorale and the Men's Chorus. I went to France and German with COW, and Ireland with my mentor Brian Desmond. I've learned about the way that we tell stories to ourselves, and to our communities – and I've trained to be the most effective engaging storyteller that I can be. I've developed a strong commitment to social justice and sustainability. I've found a family of like minded artist, passionate about theatre. Though at moments the bigness of the question has paralyzed me with fear: I've engaged the question of what I want to do with "my one wild and precious life," and found some answers.
What's next? In June, I will be moving to Washington D.C. to start a 9-12 month internship with Woolly Mammoth Theatre Company. Woolly incubates new, multicultural, thought provoking, messy, edgy theater, while focusing on how theater can serve as a tool for the community. My internship surrounds Connectivity which specializes in how to engage the community in the theatrical process, and ask those ever important artistic questions: "Why this project?", "Why this community?", and  "Why right now?" After D.C. I will most likely travel, and see where the universe is pulling me next.
Katy Allen-Schmid – Bachelor of Arts in Hispanic studies and global studies, minor in anthropology
Why PLU? I actively avoided PLU for two years because my dad graduated from here in 1984 – I wanted to be original and independent and strike out on my own. But, luckily, my dad finally convinced me to go on a campus tour during my junior in high school.
It turned out to be a game changer! I vividly remember being struck with awe after seeing Lagerquist Concert Hall during a summer orchestra camp rehearsal. Besides the strength of global education and Hispanic studies department at PLU, I was enticed by the smiles on every person I met on campus that day!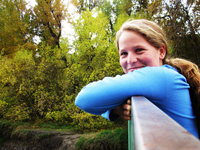 My PLU experience: INQUIRY – I am very curious person and I love that PLU encourages holistic inquiry – asking questions in class, asking questions at home, asking questions abroad. INVOLVEMENT – PLU's liberal arts approach to learning is just as applicable in the classroom as it is in student involvement opportunities. I've volunteered as a member of Garden Club, as well as served for two years as the LASR general manager. I've taken classes in geoscience right before "Gender, Sexuality and Culture." There is truly a plethora of ways to express your passions! GROWTH – PLU has encouraged me to grow as a student and as a community member. The depth and breadth of an education here is a panoramic view of how to engage hard questions through multiple perspectives. I have been challenged, but I have also been supported.
What's next? Until late September, I will be working as a restaurant/picnic manager for Remlinger Farms in Duvall, Wash. while I search for an internship in Seattle radio. In October, I will be moving to Little Rock, Ark. to be a residential volunteer with Heifer International.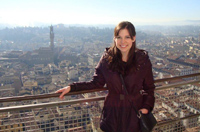 Why PLU? To be completely honest, I chose PLU because of its proximity to my high school boyfriend who was attending UPS.
Like most high school relationships, that one didn't last past graduation, so it's definitely not a method I recommend for choosing a university!
However, if I had been a more reasonable and mature 18-year-old, I might have chosen PLU for its beautiful campus, close-knit community, small class sizes, commitment to sustainability, emphasis on discovering a vocation, Sunday brunch (call me crazy, but I really liked the UC food!), or – best of all – it's knowledgeable, caring, and down to earth professors.
My PLU experience: My PLU experience has been a roller coaster. I had some ridiculously hard classes, discovered that it's almost impossible to avoid drama on a campus where everyone knows each other, lost a lot of sleep to write papers (or hang out with friends–let's be honest), and made a few egregious mistakes. But there were also a lot of moments during my time here that were absolutely magical.
I'll always remember the dinnertime conversations with my T-stad buddies, winning a trip to the roller derby with Dr. Graham at the Women's Center auction, finding the best place on campus to stargaze on a clear night, presenting Dr. Taylor's research at a poster conference in San Francisco, and watching the beautiful sunrises in Taiji during my J-term trip to Japan. PLU has taught me so much about life and myself. Despite all the ups and downs, I'm going to miss this place and I wouldn't trade my time here for anything.
What's next? Right now, I'm skipping my own graduation ceremony to go to Sasquatch! The day after I get back from the music festival, I'm moving to Massachusetts to start graduate school. I'm getting a master's degree in clinical social work at Smith College in Northampton. Summer classes start on June 4th! September through April, I'll be interning 30 hours a week at The Peck Full Service Community School in Holyoke, Massachusetts, where I get to work one-on-one with low income students in grades K-8. After I graduate from my master's program in two years, I hope to find a job counseling at-risk teenagers and young adults. I feel like my education at PLU has definitely prepared me to go out and make the most of my one wild and precious life.
Kelvin Adams – Bachelor of Science in physics, minor in mathematics
Why PLU? I came to PLU because I wanted to be a Lute! The sense of community at PLU was head and shoulders above every other school I visited, and I wanted to be a part of this community. I was also drawn to the fact that at PLU you have access to professors who are truly invested in your education and who even show up to events around campus like concerts and games!
PLU offered the opportunity for me to simultaneously pursue my passion for engineering and my love of music, and I just could not turn down an opportunity like that.
My PLU experience: Adventure, growth, friends, Frisbees, The Big Bang Theory, music, and trebuchets. Over my four years I have grown as a student, musician, scientist, human being, and global citizen. I have learned the value and importance of community from my friends and mentors in the alumni office, the physics department, choir, and my classes.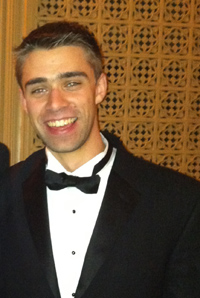 I also am incredibly blessed and grateful for my four years in PLU choirs, which have taken me on a journey I could never have dreamed of, including a tour to Germany and France last summer with the Choir of the West. And, of course, no engineering education is complete without the construction of a trebuchet. All of these experiences are integral to who I am today and I would not trade them for the world.
What's next? I will be attending Oregon State University in the fall to finish my dual-degree engineering program through their multiple engineering cooperative program. After my time at OSU I hope to either work in the field or move on to graduate studies in engineering. I also am really looking forward to my role as one of the class reps for 2012 along with Caitlyn Jackson, and hearing from fellow classmates about the exciting news in their lives after PLU!
Keshia AhQuin – Master of Arts in education with certification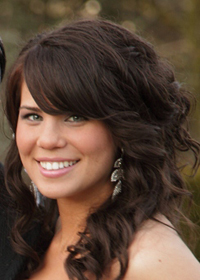 Why PLU? After receiving my Bachelor of Arts in English literature at PLU, I began looking into their School of Education program. I knew that I wanted to get my master's in education and figured what better place to do that than PLU.
The professors I studied under during my undergraduate work were so passionate and knowledgeable about their subject and inspired me to do big things in education as well. After doing some research and meeting with a few of the professors from the education program, I could tell that they were just as passionate and eager to share their knowledge.
My PLU experience: Not having lived on campus, the majority of my time spent at PLU took place within the classroom. It was there that I discovered who I am and what I am passionate about. I made lasting friendships and cherished memories that will last a lifetime.
What's next? After graduation I hope to find a job at a local high school teaching English.
Kristen Lee – Bachelor of Arts in history and religion
Why PLU? When making my college decision, I knew I wanted a small liberal arts university. PLU stood out to me because of its emphasis on Lutheran higher education and global education and its location close to home.  Campus felt like home when I visited as a high school student, so I was happy to make it my home for four years!
My PLU experience: My four years at PLU have truly been life changing. My two semesters studying away in Trinidad and Tobago and Namibia, the opportunity to do undergraduate research and present at the American Academy of Religion national conference, and my year as a sojourner advocate in the Wang Center have all exposed me to a variety of new and exciting perspectives and experiences.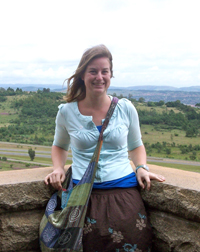 But it has been the relationships I have formed that I will carry throughout my life that have truly defined my PLU experience.
What's next? I will be volunteering in Cuernavaca, Mexico for a year with the ELCA's Young Adults in Global Mission program. During this year I will be working with a non-profit organization and building new relationships with my community.
Lauren Gazdik – Bachelor of Science in physical education, minors in biology, psychology and religion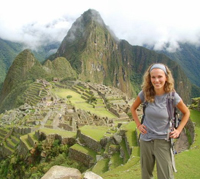 Why PLU? I was initially interested in PLU because my mom, aunt, and grandmother are alumni and all had very positive experiences. After taking a closer look at the university with its high academic reputation, small class sizes, tight-knit community, and opportunities to study abroad, I knew PLU would be a perfect fit for me.
My PLU experience: I can't express how quickly these four years have gone by and how thankful I am to have had the opportunity to graduate from such an amazing university.
There have been so many positive influences and unforgettable experiences throughout my college life that have guided me through my journey of self discovery. PLU has undoubtedly provided a first-class education that has equipped me with the tools necessary to pave my own path to success in the future.
What's next? I plan to attend Chapman University in the Fall to pursue a doctorate in physical therapy. Thanks to my educational experience at PLU I have complete confidence in taking this next step and am extremely excited to be closer to my long-term goal of becoming a physical therapist.
Lauren Surek – Bachelor of Arts in business administration
Why PLU? I chose to come to PLU due to the AACSB accredited business school, small class sizes, close proximity to home, and beautiful campus.
My PLU experience: I am happy to say that I have found a true passion for accounting during my time at PLU. This is due to my involvement in our schools' Beta Alpha Psi chapter, where I served as reporting director and vice president. I have also had the opportunity to complete two internships during my time at PLU.
I got to prepare federal tax returns during busy season at Moss Adams LLP, and I got experience with preparing state tax returns through my internship in Weyerhaeuser's tax department. I have also held two jobs on campus.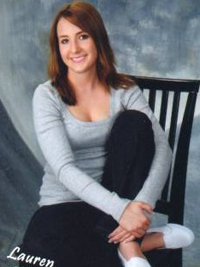 For all four years I have been a part of the financial aid office, both as a program assistant and a peer counselor, where I gave guidance to students about their financial aid accounts. I also was the Budget Assistant for the School of Business. Along with all of the exciting extra activities I have completed at PLU, I have learned an immense amount from my course work. The professors have helped me grasp the framework and mind set that is necessary to understand accounting.
What's next? I will be starting at a regional public accounting firm, Moss Adams LLP, and will begin studying for the CPA Exam.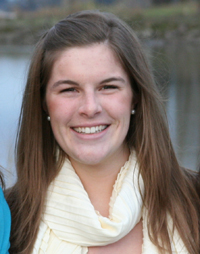 Melanie Deane '12 is from Lake Oswego, Ore.
Why PLU? Thinking back four years ago, I decided to come to PLU for the small campus, ability to relate to professors, and the opportunity to study abroad. I knew I was looking for a place where global education was relevant and with the opportunity to student teach in Namibia, as well as multiple avenues for student leadership, I knew this was the place for me.
My PLU experience: My experience at PLU has been a series of stories to make up a chapter book teaching me life lessons through classroom and student leadership experiences. The opportunity to dedicate time toward service has been a significant chapter, leading me into the worlds of Relay For Life and mentoring youth.
Through the School of Education, doors have been opened to not only observe in classrooms, but also teach.
Teaching not only locally but also internationally in Namibia has expanded my views of education in many ways. Throughout my chapter book, the main characters have been my friends, my professors and supervisors, and most importantly, my family. I have never felt alone at PLU as professors and staff have welcomed me into their lives, my friends have supported my endeavors, and my family has been my rock through it all.
What's next? After graduation I will be teaching special education in an elementary school in the Clover Park School District in Tacoma, Wash.
Mercedes Begley – Bachelor of Arts in Chinese studies, minors in anthropology and global studies
Why PLU? I decided to come to PLU for so many reasons. I was mostly excited about PLU's opportunities for global education, both on and off campus. I was able to experience our great Chinese studies program and to immerse myself in a living-learning language and culture community in Hong International Hall.
PLU's study away program is phenomenal. Not only did it allow me to spend a semester in China, but I have also been able to learn from the stories of my many friends who went abroad as well.
My PLU experience: I could not have chosen a better place than PLU! There is such a strong sense of community and a truly welcoming atmosphere which is hard to find elsewhere.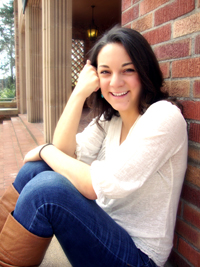 I have experienced the excitement of my friends, professors, and guests of the university and find myself constantly filled with inspiration to find where my greatest passions meet the world's greatest needs. I have learned so much about myself and the world and cannot even fathom the extent to which I have grown over the last four years.
What's next? I plan to take a year off to work and live in the cove with my mom and dad. There is also the possibility that I will teach English in Guangxi, China for a year. After that I would like to get my master's degree in international relations, either on the east coast or internationally. Eventually, I would like to work for the United Nations, the State Department, or a non-governmental organization.
Rayanne Streeter – Bachelor of Arts in sociology, minors in psychology and women's and gender studies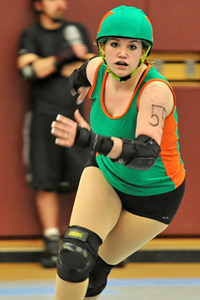 Rayanne Streeter '12 is from Auburn, Wash.
Why PLU? PLU was the only school I applied to. From the moment I learned about PLU I knew that it was the right school for me. In large state schools I knew I would get lost in the hustle and bustle of 100+ size classes and just become another number, but at PLU I would be able to be a part of the community. My professors would know my name and know my story which was really important to me. PLU offered a warm, engaging, and challenging campus life and curriculum which was just what I was looking for in a college.
My PLU experience: My experience at PLU has been amazing! I have been challenged in ways I never thought possible and PLU has increased my desire for knowledge. Over the last four years, I have met incredible people, both faculty and peers, found my passion, sociology, and gained large bodies of knowledge. Finding sociology has been the most rewarding experience.
The department of sociology offered me the chance to learn about a discipline that I had never known before and offered me the opportunity to be mentored by the amazing faculty. Without my sociology professors, I would have never been able to believe that I could go to graduate school. Working in the office of admission allowed me to gain professional leadership skills and inspire the next group of students to come to PLU. I hope that the incoming first-year students love PLU as much as I do. Overall, PLU has given me many experiences that I will take with me after graduation.
What's next? After graduation I will be moving to Virginia to attend graduate school. I will be obtaining my master's degree in sociology (and eventually my doctorate) at Virginia Polytechnic Institute and State University (Virginia Tech). There I will gain the knowledge to inspire the next generation of students as I plan to become a professor of sociology at the undergraduate level. Additionally, I plan to continue my passion for research that was instilled in me at PLU.
Why PLU? A few important factors helped me choose that PLU was the place for me. First, I wanted a culture change and to far be away from home. Growing up in rural Montana where everybody knows everybody and they all happen to be your fifth cousin, I wanted to get away from the small town life and experience an urban area in a controlled environment. The PLU "bubble" was exactly what I was looking for. Secondly, I was looking to play soccer for a university in the Northwest Conference and I knew that the program was well-established and successful.
Lastly, but most importantly, I knew that PLU had an extremely strong biology program backed by a wonderful group of dedicated professors who really do care about their students success in courses. To sum this up, by attending PLU I avoided becoming just a student ID number in the computer, but rather I a known recognizable face on my daily visits to Rieke Science Center.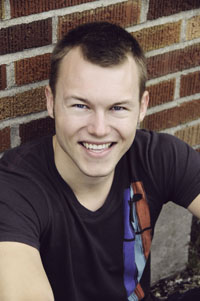 My PLU experience: My experience at PLU has been an absolute blast-full of a laundry list of wacky adventures with a great group of friends. From all the classic pranks of freshman year to stressing over completion of our final capstone papers together, my PLU experience would have been far less enjoyable without all the wonderful people that I have met. Secondly, my PLU experience has also been very demanding academically. If I had a single dollar for every hour I spent in Rieke Science Center over the past four years, this number would slightly exceed the net worth of Mr. Bill Gates. Even though I may be poking fun through slight exaggeration, I am very fortunate to have experienced the challenging nature of coursework at PLU and the efficient study skills that I have fine-tuned.
What's next? Next year, I am very excited to be attending medical school in the middle of a desert. I was accepted into the M.D. program at the University of Arizona in Tucson, AZ. For the last four years of my life, the worry has been about "staying dry" in the Pacific Northwest. I believe I will no longer have anxiety from this thought. Nonetheless, U of A has a wonderful medical school that presents many exhilarating opportunities for me to follow my true passion of medicine. I am extremely excited to begin making a significant impact in the lives of others through my career.
Shelby Lynn Adsero – Bachelor of Arts in political science and global studies, minor in Hispanic studies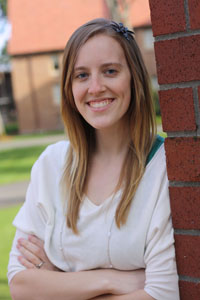 Shelby Lynn Adsero '12 is from Matlock, Wash.
Why PLU? I chose to come to PLU because I found a very welcoming community when I came to visit. I was also persuaded by the small class sizes, access to professors, and emphasis on studying abroad. When I came to PLU for scholarship weekend and experienced some of what PLU had to offer I just knew that it was the right place for me.

My PLU experience: It may be cliché, but PLU has been life changing. Through my studies I have learned to question, in a healthy way, my beliefs and the world we live in. I have become a part of another culture and community by participating in Hawaii club and I have had the opportunity to give a student voice to social justice issues by serving as co-editor of The Matrix. I have been humbled and changed by study abroad experiences. In Trinidad and Tobago I learned that service means helping where you are needed, not where you think you are needed. In Ecuador, I learned to question privilege and responsibility.
Throughout my education I have confronted disheartening issues and I have been challenged emotionally and intellectually but along with those challenges has come empowerment. PLU has shown me how I can use my vocation to create positive change. Ultimately, PLU has made me a humble person of service and a global citizen. Through my education and experiences PLU has empowered me to live a life of thoughtful inquiry, service, leadership and care.
What's next after graduation? This fall I will be attending law school at Seattle University. I am not completely sure which type of law I will practice. I have a strong interest in public policy and international law. But at the same time I would really like to work with juveniles who end up in the court system. Eventually, I would like to be a person of service, fulfilling a representative role in either state or federal government.
Sonja Ruud – Bachelor of Arts in global studies and French
Why PLU? I am a fourth-generation PLU student. While over the past four years I have come to appreciate my family's connection to the school, my initial choice to come to PLU was more in spite of than because of this tradition. My initial draw to the school was the global focus. I knew that I wanted to study away and was very excited about the opportunities that PLU offered.
I also appreciated the school's dedication to social issues both domestically and internationally and hoped to expand my own knowledge of and engagement in these issues.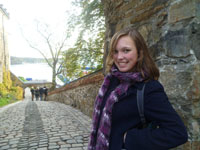 My PLU experience: I have done, learned and grown a lot over the past four years. My study away experiences (in Martinique, Cameroon and Norway) were all eye-opening for me on both a personal and an intellectual level. However, my experience here on campus has also been formative. In addition to making some wonderful friends, I have appreciated the sense of community amongst students, faculty and staff.
I have enjoyed working at the Wang Center and getting to know my professors in and outside of the classroom. Academically, I have been challenged to engage with my studies in new and deeper ways. This year, I have had the opportunity to collaborate with Dr. Rebecca Wilkin on a research fellowship in which I have learned a lot about the research and writing processes, sparking my interest in perhaps pursuing a career in teaching.
What's next? Next year, I will be teaching English in Spain! Within the next few years, I plan to attend graduate school, most likely in postcolonial studies.
Stacey Hagensen – Bachelor of Science in mathematics and economics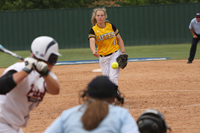 WhyPLU? I decided to come to PLU because I wanted a small school with strong academics and PLU met those requirements. I also wanted to play softball here.
My PLU experience: My PLU experience has been great. It's hard to sum it up, but I've been able to be involved in many things including athletics, Bible studies, RHC, and other activities. There are plenty of ways to be involved and stay busy.
The professors are great and are always willing to help the students. I love the people that I have met at PLU. They are kind and generous and have made my four years here a lot of fun.
What's next? I'm not too sure what my next step is after graduation. I'm going to look for a job after school is out. I've also been thinking about going to grad school to get a master's in education and become a high school math teacher.
Theodore Charles – Bachelor of Arts in anthropology, minor in religion
Why PLU? I decided to come to PLU because of the entire package. I was originally wooed by the prospect of a global education and study away opportunities, but when it came down to it, it was the people. I instantly felt at home when I first stepped foot on campus and knew that this was the place I needed to be.
Originally, I planned on attending Whitman, but when I went back to visit after stepping on PLU's campus, I knew I made the right choice.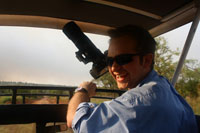 I honestly cannot see myself anywhere else besides PLU. It exceeded my greatest expectations.
My PLU experience: While at PLU, I tried to become as involved as possible. I love doing as many things as I can and have a lot of passions and I do not know of another university that would have allowed me to become as involved as I was. I found a myriad of new interests and was given tons of opportunities that I would not have found anywhere else. Whether scraping off clay from the pottery studio or shopping for outdoor rec lunch materials, I have loved every minute of it.
Throughout my four years, I constantly worked as a photographer, honing my skills on campus and abroad. I have been fortunate enough to study away five times while at PLU and often published a photo essay following my experience. PLU has been the perfect environment to discover myself.

What's next? I will be continuing to explore my passion for archaeology at the University of Idaho, working toward a master's and eventually a Ph.D. I also applied for a Fulbright to teach English in Turkey and am an alternate for a position. I hope to one day become a professor, as I love the process of learning through teaching.
This summer, I will most likely return to Mount Rainier to volunteer with the National Park Service on archaeological survey projects as well as spend time with my family in preparation for the fall.
Thomas Molyneux-Elliot – Bachelor of Science in physical therapy, minors in biology and psychology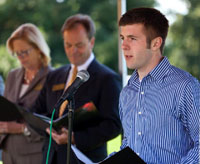 Why PLU? I decided to come to PLU because it was the best university for me where I could play competitive soccer while being able to get the best education possible.
It was important to me that I could play on a soccer team that challenges every year for a championship with the ability to chose from a wide variety of majors to decide what I wanted to do in the future.
My PLU experience: During my four years at PLU I have had the opportunity to meet some great people.
I enjoyed playing with a group of soccer players that after all of the hard work won our first Northwest Conference championship. I have been challenged on and off the field to help me get ready for life after PLU.
What's next? After graduation I will continue working and gaining experience in physical therapy in order to build the strongest application for a doctorate of physical therapy graduate program. I hope to be starting graduate school in the fall of 2013.