Currently Reading:
Pay Attention. Be Astonished. Tell About It!
May 27, 2012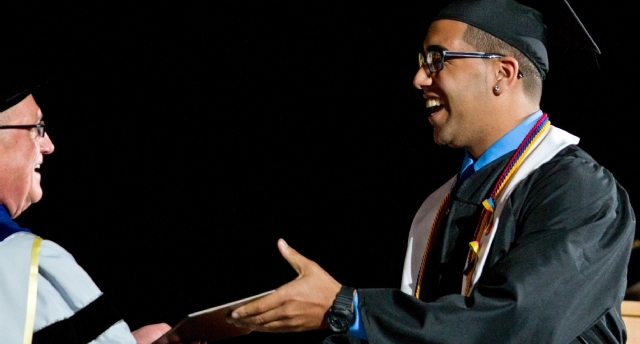 By Barbara Clements, University Communications
In his last address as the president of Pacific Lutheran University, Loren J. Anderson told the 680 assembled master's and bachelor's graduates to practice the attitude of gratitude, courage and wonder.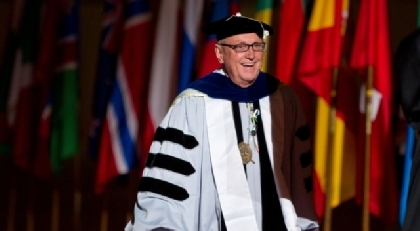 Counting himself as an honorary Class of 2012 graduate- Anderson retires May 31 after 20 years of service to PLU – he acknowledged that stepping out beyond the "Lutedome" can be unsettling and and anxious times for graduates who ranged in age on Sunday from 20 to 65. Make that 66, Anderson laughed, if you count him into the mix.
He encouraged the assembled graduates, along with the thousands of family members who packed the Tacoma Dome Sunday, to view life with gratitude, "which will make sense of our past, bring peace for today and creates a vision for tomorrow." He reminded the graduates that they have all been nurtured and loved by a village "that cares for you deeply and to whom you matter greatly."
On the topic of wonder, he quoted poet Rainier Maria Rilke in saying "have patience's (and) love the questions, and live the questions now, then someday, far in the future, you will…live your way into the answer." And finally, Anderson addressed the topic of courage. In this topic, he turned to the late Steve Jobs, who noted in his now-famous 2005 Stanford University address that "your time is limited, so don't waste it living someone else's life…Don't let the noise of other's opinions drown out your inner voice. And most important, have the courage to follow your heart and intuition."
This thought segued into poet Mary Oliver's poem called "Sometimes," where Anderson reminded graduates to pay attention, be astonished…and tell about it."
For a full text of Anderson's speech, click here.