Currently Reading:
International Honors at PLU
September 6, 2012
International Honors at PLU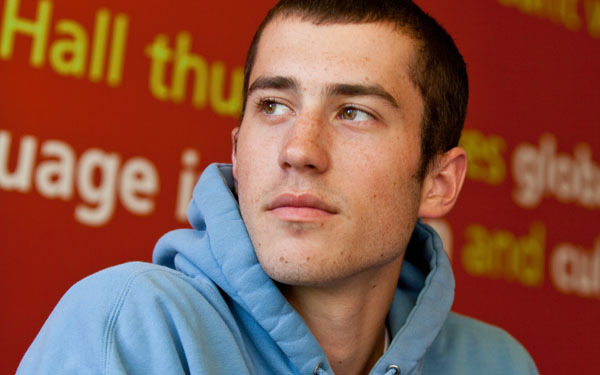 Four first-year students discuss PLU's honors program
By Steve Hansen
Ask four first-year students from different backgrounds and hometowns – each with different major and career goals – about what they expect from their PLU education and you're bound to get different answers. But on one subject, they speak in unison: their participation in PLU's innovative International Honors Program.
The program, which consists of seven classes that build on each other, focuses on issues of great concern across the globe. The courses are multidisciplinary – meaning they look at issues from many views and perspectives.
Below is a conversation with four PLU students who have just completed their first year in PLU's IHON Program. They speak of small classes that are challenging. They talk of reading lots of primary texts, and of freewheeling discussions guided by their professors. They talk about thinking about difficult issues in ways they've never considered before. They talk of never having to work harder in their educational lives. And they have one other thing in common:
They love it.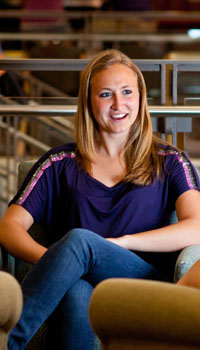 Helen "Nellie" Moran
French and Political Science
Hamilton, Mont.
'As someone who came to college to be academically challenged, IHON has definitely offered that'
—Helen "Nellie" Moran
It may seem obvious, but it bears repeating: PLU's IHON program is both international and honors. It's what students like about it.
That is certainly true for Nellie Moran. As someone who hopes to someday work for the U.S. Foreign Service, she is very interested in the cultural and historical contexts that shape the world.
"The fact that the program was internationally focused was a huge draw to me," Moran said. "Taking classes that force me to think more globally is so beneficial for the work I want to do in the future."
Thinking globally is the key. IHON students don't simply study issues from afar – they study them from a variety of perspectives and in a variety of disciplines like the arts, economics, philosophy, politics and religion. They are not simply reading about the great thinkers and the great ideas that have made the world what it is – they are systematically dissecting and testing these ideas and looking at them from every perspective.
It means a lot of reading. It means a lot of discussion. It means a lot of work."I enjoy the IHON classes because they give me more of a challenge," Moran said. "As someone who came to college to be academically challenged, IHON has definitely offered that."
There is even a wing in Hong International Residence Hall that is populated exclusively with students in the IHON program. It allows fellow IHON members to continue the conversation beyond the classroom – whether in the residence hall, in the classroom or anywhere else. That intellectual spirit is infectious.
"I like to be with peers who are as just as committed to school as I am," she said.
'It is so good to interact with other majors'
—Navkiran "Navi" Randhawa
It is hard to find someone as committed to school as Navi Randhawa. As a biology and chemistry double-major with a very busy schedule, she finds that it can be very easy to spend much of her time in PLU's science building. After all, it is where her labs and classes are, where her profs are, and where many of her fellow majors are. For this reason, she really appreciates the fact that her IHON classes bring together so many students from other majors and disciplines.
It's not just that she's being introduced to new people. She's being introduced to new ideas, and new ways of examining those ideas through the lens of different disciplines.
"Because there are so many majors in the IHON classes, you see issues from different points of view," she said. "When we talk in class about something we read, the [perspectives] are totally different – sometimes they even contradict."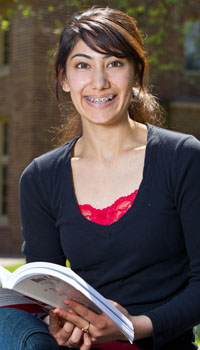 Randhawa loves this – she sees it as a way to engage in ideas she might not otherwise encounter if she spent all her time in the science building.
This is by design. Whereas many universities, have programs that focus on global issues, what makes PLU's truly unique, is that such issues are looked at from multiple perspectives and multiple disciplines – course material is drawn from at least two countries with distinct historical and cultural norms. Similarly, the professors who teach the IHON classes also bring diversity in their disciplines – Randhawa's two first-year IHON classes, for instance, were taught by experts in historical theology and French Literature. Randhawa loved them both.
Others see it that way, too. And the benefit isn't just in the classroom.
"I like having friends who have completely different views and completely different visions of where their life is going to go," said Nellie Moran.
"It is so good to interact with other majors," Randhawa added.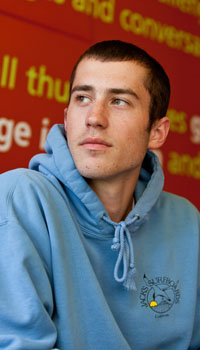 'IHON challenges me to think in a different manner – and that affects everything else I do'
—Kyle Schroeder
When Kyle Schroeder thinks about how his IHON classes differ from his other classes, he talks about how one of his professors made him argue for one side of an opinion – then, when he was done, he was asked to argue exactly the opposite side.
The prof made the whole class do that.
This is not uncommon for IHON classes, many of which are discussion-based, as (vs. lecture-based), to encourage dialogue. It allows students like Schroeder to really get a chance to dig deep into the subject matter and explore it – from all sides.
"IHON challenges the way I interact in my academic environment, my social environment," Schroeder said. "IHON challenges me to think in a different manner, and that affects everything else I do."
There's another benefit. That same lively discussion means that students have to be prepared. Students can't skip readings, or classes – simply having a larger workload is no excuse. Many of the discussions are in small-group settings that keeps everyone razor sharp – and accountable.
A small group setting also ensures that students quickly get to know each other. According to Navi Randhawa, that means the discussions can be more free-flowing and honest.
"I know everyone in my IHON classes," she said. "We are comfortable with each other, and that means we are comfortable sharing our opinions."
It makes students feel they are not simply getting lectured – they are, together, all part of the discovery process.
"Almost every class I'm satisfied by the conversation," Schroeder added.
'My professor had really high expectations, but she gave us the tools to reach them'
—Carly Brook
As Carly Brook reflects on her first year in the IHON program, she is similarly satisfied. Her two honors program classes were easily her favorite – this is what college should be like, she believes. It has everything to do with her professors.
"Even though we were freshmen," she said, "we were treated like adults."
To be sure, students will find that to be true across PLU's campus. But Brook's point is this: IHON has been a great opportunity for her and her fellow students to really engage with her professors – to dig into the material and discuss it like scholars. Brook uses the word "respect." She feels respected in her IHON classes by her profs – and her fellow students.
That respect is earned, she realizes, through a lot of reading of primary texts, a lot of thoughtful interaction, and a lot of hard work. But that's what she came to college for – a challenge. And that's what she got from her profs.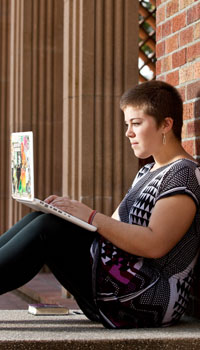 "My professors had really high expectations," Brook said. "But they gave us the tools to reach them."
It is fair to say that Kyle Schroeder speaks for all four students when he agrees.
"These aren't the types of classes where you can show up and not have the work done and expect to fly by," he said. "It is hard work."