Currently Reading:
Stepping out of the classroom and into the business world
April 1, 2013
Stepping out of the classroom
and into the business world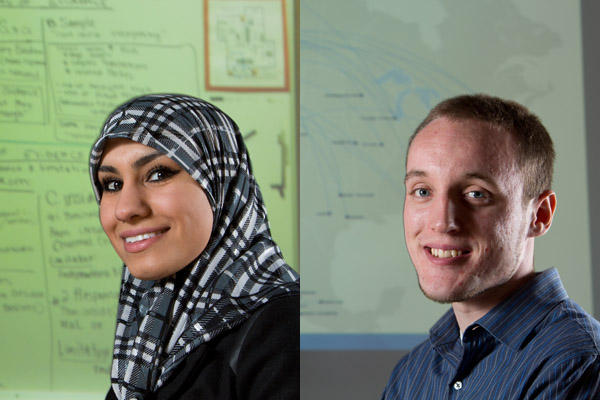 Bashair Alazadi '12 and Zachary Grah '13 had transformational internships during the summer of 2012.
An important benefit for PLU business students is an internship, and about half of our students complete at least one before graduation. Internships expose students to the world of business practitioners, to the performance expectations they will face as they begin their professional careers, and to organizational culture.
They frequently are transformational experiences, epiphanies of sorts that truly shape students' lives going forward. For employers, an internship is a form of extended interview, as they look to hire the best and brightest graduates.
We feature two senior business majors who enjoyed particularly satisfying internships during summer 2012.
—
A Business major with a concentration in marketing, Zachary Grah '13 spent the summer working as a network-planning intern at Alaska Airlines' corporate headquarters in SeaTac, Washington.
For 13 weeks, Grah worked full-time analyzing the network of flight routes for profitability. And he collaborated with other departments to adjust ticket prices to ensure capacity and tracking competitors' rates.
"The skills you get out of an internship can't be matched by any class," said Grah.
Grah was part of a six-person network planning team.
As his culmination project for the internship, Grah was given the opportunity to propose a new flight route for Alaska Airlines to Andrew Harrison, V.P. of Planning and Revenue Management.
Beginning in April, Alaska Airlines will begin flying the new route proposed by Grah between Seattle and Salt Lake City, Utah.
Harrison helped to strengthen Grah's understanding of the business world, and particularly, competition among airlines. "When I was talking to him, he opened my eyes to everything else he has to consider," said Grah. "I learned you have to look at the big picture before you can look at the small details."
Based in the Tacoma office of the accounting firm, Moss Adams LLP, Business major Bashair Alazadi '12 used her accounting concentration as an audit intern to review employees.
Alazadi was introduced to this opportunity through PLU's on-campus accounting club, Beta Alpha Psi.
"They do a really great job of bringing firms to the meetings," explained Alazadi. "We were able to tour Moss Adams and I loved the company culture I saw."
Beginning her internship, Alazadi faced the same fear many students face when entering the professional world.
"Walking into an accounting firm I was really nervous because I had never been in a professional atmosphere," said Alazadi. "But I met the nicest people and gained real-life experience." But accounting is more than sitting behind a desk and crunching numbers, explained Alazadi.
From advertising firms to manufacturing companies, Alazadi audited various industries around Tacoma.
"You go out to different clients every week," explained Alazadi. "It's really interesting seeing the inner workings of so many different types of companies."
For Alazadi, this internship gave her reassurance that she chose the right career and would love doing the work.
"I really love math, but I really like socializing too," said Alazadi. "It was amazing to find a career that does both. I feel like I got the best of both worlds."
Alazadi began in January, the start of busy season, at Moss Adams LLP as one of the firm's new staff accountants.
—
This article was first published in the Spring 2013 issue of Business Scene magazine. To see the magazine in its entirety, click here.