Currently Reading:
President Krise surprises students in the classroom
May 7, 2013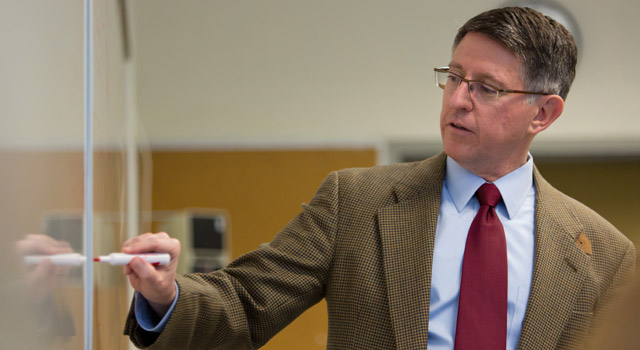 President Krise goes to the front of the class…to teach
When students walked into Admin 214 at the beginning of spring semester for English 216: African and Caribbean short stories, some were a little surprised to find the university president, Tom Krise, standing in the front of the room with Professor Barbara Temple-Thurston.
"There were some students on the first day who looked at me and kind of wondered, 'What's he doing here?'" Krise recalled.
But one person who wasn't surprised was Kim Stone '13, a music education major who signed up for the class partly because she knew in advance that Krise was co-teaching it. She and her fellow RHA members had picked the new president's brain at a dinner in the fall and asked what, if anything, he planned on doing with his literature degree during his time at PLU.
"He said he might be co-teaching a class in the spring," Stone said.
Stone was one of, if not the only student who knew she'd be learning under the head of the university on that first day, but she was just as nervous as the rest of her peers.
"When I got into the class my first thought was, 'What did I just do?'" Stone said. "The first day it was super nerve-wracking. No one would raise their hand."
But if you know him, you'd understand how Krise's approachable demeanor quickly dissolved the apprehension in the room.
"He has this ability to give a lecture and make you feel like you're having a one-on-one conversation," Stone said.
"One of the things I really like is I'm not afraid to talk in his class anymore. Every time I say something, he makes me feel like everything I say has value. I've never felt stupid in his class," she said.
Besides providing a comfortable learning environment, Krise shares with his students his depth of knowledge and passion for the Caribbean and its literature. Krise went to high school in the Virgin Islands and spent a portion of his youth living in a boat, sailing around the Caribbean with his parents. In graduate school, he decided to study British Caribbean literature after learning about the gaps in the field.
He went on to create the first early Caribbean literary anthology chair in the English department at the University of Central Florida, Orlando, complete a Fulbright in Jamaica, and form the Early Caribbean Society with friends at a cocktail party in 2002.
"I can tell he has a definite passion for what he's teaching," Stone said. "Even if you're not the president of the university, that's a good [skill] to have."
Teaching is rare for a university president, but it isn't unheard of, according to Krise, who has taught at least one course a year throughout his career.
"When I was a dean and a department chair I was always teaching — all the way through — so I'd like to keep up that pattern," Krise said. "It changes your view of the university and the students and everything when you have your own set of students and you know what they're capable of and what they're interested in.
"You get to know students in a very different way. And I notice whenever I'm not teaching I feel a little bit more distant from the life of the campus," Krise said.
Krise takes advantage of having a class of his own while letting his students take advantage of having the president at their disposal.
About once a month, he opens the class up for questions large and small, academic or not. Students have asked when they'll be getting a new fitness center and what his goals are for the next few years, but he's open to talking about more personal topics, like how he and his wife maintained a long-distance relationship for part of their marriage.
"I can tell that part of the reason he wants to teach a class is because he wants to get to know students and what they have to say," Stone said. "It makes me feel like I'm genuinely being cared for as a student. He's very receptive to feedback too. It's never dismissed."
Krise said he plans to continue teaching one course a year. He's currently developing a J-term 2014 class on management lessons from literature. Prior to coming to PLU, he co-taught the course for six years with a business professor. In next year's course he will take the class to Washington D.C. so they can connect with former Lutes working in government.
"I love the combination of tying in internships and co-ops with management lessons from literature, which neatly ties my literary interests with my management job," Krise explained.
"I think any teacher will tell you that we wind up learning as much from the classroom environment and the students as students learn from us. That's part of the happiness of teaching, you just learn a lot doing it," Krise said. "It's fun to do what you're trained to do and like to do and [what's] worth while."