Currently Reading:
Training with the Lute battalion
May 7, 2013
Training with the Lute battalion
Most college students don't walk out of the classroom and directly into a leadership position. Most don't have a job locked down more than a year before they graduate. And most don't get the training needed to make those type of things happen for free.
But Ray Velásquez isn't like most college students. Velásquez is part of a small minority who will graduate and immediately rise the ranks and have a guaranteed job for the next eight years.
As a member of the Reserve Officer Training Corps. at Pacific Lutheran University,  Velásquez and 86 other college students in the Tacoma area are training to become members of the U.S. Army, Army National Guard and Army Reserve.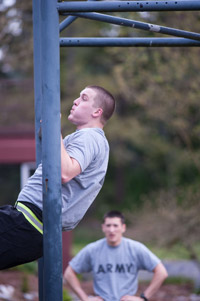 ROTC is considered one of the best leadership training courses in the country, and it's not without good reason.
To participate, Velásquez is up before the sun rises and in bed well before many of his peers.
He attends physical training (PT) three times a week. He also gives up every other Thursday morning and four weekend days a semester for training with the Lute battalion.
"It's a challenge," Velásquez admits. "It's a lot of extra work on top of school work," he said, adding that it's well worth it.
Velásquez's parents went through Air Force ROTC at Oregon State University, and he knew he would follow a similar path.
"I've been very practical. I was definitely after high school looking for something career-based," Velásquez said.
He learned about the PLU's ROTC program from a childhood friend while he was attending Pierce Community College.
"In 2011, a friend and me went to PT together," Velásquez recalled. The rest was history."My friend ended up enlisting and I did ROTC," he said. "The ROTC program really appealed to me because it paid for school and gave me a guaranteed job."
Velásquez commuted from Pierce College for a semester to participate in the program, before transferring to PLU in fall 2011.
He was in the program for a year and a half before being contracted with his fellow MSIIIs (third year cadets) last fall. It was then that he was given a two-year scholarship, which pays for his tuition, dorm room, and meal plan at PLU and reimburses him for his books.
The two, three and four-year scholarships are offered to students based on GPA requirements, the results of their army physical fitness test and the potential they show instructors like Jeffrey Winstead, a master sergeant and senior military instructor of the MSIIIs.
In his eyes, Velásquez, "is a very self-motivated cadet."
"Physically, [he's] very fit. Academically, he's probably into the top 10 percent of his class. He's been a solid student in every aspect," Winstead said.
When he graduates next year, Velásquez will commission as a second lieutenant, but his exact assignment won't come until sometime during his senior year.
This summer, Velásquez and other MSIIIs from around the country will put their skills to the test at the Leadership Development and Assessment Course (LDAC) at Joint Base Lewis-McChord.
They'll sleep in the barracks and out in the field, and be assessed on their leadership ability which will be used along with their assignment preferences to determine where they'll serve after graduation.
Velásquez said he thinks he could be a good fit in any branch in the army, but he's going to try to branch infantry and military intelligence.
"Everybody that graduates from this program will be in a leadership position automatically," Winstead said. "It really does set a young person up for success."