Currently Reading:
MESA at PLU Celebrates 30 Years of Success
June 3, 2014
MESA at PLU Celebrates 30 Years of Success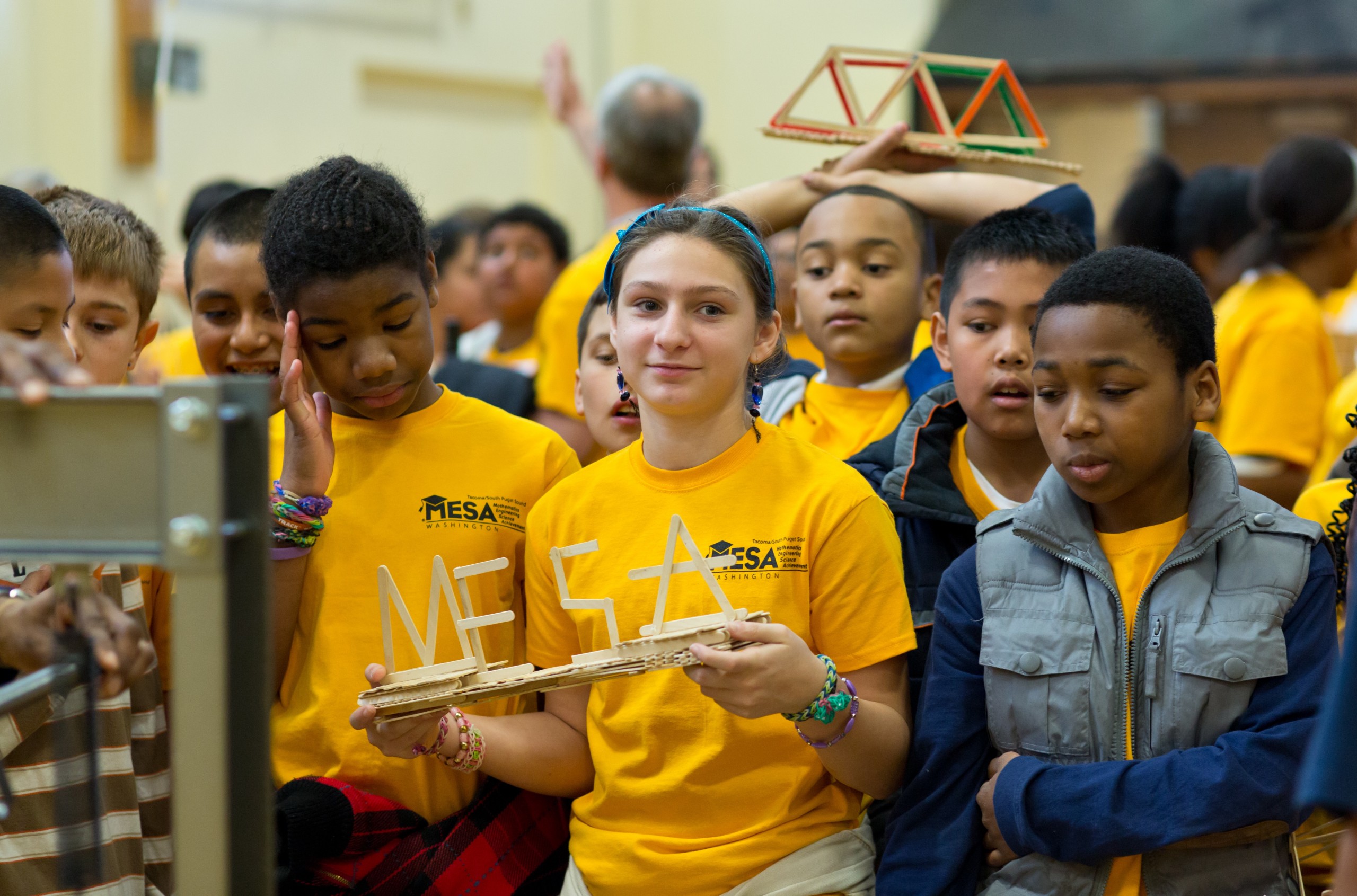 Students gather at PLU for the 2014 MESA Day engineering competition. (Photo: John Froschauer/PLU)
June 17 Luncheon Celebrates Achievements and Looks
Toward the Future
By Sandy Deneau Dunham
PLU Marketing & Communications
When the MESA program was established at Pacific Lutheran University in 1984, it served about 20 students.
Today, 30 years later, the program has worked with more than 14,000 students, said JR Nobles, director of Tacoma/South Puget Sound MESA at PLU.
About the MESA Luncheon
Date and time:
11:30 a.m.-1 p.m. Tuesday, June 17.
Location:
Chris Knutzen Hall, Anderson University Center.
More information
here
.
To register for the luncheon,
click here.
MESA (Mathematics Engineering Science Achievement) works to support underrepresented students in achieving and contributing their full potential in mathematics, engineering and science—and it does it well: More than 92% of MESA graduates go on to colleges and universities across the country, and MESA students earn university degrees in engineering and science at a rate nearly five times the national average.
On June 17, PLU will host a public luncheon to celebrate and fund its MESA program and the next generation of Math, Science and Engineering excellence in Pierce County.
"We're looking back in order to move forward," Nobles said. "While 30 years of service is cause for celebration, it is also a time for reflection. As we turn toward our next 30 years, I am confident that we are positioned to achieve new levels of success even greater than we have already seen."
As one of the oldest STEM (Science, Technology, Engineering & Math) organizations in the Puget Sound, Tacoma/South Puget Sound MESA also is one of the area's premier advocates for STEM education and diversity.
30 Years of Tacoma/South Puget Sound MESA Accomplishments
•    Served more than 14,000 students in the Puget Sound area.
•    Cultivated more than 200 certified teachers.
•    Impacted more than 45 schools in nine school districts.
•    Sent six teams to the National MESA Engineering Competition.
•    Established the first MESA Powerful Parent Board.
•    Awarded more than $500,000 in scholarships.
•    Established the first MESA Day competition in Washington.
One of the PLU organization's most visible on-campus events is the annual
MESA Day engineering competition
, the first of its kind in the state. Each spring, hundreds of K-12 students from nearly two dozen local schools come to PLU to compete in fun and exciting engineering competitions such as building stick bridges, creating prosthetic arms and designing and flying gliders. It's a major event, filling both Olson Auditorium and Memorial Gymnasium, and about 25 PLU staff members—from the Division of Natural Sciences and other departments—volunteer each year, along with members of the community. Nobles calls it "the Olympics of MESA."At the luncheon, MESA will award five scholarships worth a total of $10,000 to local high-school seniors. A new scholarship also will be announced, and awards will be presented to Foss High School's Ruth Nelson-Wright, MESA's longest-serving teacher, and to John Pope, Program Supervisor at Washington's Office of the Superintendent of Public Instruction, MESA's longest-serving board member."After 30 years, MESA remains a model of how to get it right for students in the fields of mathematics, engineering and science," PLU President Thomas W. Krise wrote in the luncheon program. "Gone are the days when a basic understanding of math or science was sufficient for most high school or college graduates. Today's students need a strong foundation in these subjects regardless of their plans after high school."