Currently Reading:
Daffodil Royalty Blossoms at PLU
October 2, 2014
Daffodil Royalty Blossoms at PLU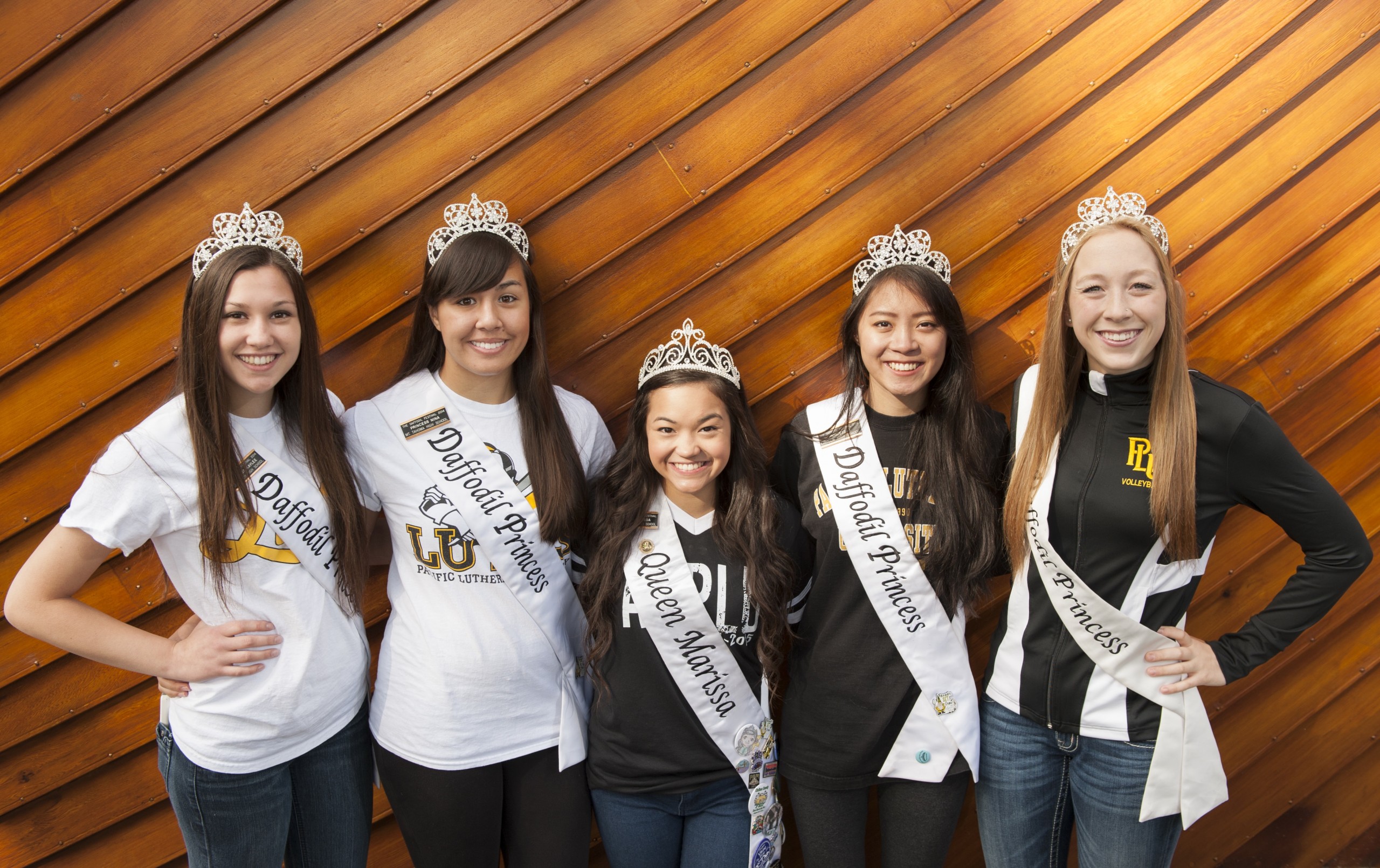 Five members of the 2014 Pierce County Royal Daffodil Court are all new Lutes this fall. From left: KayLee Weist, Nina Thach, Marissa Modestowicz (queen), Ji Larson and Kaetlynn Brown. (Photo: John Struzenberg '16)
5 Members of the 2014 Court Are Now First-Year Lutes
By Taylor Lunka '15
PLU Marketing & Communications Student Worker
The queen and four princesses from the 2014 Pierce County Royal Daffodil Court are all new Lutes this fall—which means almost a quarter of the 24-member court chose Pacific Lutheran University.
It also means at least one ready-made set of familiar faces as Queen Marissa Modestowicz and Princesses KayLee Weist, Ji Larson, Nina Thach and Kaetlynn Brown adjust to their first year on campus.
And while they all have almost-matching sashes and tiaras, their reasons for choosing PLU are as individual as they are.
Larson settled on PLU after a trip to China, where she met an English-speaking alumna.
"Ever since then I had been dead-set on PLU," said Larson, who plans to major in Chinese Studies.
Weist, a Nursing major, said she wanted to be a Lute to "impact the community I'm currently serving in."
All five already have made a big impact as part of the Royal Daffodil Court, made up of high-school seniors from around Pierce County who develop public speaking skills, self-confidence and poise through their interactions with the community.
"I've gotten to spend time with countless people from all walks of life," said Larson, a graduate of Lincoln High School. "We have been to libraries reading to children, spending time with the elderly, as well as eating dinner with politicians."
The court is part of the Daffodil Festival, which has been a Pierce County tradition for more than eight decades. The festival's mission is to better communities through leadership training and education opportunities, and its legendary parades travel through four communities each year.
"It's a huge honor to be the queen," said Modestowicz, from Emerald Ridge High School. "I wasn't expecting it. I remember winning and thinking, 'Is this real?'"
"The court is awesome," said Thach, a Biology major from Mount Tahoma High School. "Twenty-four sisters who are nice people. It is such a life-changing experience."
PLU could have that effect, too: Brown, a Sumner High School graduate and now a Psychology major, is on the volleyball team; Larson said she'd love to be a part of the Asian Pacific Islander club and the Chinese Studies Club; and Thach is considering debate, Chemistry Club, Circle K International, Club Keithley and soccer and tennis.