Currently Reading:
PLU Line Cook is Set to Sizzle at National Competition
October 2, 2014
PLU Line Cook is Set to Sizzle at National Competition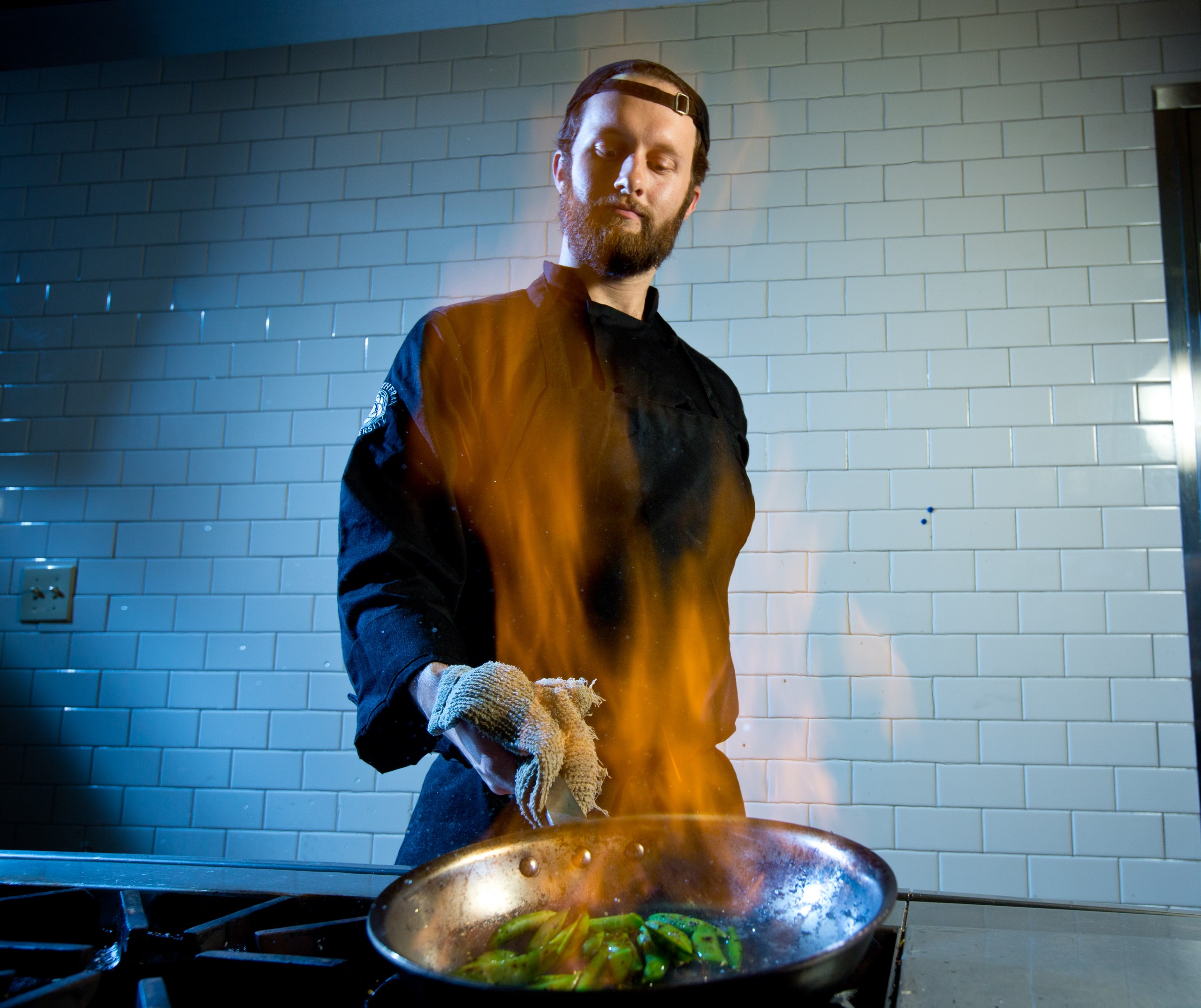 Jason Sipe, an MBA student and line cook at the Anderson University Center, has been selected to compete in the first-ever ment'or Young Chef Competition. (Photo: John Froschauer/PLU) 
Most days, MBA student Jason Sipe works as a line cook at PLU's Anderson University Center. But on Oct. 30, he'll take his considerable culinary skills to the swanky kitchen of Chef Thomas Keller's acclaimed Bouchon Beverly Hills for the first-ever nationwide ment'or Young Chef Competition.
This is a Really Big Deal. Bigger than a standing soufflé. Bigger than a perfectly poached egg. Consider:
•    only 16 young chefs nationwide were invited to compete;
•    invited guests are paying $75-$125
to watch the competitors cook
;
•    the competition is spearheaded by international
chefs extraordinaire
Jérôme Bocuse, Daniel Boulud and Keller; and
•    the first- and second-place winners of each regional competition will receive a $15,000 and $10,000 award in the form of "the
stagiaire
(internship) of a lifetime" at some of the nation's most well-respected restaurants.None of that is lost on Sipe.
"This is really an amazing opportunity to be given the chance to compete with chefs at this caliber," he said.
Sipe will compete against three sous chefs and line cooks from California, Louisiana and Utah. And he'll have Lute help, too, in Amanda Schmidt, a recent PLU graduate and prep cook who's going along as his assistant.
"I think she is tremendously talented and has shown a lot of drive," Sipe said. "She is a great benefit to bring to the competition."
Ment'or is a nonprofit organization that aims to inspire excellence in young culinary professionals and preserve the traditions and quality of cuisine in America. Its inaugural Young Chef Competition is described as "rigorous," and you could describe its judges as "inspirational," "intimidating" or both: chefs William Bradley, Josiah Citrin, Timothy Hollingsworth, Roland Passot and Richard Rosendale.
The Bouchon Beverly Hills competition is the second in the series of four Young Chef Competitions taking place across the country this fall. The first competition will be held at Emeril's in New Orleans on Oct. 19, the third at Johnson & Wales in Miami on Nov. 8 and the fourth at the International Culinary Center in New York City on Nov. 15.
For his application, Sipe submitted his resume, a letter about his experience and a reference letter.
"A short time later, I was told that the winners would be announced on a certain day by phone," Sipe said. "Once that day came around, I received a call from Chef Thomas Keller inviting me to compete!"
Erin McGinnis, director of PLU Dining and Culinary Services, said she's thrilled that Sipe has been selected for this opportunity.
"He is so passionate," she said. "He writes about food; he thinks about food; and when he's off, he's thinking about how to perfect his food."
Sipe graduated from PLU with a Bachelor's degree in Religion in 2012 and is now finishing his MBA. His career as a food writer and restaurant critic began with a column in PLU's student newspaper, The Mooring Mast. He since has been featured on local and national news websites and has competed in and judged PLU's annual culinary competition, The Commons on Fire.
And now he's excited to put PLU on an even wider-ranging culinary map.
"This is the first year of the Young Chef Competitions, and with only 16 competitors invited from across the nation, PLU will certainly stand out," Sipe said.