Currently Reading:
MediaLab's Newest Film Breaks Down the Food Equation
October 21, 2014
MediaLab's Newest Film
Breaks Down the Food Equation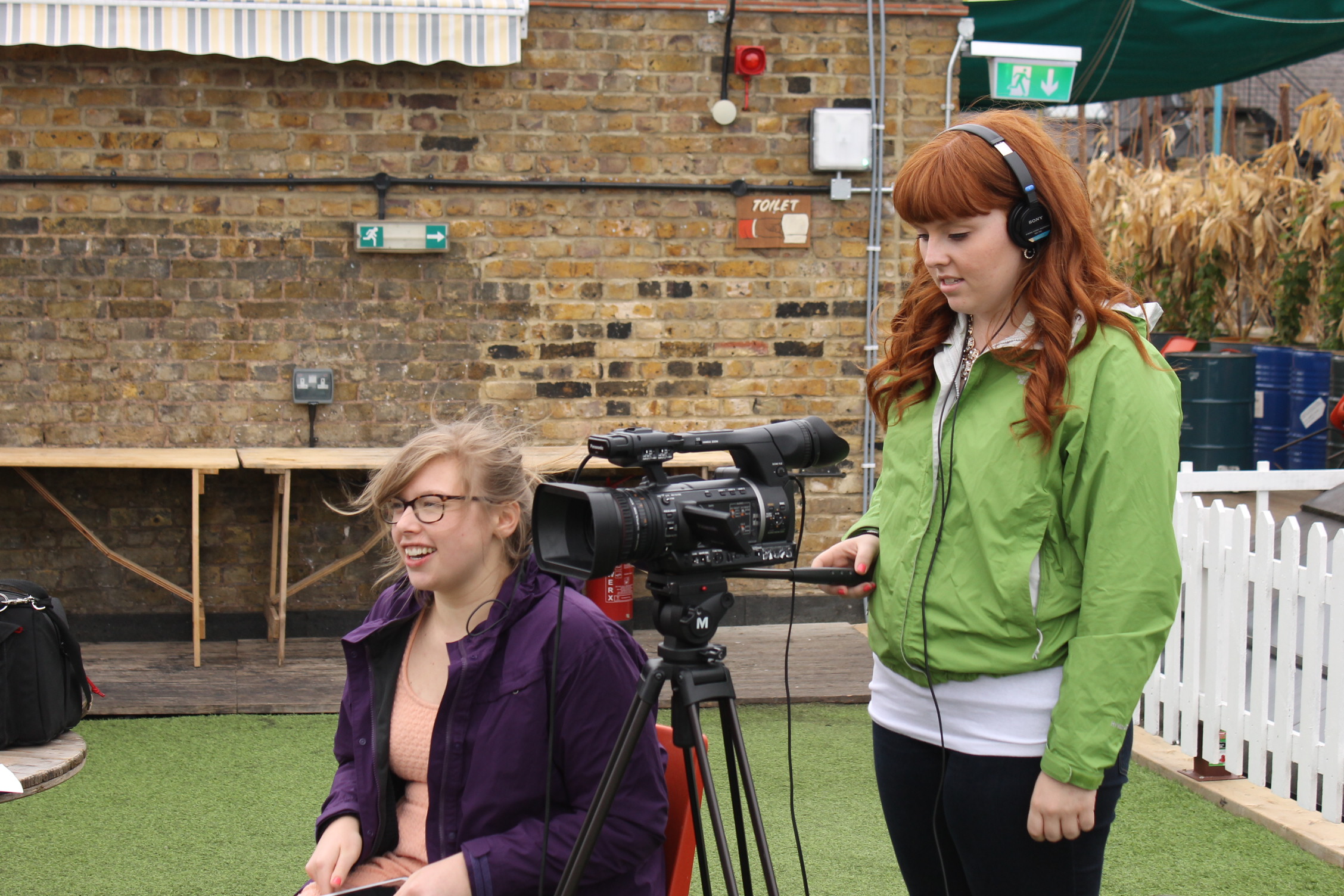 MediaLab member Olivia Ash, left, conducts an interview in London while Taylor Lunka operates the camera. (Photo courtesy of MediaLab)
'Waste Not' premieres in Tacoma on Nov. 8
By Natalie DeFord '16
MediaLab
TACOMA, Wash. (Oct. 23, 3014)—An estimated one-third of food produced in the world each year goes to waste, causing economic, energy and environmental losses of more than $750 billion annually, according to a 2013 United Nations special report.
That startling statistic caught the attention of three PLU Communication students, all of whom are members of the award-winning MediaLab program. Intrigued, the trio began asking questions, conducting research and investigating the issue.
Now, after more than a year of research, travel, interviews and production, the result is a new documentary film titled Waste Not: Breaking Down the Food Equation, which premieres in Tacoma on Nov. 8.
Waste Not explores the complexities associated with how and why food is wasted, as well as the many ramifications of wasted food.
"Through making this film, I've had a plethora of experiences that have shaped the way I think about food waste and food in my own life," said Taylor Lunka '15, a Communication major who served as a senior producer.  "I hope people who see the film realize it's something we can all do something about, and it's an issue that deserves our attention."
Premiere Details
What:
The premiere of
Waste Not
, MediaLab's new 30-minute documentary.
When:
3 p.m. Saturday, Nov. 8.
Where:
The Broadway Center for the Performing Arts' Theatre on the Square, between Ninth and 11th streets on Broadway in downtown Tacoma.
Admission:
Free and open to the public. Those interested in attending are encouraged to RSVP at
ml@plu.edu.
For more information:
wastenotdoc.weebly.com
or 253-535-7150.
MediaLab members, from left, Olivia Ash, Amanda Brasgalla and Taylor Lunka work on location for "Waste Not" in Austin, Texas. (Photo courtesy of MediaLab)
Lunka and fellow Communication students Amanda Brasgalla '15 and Olivia Ash '15 spent more than a year traveling across the United States, Canada and the United Kingdom, conducting nearly 100 interviews with people involved in various aspects of the food system, including several food-recovery organizations.
"Food waste is an issue that's becoming widespread across the world, and it's something everyone can connect to," Brasgalla said. "Food-recovery organizations have been cropping up all over the world, and many government organizations are making the elimination of food waste a top priority in the next five years."
MediaLab is an award-winning program housed within the Center for Media Studies in PLU's School of Arts and Communication. In its eight years of existence, MediaLab has received multiple recognitions for its documentary films, including one Emmy award; five Emmy nominations; three National Broadcasting Society Awards; and a host of other regional, national and international honors.
Waste Not is the latest in a series of MediaLab films that have tackled big, highly topical issues such as religion, water, oil and immigration. All of those productions have been supported by PLU's Wang Center for Global Education and other on- and off-campus organizations such as the School of Arts and Communication, The News Tribune, KWA and others community partners.
In addition to gaining valuable experiences in filmmaking, the Waste Not team also learned a great deal about agriculture, economics, cultural differences and related issues while making the film.
PLU Communication Professor Robert Marshall Wells, MediaLab's co-founder and faculty advisor, served as executive producer on Waste Not. Wells said the filmmakers' primary goals are to provoke thought.
"I'm hoping that someone who attends this film will come away informed, enlightened or perhaps even shocked," Wells said. "Minor adjustments in behavior and perspective can go a long way toward solving major problems."