Currently Reading:
Hunger & Homelessness Awareness Week
October 27, 2014
Hunger & Homelessness Awareness Week

From on-campus simulations to community
service projects, PLU promotes advocacy and action
By Brenna Sussman '15
PLU Marketing & Communication Student Worker
TACOMA, Wash. (Oct. 28, 2014)—Taking part in the nationwide Hunger and Homelessness Awareness Week, PLU's Center for Community Engagement and Services will host a variety of events in November to promote advocacy, awareness and issues around hunger and homelessness. Students are encouraged to participate in the events, which kick off on Wednesday, Nov. 12, and run through Saturday, Nov. 22, or volunteer to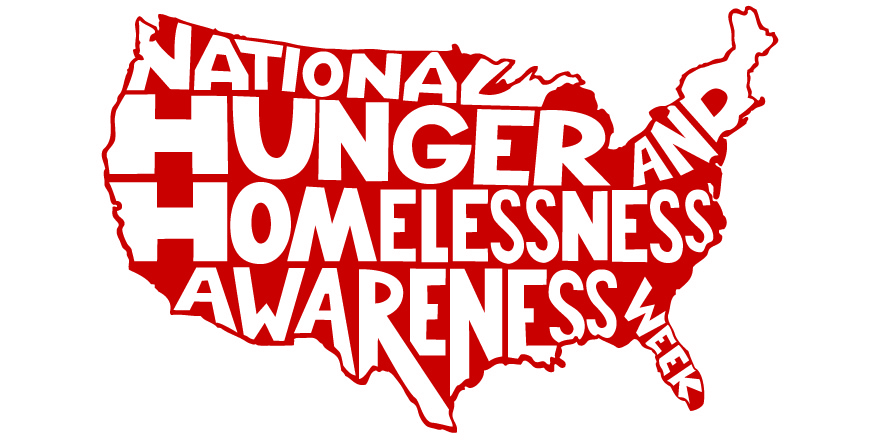 help out at one of the service projects PLU will be working on.
In addition to the events, PLU will participate in a food drive during the month of November. Students, faculty and staff can donate peanut butter that will go to the Emergency Food Network, which supplies food banks all over Pierce County. Peanut butter can be dropped off at Old Main Market in the University Center.
Here's a look at Hunger & Homelessness Awareness Week events:
Wednesday, Nov. 12
Center for Community Engagement & Service will host a Poverty Simulation sponsored by Washington State Extension in Chris Knutzen Hall, where students will be assigned roles that reflect some of the challenges that low-income families experience. This facilitated role play will include critical reflection led by PLU staff and faculty to consider what it is like to live within a limited budget. The Poverty Simulation, which goes from 6-9 p.m., is designed to confront attitudes and stereotypes about people living in poverty.
Friday, Nov. 14
Students are invited to participate in a Hunger and Homelessness Awareness event outside PLU: The March & Rally to End Youth Homelessness, sponsored by the Youth Coalition to End Homelessness, will take place in downtown Tacoma at Pugnetti Park. The rally will include speakers, music, refreshments and entertainment.
PLU's Residence Hall Association (RHA) is heavily involved with promoting the rally at PLU and working to get students involved.
"This event is important because it shows that we, as a community, care about our peers and neighbors, and that we will not let them go unnoticed," says Caitlin Dawes, Social Justice Director for the RHA. "By putting on such a public event, we hope to gain publicity, showing our community solidarity to the homeless youth in the Tacoma area."
Students who would like to attend the rally—participants are meeting at REACH, 714 S.. 27th St., Tacoma, at 4 p.m. and marching at 5 to the rally, which begins at 6 p.m.—can sign up for a ride at rha@plu.edu. For more details, contact Caitlin Dawes or RHA.
Sunday, Nov. 16
ASPLU will host a screening of Storied Streets, a film that allows viewers to see life through the lens of several people, all of whom are homeless. The screening will be followed by a discussion of homelessness around the United States, as well as a Q&A with the film's producer, Thomas Morgan. The film will begin at 4:30 p.m. in The Cave.
Wednesday, Nov. 19
There are two Hunger & Homelessness Awareness events on Nov. 19: From 4-6 p.m., students can participate in Empty Bowls in the University Center. Then, from 5:30-7:30 p.m., students can attend the Working for Change Panel in Room 133 of the Anderson University Center.
Empty Bowls is an international movement to combat hunger. During the event, handcrafted bowls can be purchased for $10, which includes a bowl made by a PLU art student or faculty member and bottomless soup made with veggies from PLU's community garden. The idea is to purchase a bowl of soup in order to help fill all the empty bowls in the world. The proceeds will go to Trinity Lutheran Church Food Bank to help feed hungry people in the local community. Tickets can be purchased at Old Main Market using credit/debit, cash or dining dollars.
The Working for Change Panel is an effort to help current PLU students find post-graduation service opportunities. Many PLU students seek service opportunities after graduating, and this panel allows students to hear from alumni about their service paths. It will give insights about how students can be proactive leaders in problems such as hunger and homelessness. This year's alumni panelists include  Jedd Chang '05, Peace Corps; Saiyare Refaei '13, NWLF Urban Leaders in Training; Kathryn Boelk '13, LVC; and Claire Smith '10, JVC, Chelsea.
Thursday, Nov. 20
Students are encouraged to volunteer at one of PLU's service projects, including one sponsored by the GREAN Club: Students will host a Sustainable Thanksgiving dinner with local produce and food. Students can volunteer to help prepare, set up, clean up or even just attend the dinner. Sustainable Thanksgiving will be held in the Scan Center from 6-9 p.m.
To sign up for any of the service events, see www.plu.edu/service.