Currently Reading:
Lutes See The World During J-Term
November 13, 2014
Lutes See The World During J-Term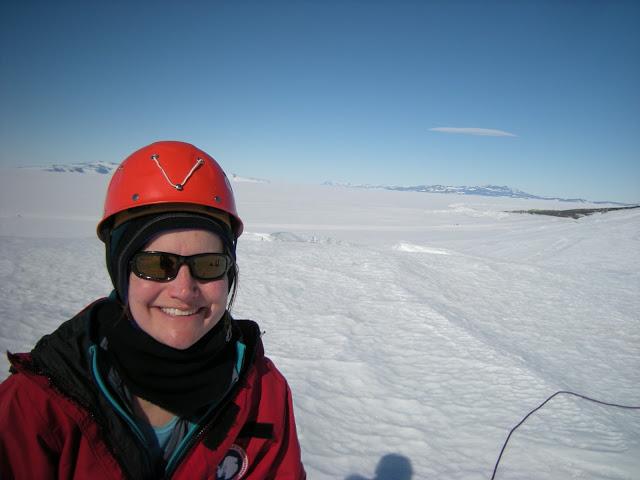 Assistant Professor of Geosciences and Environmental Studies Claire Todd on an earlier research trip to Antarctica.
Students and Professors Will Travel to and Study on All 7 Continents
TACOMA, Wash. (Nov. 14, 2014)—This January, while the temperatures drop and the rain falls in Tacoma, Pacific Lutheran University students will disperse all over the globe for education, culture and the adventure of a lifetime. Compared to PLU's semester-long programs, J-Term Study Away trips allow students to experience a variety of cultures in a short and intensive academic experience. This year, counting one research trip not affiliated with PLU's Wang Center for Global Education, more than 200 students will travel to and study in all seven continents, including Antarctica.
"Studying abroad in J-term is a great opportunity for students who have never traveled before," said Megan Grover, Manager of Short-Term Study Away Programs at the Wang Center. "It's a unique trip in that you travel solely with a PLU professor and a group of PLU students."
J-Term trips offer a great alternative to semester trips for students whose commitments don't allow them to be gone for four months.
"J-Term trips reach a wider demographic of students," said Grover. "It's great for students who can't leave a job or family for a whole semester but still want the study-abroad experience."
New Zealand and Europe are among the most popular and successful programs, Grover said, but domestic travel programs are becoming increasingly popular for students who want to experience a unique cultural experience and stay closer to campus.
Here's a continent-by-continent look at the 2015 J-Term travel locales:
Antarctica
For the only J-Term trip not supported through the Wang Center, Assistant Professor of Geosciences and Environmental Studies Claire Todd will return to Antarctica with Geosciences student Isaac Moening-Swanson '15 and spend almost two months doing research. Leaving on Nov. 23, the pair will meet up with two other scientists in their quest to examine the retreat of the West Antarctic Ice Sheet. On the National Science Foundation-funded trip, Todd and Moening-Swanson will camp on a glacier and spend their days climbing the nearby mountains in search of rocks left behind by retreating ice.
Africa
PLU students in the School of Education are traveling to Namibia for four or eight weeks; both trips fulfill education credits. During their trips, students will get hands-on experience student teaching in the town of Katutura. Aside from student teaching, program highlights include a visit to Etosha National Park, climbing the tallest sand dunes in the world and visiting the Cheetah Conservation Foundation.
Asia
Students are participating in two very different trips in two very different parts of Asia. Assistant Professor of Business Brian Maeng will lead a group of students to China and South Korea, where they will be learning the business and economy of the two regions. Students will visit companies and meet with business professionals in metropolises including Seoul, Shanghai and Guangzhou.
On the other side of Asia, Associate Professor of Art and Design J.P. Avila will lead a group of students on an exploration of the villages of Bali. In Bali, students will learn alongside local craftsmen the art traditions that have been passed down through generations.
Australia/Oceania
A group of students will trek through New Zealand, hiking and backpacking through the country's dramatic scenery. Associate Professor Bradford Moore of the PLU Kinesiology Department will teach PLU's most unique P.E. class: one that involves activities in the mountains of New Zealand instead of in a gym. Program highlights include treks up volcano craters, a traditional Maori feast and visits to the Willowback Wildlife Reserve and Queenstown.
Europe
One of the most popular continents for J-Term programs, Europe will host four groups of students this winter. With a German Studies class going to Germany, an Education class to Hungary, and Literature and Religion classes to Greece, students will explore all corners of the continent. In Europe, students will experience everything from student teaching in Budapest to home-stays in Berlin and weekend trips to the Greek islands of Santorini and Rhodes.
North America
J-Term Study Away programs don't always mean students are leaving the country; they don't even have to leave the state of Washington! Two groups of students will leave campus, studying away in Neah Bay and Tacoma. Exploring the Native American tribes in Neah Bay, Anthropology Professor David Huelsbeck will lead students on an archeology trip to learn about ancient tribal traditions and history. Students will volunteer in tribal centers and learn traditional cultural aspects such as songs, food, stories and arts.
Leaving PLU but staying in Tacoma, Dr. Kathleen Russell will lead a group of students to the Hilltop district of Tacoma. Earning four credits towards a social work class, students will spend their days volunteering in agencies supporting problems of homelessness, hunger and employment.
South America
South America is another popular continent for J-Term Study Away. PLU's four South American programs include a Hispanic Studies trip to Uruguay, a social work program to Tobago, an English class going to Ecuador and Peru and a history program in Bolivia and Peru. South American highlights include a home-stay in the capital of Uruguay, snorkeling through coral reefs in the oceans of Tobago, boating down a river in the middle of the Amazon rain forest and a visit to Machu Picchu in Peru.