Currently Reading:
Victory! Student-Athletes Notch 125 Wins for PLU's 125th Year
Victory! Student-Athletes Notch 125 Wins for PLU's 125th Year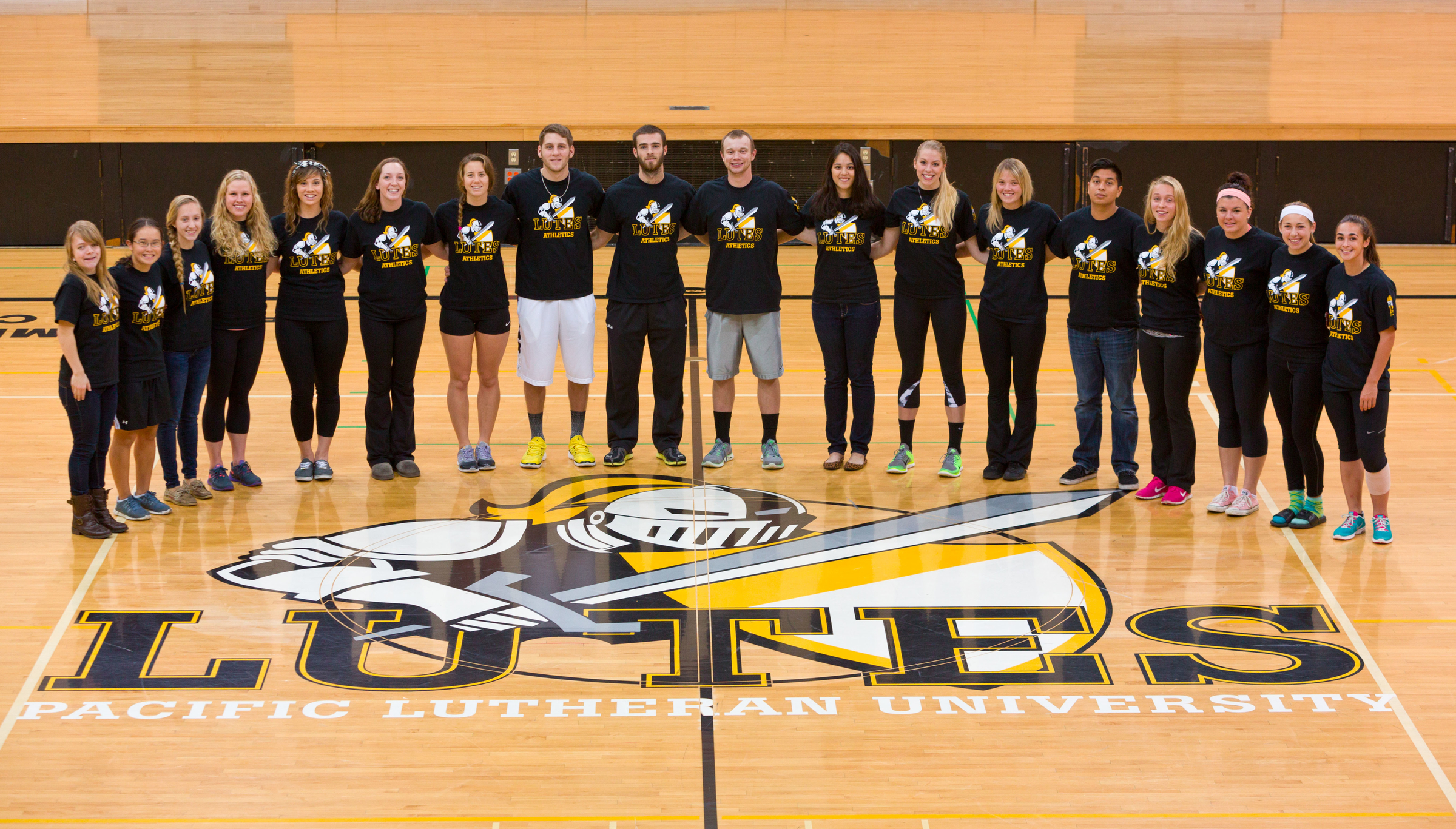 April 1, 2015
Celebration, Black & Gold Friday set for April 10
By Sandy Deneau Dunham
PLU Marketing & Communications
TACOMA, Wash. (March 30, 2015)—In true competitive Lute fashion, PLU student-athletes have reached—and certainly will surpass—the motivating goal of this year's campuswide Drive to 125 initiative.
It took one 6-1 baseball game on March 31 against crosstown rival University of Puget Sound to notch the 125th win, but it took a village of Lutes to rack up 125 total athletic victories for 2014-15—which was exactly the point. And now it's time to high-five all 125: PLU will celebrate in Centennial Square with music and cupcakes from 10:30 a.m.-12:30 p.m. April 10—Black & Gold Friday—which also happens to land in the middle of NCAA Division III Week.
Drive to 125, an effort to reach 125 wins across all sports during the 2014-15 academic year, was launched in Fall 2014 in honor of Pacific Lutheran University's 125th anniversary.
"I thought that would be something cool to do if PLU had one of those 'anniversary moments,'" said PLU Associate Athletic Director Jen Thomas. "It'd bring the whole Athletics department into one unit and be a great opportunity for every single program to be part of a larger theme."
And that's just what happened.
"Drive to 125 has continued to be relevant for all of the teams throughout the year," Thomas said. "Just as Spring sport teams were supporting and tracking the Fall teams' wins during their season, Fall teams are now supporting the Spring teams and making note of where we are in the count. Every PLU student-athlete can take pride in being part of the success in the Drive to 125."
All team victories—for all of PLU's 19 varsity athletic programs—counted toward the goal, and the whole campus counted along via three big Drive to 125 boards and a rolling total on PLU's homepage. Limited-time-only commemorative Drive to 125 gear was available at the Garfield Book Company, and student-athletes spread the word (and all-team spirit) by wearing specially designed and distinctive Drive to 125 shirts.
"Drive to 125 has provided the Athletics Department with a great opportunity to build community within teams and the department," Thomas said. "It's been great to see all the teams working toward a department-wide goal and supporting each other along the way."
Overall, Thomas said, Drive to 125 went even better than expected.
"I was fairly confident that together our teams could achieve 125 wins," she said, "but I didn't anticipate the buy-in and importance the goal would have to each of our teams and to our student-athletes."