Currently Reading:
Granddaughter of Charleston Shooting Victim to Share About Forgiveness at PLU-Sponsored March & Festival
Granddaughter of Charleston Shooting Victim to Share About Forgiveness at PLU-Sponsored March & Festival

July 17, 2015
By Zach Powers '10
PLU Marketing & Communications
Tacoma, Wash. (July 17, 2015)— South Sound residents of numerous ethnicities, political persuasions and religious convictions will gather in Tacoma's Hilltop neighborhood on Saturday, August 1 for the 5th Annual 1000 Man Family March & Festival.
This year's event will feature a special guest, Alana Simmons, whose grandfather, Daniel Simmons, was one of the 9 victims in June's deadly shooting in Charleston, South Carolina.
Simmons made national headlines when she, along with family members of other victims, confronted and publicly forgave her grandfather's killer, Dylann Roof, in a South Carolina courtroom just days after the massacre.
"Hate won't win," she said to Roof. "My grandfather and the other victims died at the hands of hate. Everyone's plea for your soul is proof that they lived in love and their legacies live in love."
Shortly after her courtroom appearance, Simmons shared why she decided to offer Roof her forgiveness in an interview with CNN's Don Lemon.
"If we would have gone up there (to the front of the courtroom) and said hateful things to the suspect, that wouldn't have changed anything, that would have been giving him exactly what he wanted," Simmons told Lemon.
"We know our relatives and our loved ones, and they wouldn't have wanted that," Simmons explained. "They spoke love, they preached love and they lived in love."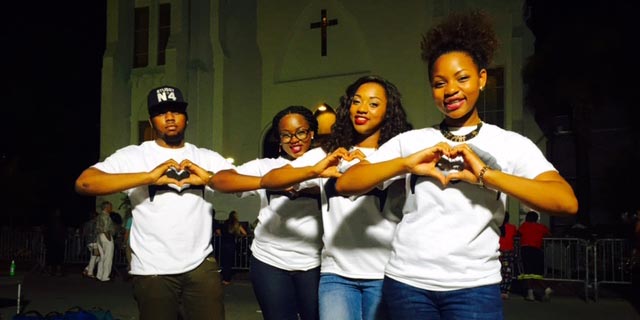 At the 1000 Man Family March & Festival, Simmons will share about the power of forgiveness and raise awareness about the #HateWontWin campaign, a social media initiative she launched with her siblings to carry on the legacy of love left by her grandfather and the other victims.
"When Alana and those other family members forgave that young man it was a moment that clearly illustrated how we can, and we must, love our way through our most difficult conversations," said PLU Director of Multicultural Recruitment Melannie Denise Cunningham.
"Tacoma, like every city in the United States ought to be, is examining our relationships with one another as a community and realizing that we have work to do to get to know each other," Cunningham continued.
Co-sponsored by the PLU Office of Admission and co-emceed by Cunningham, the 1000 Man Family March & Festival was founded by the Tacoma Ministerial Alliance to be a celebration of family, community, and, in particular, fathers who are present and nurturing in the lives of their children.
"Because our men and boys are imprisoned at a disproportionate rate, this march is a tactic to shift focus and instead encourage and uplift men who are taking care of the home, raising their children and serving in the community," explained Toney Montgomery, Pastor of The Father's House Church in east Tacoma.
"Although the message is targeted towards men, it's important for women and girls to know they are included in this event and urged to participate," Montgomery said.
For Cunningham, events like the 1000 Man Family March & Festival represent a valuable opportunity for PLU to continue to foster its relationship with the local African-American community, share information about opportunities at PLU and invite prospective students to visit campus.
It also represents her hope for increased unity, cross-cultural understanding and equality both in her own community and throughout the country.
"Social justice realized is when a compassionate community like ours comes together and proves that we truly are about the values and virtues we profess," Cunningham said.
"The 1000 Man Family March & Festival is one of my absolute favorite events of the year, and I hope to be joined by many members of my PLU family."