Currently Reading:
South Sound higher education leaders shake up what's comfortable to examine diversity, racism and privilege
South Sound higher education leaders shake up what's comfortable to examine diversity, racism and privilege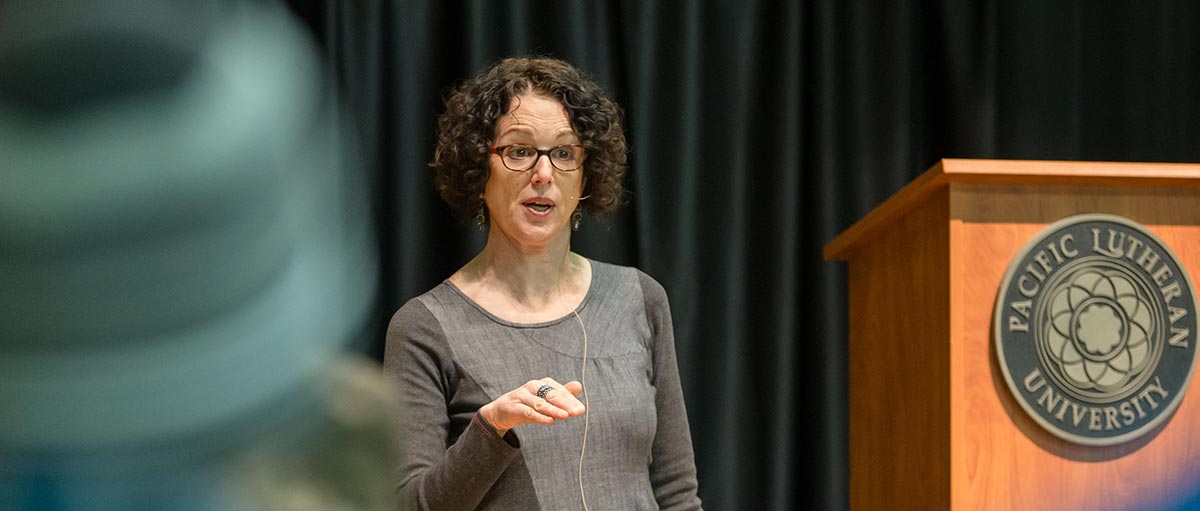 February 10, 2016
By Zach Powers '10
PLU Marketing & Communications
TACOMA, WASH. (Feb. 10, 2016)- Robin DiAngelo's presentation at the 15th annual Diversity Institute began with a bold pledge.
"If you remain comfortable this entire time, I didn't do my job," she told the audience of more than 200 educators, administrators and students at the event hosted by the South Puget Sound Higher Education Diversity Partnership.
"(Race) is an incredibly complex and nuanced topic," DiAngelo, Ph.D., explained. "The racial status quo is comfortable and I want to shake it up."
The theme and central question of the institute proved to be challenging: "what does it mean to be white in a society that proclaims race is meaningless, yet remains deeply divided by race?"
Balancing short lectures by DiAngelo with group discussions, the program on February 3 addressed a wide range of issues dealing with white privilege, accountability and prejudice.
"We have to stop with the binary model that suggests racists are bad and non-racists are good," DiAngelo said. "It's not about being good or bad, it's about (all white people) taking responsibility."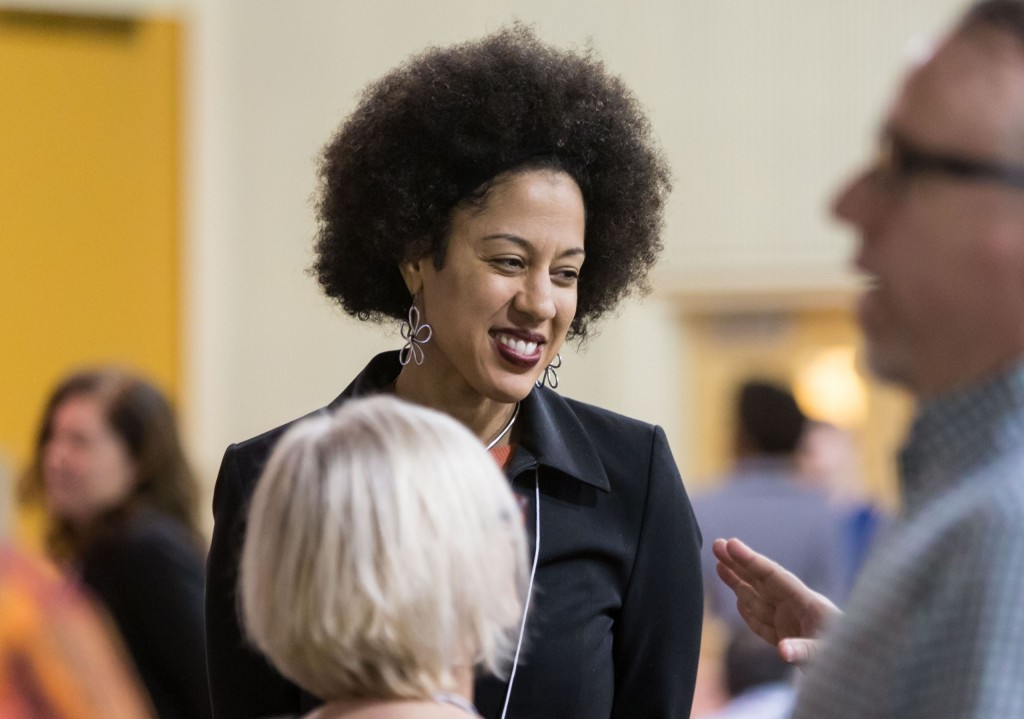 Using examples from entertainment, news media, advertising and K-12 public education research, DiAngelo spent the morning illustrating a jarring truth: "the default of our society is the reproduction of white supremacy."
The afternoon centered on exploring the roots of white defensiveness and microaggressions, as well as ways to challenge racism in individual relationships, classrooms and institutions at large.
Diversity Institute co-founder Marcie Lazzari, Ph.D., said the annual event is meant to facilitate difficult conversations and examine diversity.
"It's about providing opportunities for people to self reflect, gain new knowledge, dialogue with others and, hopefully, change in a positive way," said Lazzari, a social work and criminal justice professor and graduate studies coordinator at University of Washington Tacoma.
The South Puget Sound Higher Education Diversity Partnership formed when faculty at UWT realized that many local institutions prioritized discussions about diversity and systemic oppression, but did so in isolation.
Lazzari said she and a colleague decided to create a partnership to bring those institutions together to generate high-quality, unified dialogue. "That's how it started and it's kept growing and growing all the way up to the 14 schools that are now affiliated," she said.
Steve Smith, an '81, '88 PLU alumnus, is the director of the College Success Foundation in Tacoma. He said he's impressed with the diversity represented at the institute.   
"There's no other conference I ever go to that has this mix of people sitting at the table," Smith said. "I see a vice president from PLU in the room, I see a president from a community college in the room, tons of administrators, faculty and students."
The institute seeks to motivate faculty, administrators and students, helping them better understand that eliminating racism at local institutions depends on the education and action of advocates within those communities. Previous institutes have addressed a wide variety of topics, from the economics of injustice to  the effects of poverty in higher education.
Smith said DiAngelo's focus on "whiteness" and her challenge to "educated white progressives" to reject oppressive systems is pivotal to achieving change in higher education.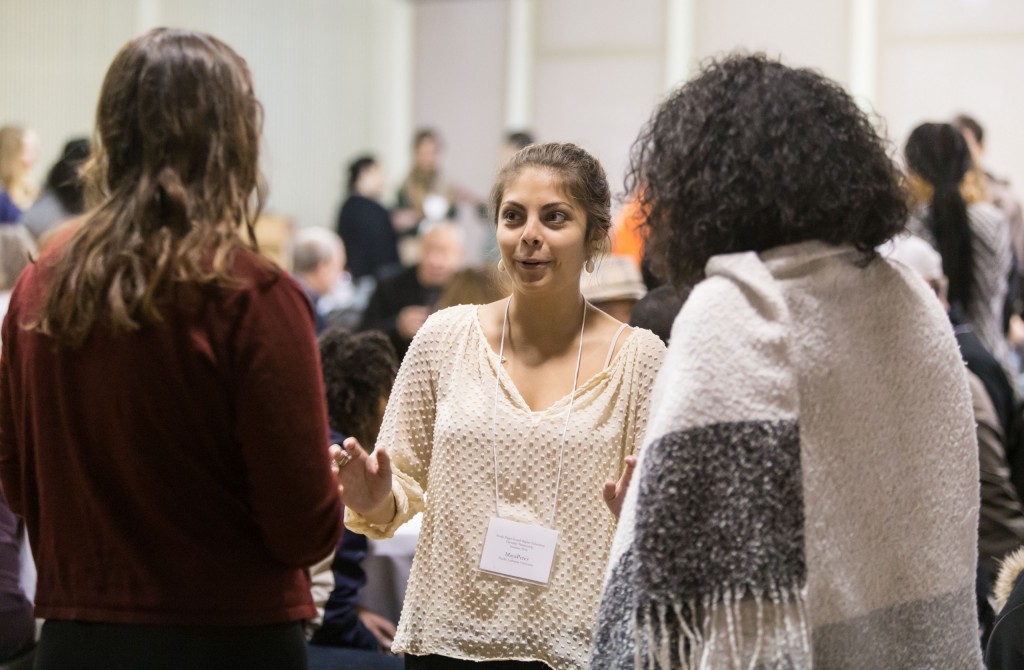 "Issues around race cannot be resolved unless people with power acknowledge and address them and decide they want to change things," he said. "That is the white power structure."
Smith, who identifies as African-American, said he enjoyed listening to white people in his group discuss the day's topic. He said getting people beyond discomfort is crucial to meaningful dialogue. "I really was quiet at my table today because I thought it was an opportunity to listen, and for folks of color to not have to carry the banner around conversations on race," Smith said. "To make a difference we need white people who are willing to carry the banner on race."
By the end of the program, PLU student Yannet Gudeta Urgessa '16 said she believed DiAngelo followed her opening pledge. The sociology major said she appreciated that DiAngelo's presentation challenged people to be uncomfortable.
"There are certain things in our society that we sugar-coat to make comfortable," Gudeta Urgessa said. "Some truths are hard, but that doesn't mean they aren't reality."