Currently Reading:
Vote! Women's Center seeks community feedback on new name
Vote! Women's Center seeks community feedback on new name
Posted by:
marcom
/ February 20, 2016

February 20, 2016
By Kari Plog '11
PLU Marketing & Communications
TACOMA, WASH. (Feb. 22, 2016) - Since its founding in 1990, Pacific Lutheran University's Women's Center has empowered women and their allies to become advocates for gender equity and social justice. After 25 years, the Women's Center will change its name to fit its expanded, mission-based work.
A name says a lot.
Students, faculty and staff at Pacific Lutheran University think the Women's Center moniker could – and should – say much more.
And soon it will.
The Women's Center is seeking feedback to rename the social justice hub, serving as a living example of the progress it touts.  
Dr. Jennifer Smith, director of the Women's Center, said the change highlights the evolution of PLU's role in a much larger revolution.
"A lot of women's centers are looking to change their names," Smith said. "The women's movement is evolving."
The Women's Center requests that the PLU community provide feedback on four suggested names:
Gender Equity Center

Gender Justice Center

Center for Women and Gender Equity

Center for Gender, Sexuality and Justice
The selection of the new name, which will take into account polling results, will be announced at the annual Celebration of Inspirational Women on March 17 at 5:15 p.m. in the Scandinavian Cultural Center.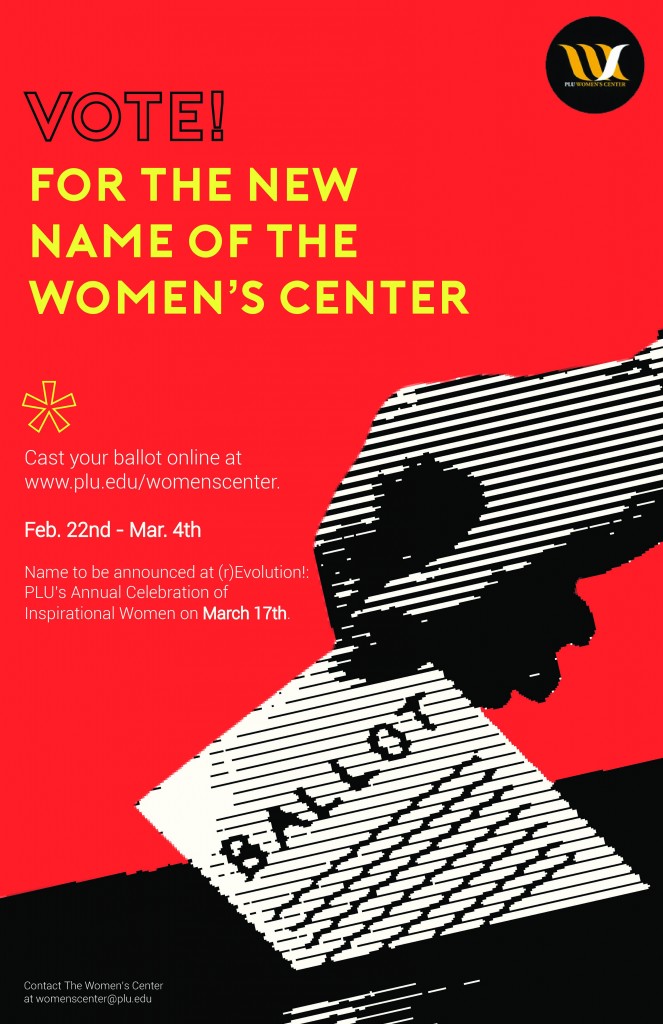 "We want to move from identity-based work to mission-based work," Smith said of the center's new label.
Smith's professional background is rooted in gender studies. She's long thought about the multifaceted role the Women's Center plays on campus and in the surrounding community, as well as how the center's name could better reflect its mission.
The Women's Center provides victim advocacy for sexual assault and domestic violence victims, but it also hosts speakers focused on transgender issues, offers support for gay rights and provides sponsorship for events that examine the intersection of race and gender.
The center also conducts bystander training for student athletes, showing them how to interrupt anything from an attempted assault to a racist joke.
It also engages men as allies, maps gender-inclusive bathrooms across campus and supports programs that empower women to run for public office.
Smith said those underscore an all-encompassing menu of services.
"But because 'women' is the core of our name, people don't see that immediately," she said. "That work is not reflected in the name."
The name change is the first step toward changing that perception.
"We want to reframe for the community the work that we do," Smith said, "as well as force ourselves to more intentionally incorporate intersectional practices into the work that we do."