Currently Reading:
PLU's Gospel Experience works to bridge cultural gaps and connects campus to larger community
PLU's Gospel Experience works to bridge cultural gaps and connects campus to larger community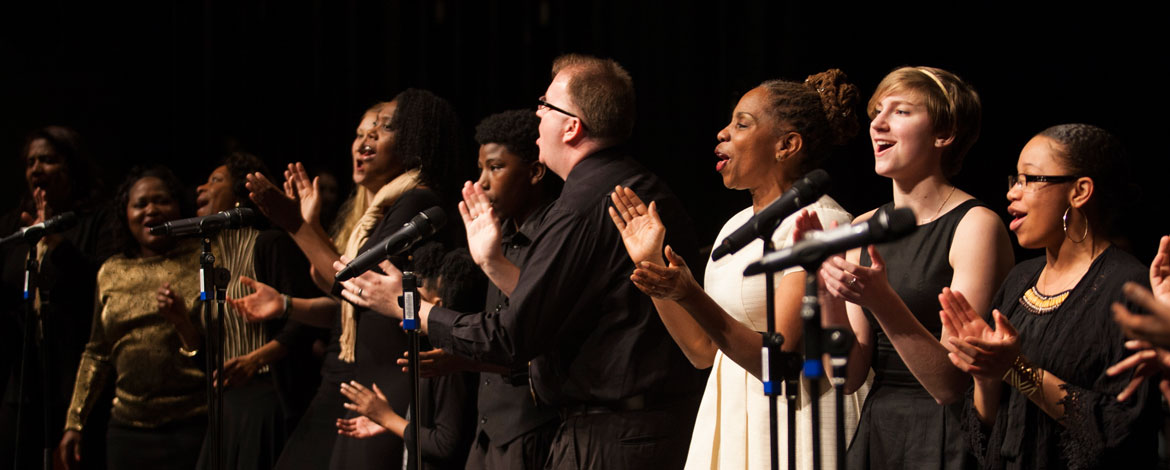 February 29, 2016
By Brooke Thames '18
PLU Marketing & Communications
TACOMA, WASH. (March 1, 2016)- Performing with Pacific Lutheran University's gospel choir hooked Josiah McDonald. The ninth-grader at Franklin Pierce High School pledged to apply to PLU come senior year, after participating in the spiritual and celebratory Gospel Experience.
McDonald was one of more than 100 members of the Tacoma-Seattle community who filled the Karen Hille Phillips Center to attend the event Feb. 20. It's designed to connect PLU to the larger gospel community off campus.
Organized and executed by Melannie Cunningham, director of multicultural recruitment, the Gospel Experience is a two-hour concert that showcases various gospel music groups within Tacoma's African-American community, as well as PLU's own gospel choir.
Cunningham said the inclusive event is one way to connect the university to a community in Pierce County that is traditionally underrepresented in PLU's student body. It showcases the university to those beyond campus borders and introduces current students, regardless of the culture they identify with, to black gospel culture.

"Who we are to the greater community (is) a predominantly white institution," Cunningham said. "People need to see us differently than that."
The event does that through gospel, a music style deeply rooted in African-American tradition. This year, it included performances by Erica Walker, Anointed Brothers, Pleasant Movement Dance Company, special guest DaNell Daymon & the Greater Works Chorale – performers who are regionally and nationally recognized.
The event was a true community collaboration. Organizers, which included the Black Student Union and Campus Ministry, worked closely with Tacoma Ministerial Alliance to make it happen.
In the spirit of highlighting diversity at PLU, the university's Gospel Choir – also developed by Cunningham – provides current Lutes from all backgrounds the opportunity to participate. This year's choir consists of four PLU students. Only one of them is black. Looking forward, Cunningham said the choir plans to spread the word that all voices – faculty, staff and students – are welcome.
Following the performance Feb. 20, students had the opportunity to share how the Gospel Choir impacted them and their knowledge of black gospel culture. Sidney Spray '19 appreciated the opportunity to culturally engage with people from different backgrounds.
"I think the best part about being in PLU Gospel Choir for me is it's something that I wouldn't have been able to do anywhere else," Spray said.
McDonald, the student from Franklin Pierce, learned more about the university through his connection with the choir. The ninth-grader said he is impressed with PLU's academics, motivating him to eventually pursue a PLU education. In addition to sparking McDonald's interest, the 2016 Gospel Experience also grabbed the attention of Cunningham's granddaughter, 9-year-old Jalean Peek. She stood on stage at the event and proclaimed she will one day attend PLU, as well.
Cunningham hopes that exposure through events like the Gospel Experience will highlight PLU in the surrounding African-American community. She said the Gospel Experience is all about changing the face of PLU in the community to include a more diverse landscape.
"It's necessary for us to have this kind of involvement," Cunningham said. "Students who do identify with this culture feel a great sense of pride that we have something of this nature that does uplift their culture."