Currently Reading:
PLU alumnus, Tacoma teacher draws from his own tough life lessons to inspire students in similar situations
PLU alumnus, Tacoma teacher draws from his own tough life lessons to inspire students in similar situations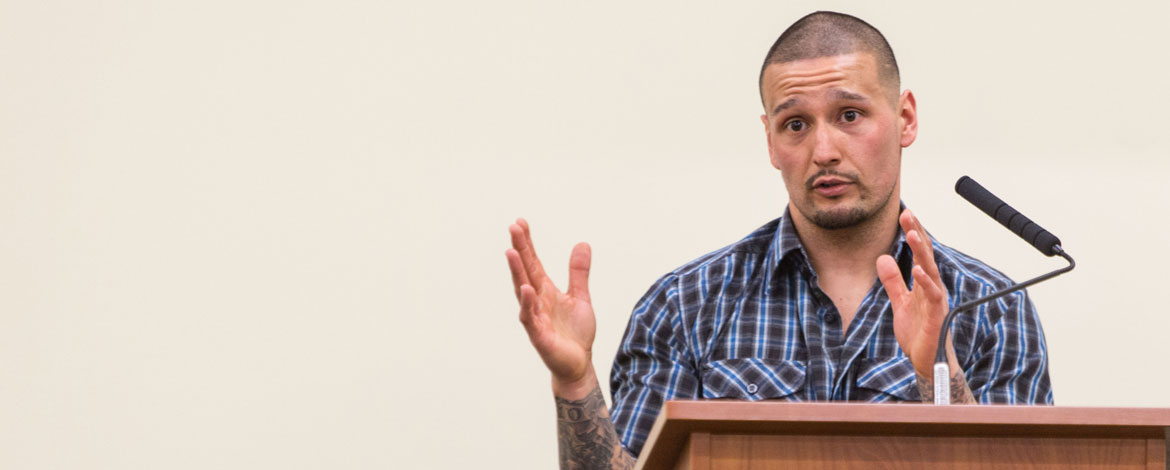 March 17, 2016
By Brooke Thames '18
PLU Marketing & Communications
TACOMA, WASH. (March 17, 2016)- Joshua Cushman '08 stood in front of a crowd at the Wang Center Symposium last month and recalled his childhood in which nobody asked him about his future.
The Tacoma native was the product of a broken home, plagued by poverty, violence and abuse. Cushman was one of several speakers who discussed resilience, in the seventh biennial event at Pacific Lutheran University that aimed to stimulate serious thinking on the global challenge.
Cushman told attendees that his negative experiences as a child prevented him from envisioning a future in which higher education was valuable or even possible. Instead, the hardships he endured were his instruction.
"I was first educated in the adult world," Cushman said, adding that domestic violence, drug abuse and gang violence were his teachers. "These experiences taught me that unless I worked as hard as I could to get out of where I was, I would only repeat what was being shown to me."
Determined to break the cycle, Cushman thus motivated himself to earn his diploma from Lincoln High School and pursue a degree in English from Pacific Lutheran University. After graduating from PLU in 2008, Cushman jumped into being a teacher and mentor for students with stories similar to his own.
As an English teacher and coach at his high school alma mater, Cushman strives to show love, compassion and care to students who might otherwise never receive them. He believes that adults are responsible for helping kids discover their own potential, and through his work tries to validate and affirm all kids from all backgrounds at all times.
"Many students are not engaged with caring adults who value their experiences and who validate them as well," Cushman said. "I feel honored to be the teacher/mentor/coach of similar students because…they will be the future leaders of our communities."
In particular, Cushman concentrates his efforts on nurturing young African-American and Latino men. It is them, Cushman says, who perhaps face some of the worst forms of misrepresentation and stereotyping.
Growing up as a Latino male, Cushman says he wholeheartedly identifies with many, if not all, of the struggles these young men of color face in the modern world. Many of these struggles include a lack of representation in the education and justice systems. He believes schools need to create safe spaces for teachers and mentors to talk about assumptions and stereotypes to uplift young men of color as they come into their own.
"It should be our responsibility to increase opportunities for these young men to experience leadership in meaningful ways," Cushman said. "Their voices, concerns and stories (should) be shared and validated by the community."
Cushman says that cultural responsiveness is vital. Becoming culturally responsive, however, is a multi-step process that Cushman says "does not happen overnight." People must check their belief systems and question the motives behind their own personal opinions and convictions. Next, they must validate and affirm through highlighting positive aspects of a student or person.
"We tend to lean more towards the negative because it's easiest to identify," Cushman said. "But once you have validated and affirmed, then you can build a bridge."
The instinct to identify the negative is something that Cushman says happens all too often. During his symposium talk, Cushman recalled a conversation he had with a substitute teacher who was surprised that students at Stadium High School weren't as well behaved as students at Lincoln High.
The stark socioeconomic differences between the two high schools seem to create a negative stereotype about the students who attend schools in poorer areas. It is damaging and wrong, Cushman says, to assume that students at Lincoln are "misbehaved" simply because of the school's location and resources.
"I would challenge any citizen in Tacoma to walk into the classrooms of our city and listen to insight and intelligence of our young people," Cushman said.
He says he thinks many would be surprised at the distorted picture stereotypes paint of students who are commonly viewed as "underprivileged," especially students of color.
However, Cushman also says it's important to confront the real-life systemic problems that negatively affect education. He believes these issues should be highlighted in the classroom and discussed on a deeper level — something he strives to do in his own classroom.
Cushman uses real-life situations to influence how he educates his students. He once prompted a discussion in his classroom about a fatal shooting of one student's best friend, turning it into a lesson on justice in the community.
"I try not to shy away from the grittiness of the world," Cushman said. "Students need to know the harsh and uncertain realities that await them. They have to be prepared academically, socially and emotionally…to overcome obstacles."
Cushman's own history with overcoming adversity undoubtedly lends to his perspective on teaching, nurturing and uplifting young people in the community. He says his education at PLU was fundamental in helping him channel those experiences into vocation.
"PLU showed me that education can change your life no matter what circumstance you come from," Cushman said. "I owe a lot to the PLU community. They have been my rock."