Currently Reading:
PLU's provost plans to improve faculty diversity, visibility and accessibility of campus research
PLU's provost plans to improve faculty diversity, visibility and accessibility of campus research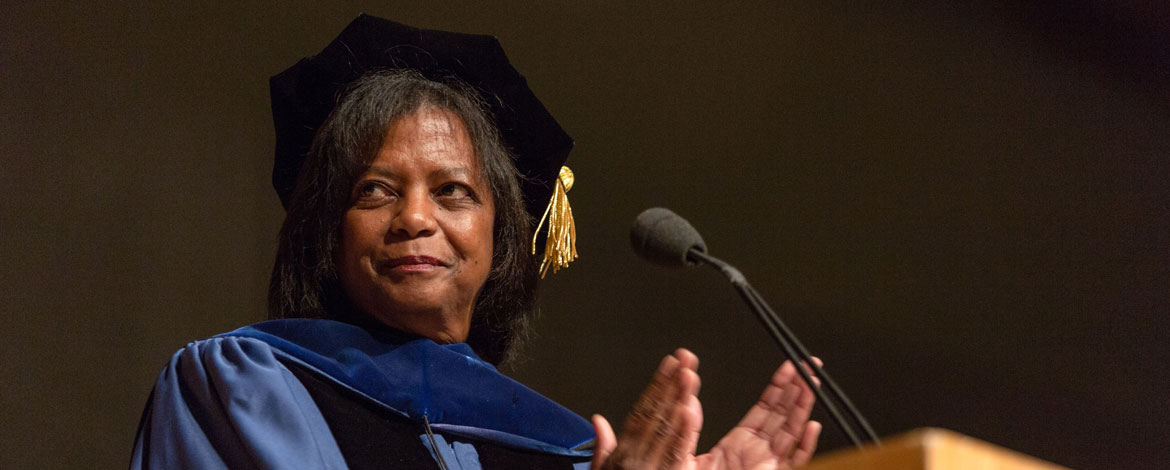 September 12, 2016
By Kari Plog '11
PLU Marketing & Communications
TACOMA, WASH. (Sept. 12, 2016)- Rae Linda Brown, Ph.D., says Pacific Lutheran University already exhibits academic excellence in a variety of ways: rich global education, robust student-faculty research, world-class faculty members and, of course, eager students who are ready to change the world.
But Brown has big plans to boost PLU's excellence to new levels in her role as provost and senior vice president of academic affairs, which she started in August. And that starts with mirroring the changing face of the student body.
"A diverse campus community is inextricably linked to academic excellence," Brown said during a speech at the annual Fall Faculty Conference. "It provides a richer intellectual environment, better preparing all our students to live, work and serve others in an increasingly global and multicultural society."
Currently, Brown says, PLU is making major strides in improving the diversity of its student body. This year, 42 percent of incoming first-year students are the first in their family to attend college and 35 percent of them identify as students of color.
Now, Brown wants PLU's leadership to make similar progress to improve a sense of belonging for all students in our ever-changing community.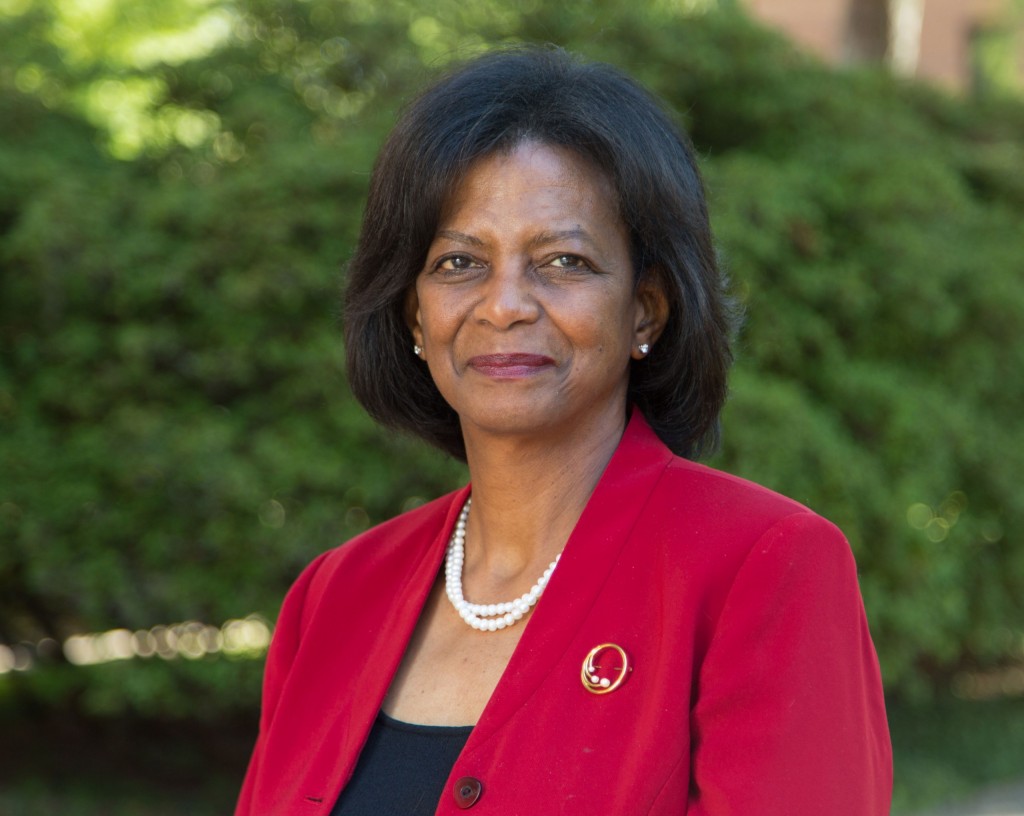 She said the university must "dramatically increase" the diversity within the ranks of faculty and staff on campus, a group that is predominantly white. Currently, she stressed, there are no tenure or tenure-line faculty who identify as African-American, for example.
"We cannot expect to recruit and retain students of color if the academic climate is not welcoming to them," she said in her speech. "We cannot expect to be an institution of excellence if voices are absent from the community."
In an interview following her address, Brown said she's been fortunate to work in very diverse institutions throughout her career. She stressed that PLU must not only hire faculty of color, first-generation college graduates and people of multiple faith backgrounds, but also people who grew up and have worked all over the world.
PLU shouldn't only draw from a pool of candidates who have only worked, lived and studied in the Pacific Northwest, she said.
"There has to be a plan for enhancing recruitment over time," Brown said. In other words, looking at the depth of candidates and being able to honestly say that recruiters exhausted all efforts to find the most qualified candidates who bring something new to the table, as opposed to sticking with the status quo.
"It's about engaging in difference," she said, stressing that the university as a whole must ask big questions — including asking why there isn't more faculty of color.
"We all own this," Brown said. "That is critical."
To do that, she explained, PLU must do two things: embrace implicit bias training across the board and critically look at hiring practices to see what's missing. She says implicit bias training combats the tendency of people to hire those who look like them and share common experiences.
"There are no perfect people in the world," Brown said, noting that everyone brings some sort of bias to the table. "That's where we have to start."
TAKING ACTION
Brown acknowledges the details for improving hiring practices still need to be determined. She said that will likely take the form of a university-wide committee. She said candidates for faculty and senior leadership positions, those that are recruited nationally, must represent the broadest possible pool.
The committee will consider questions such as: Is this job posted in the right places? How do we identify candidates early? When candidates come to campus, are they meeting with folks who look like them and relate to them?
"Community is huge," Brown said. She stressed that community must be built for everyone of all backgrounds in order to not only attract high-quality, diverse candidates, but also to retain them. "The more diverse perspectives you have, the richer the conversation will be."
Once a community of faculty and administrators forms that mirrors the student body, Brown said, students of diverse backgrounds will feel a more authentic sense of belonging at PLU and a chain of mentorship can take hold.
The more diverse PLU is, Brown said, "the stronger PLU will be."
As a whole, together.
"The benefits will be felt university-wide at every level," she said.
Over time, the systemic changes within the university's leadership will create an environment that naturally nurtures diversity, she said. "That then becomes the culture," Brown said. "It's not just words. You're actually living it."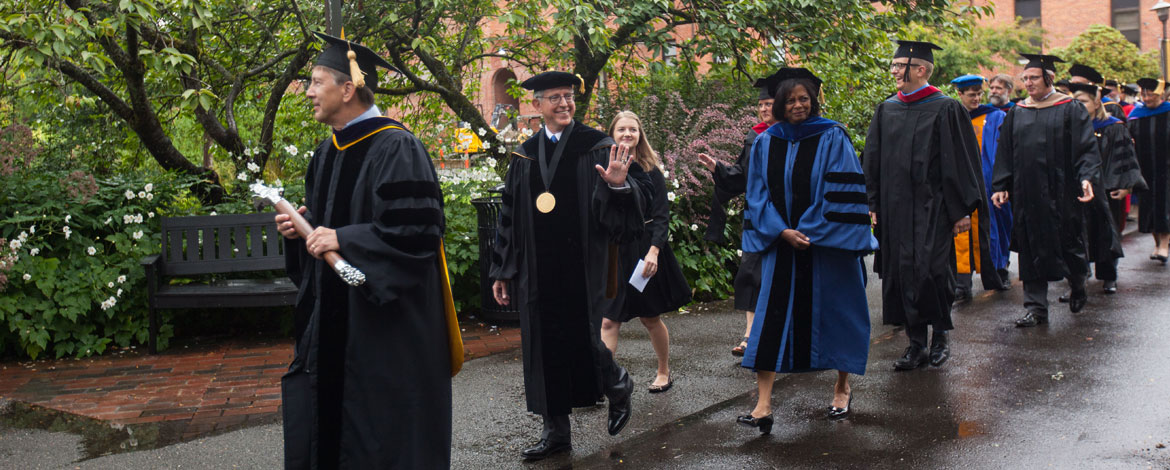 EXPANDING RESEARCH
In addition to creating a community of diverse faculty, Brown also plans to prioritize student-faculty research programs.
PLU already does that well, Brown says. The next step is showcasing and expanding research opportunities.
She hopes to launch a research symposium in the spring that showcases the close, collaborative work being done by Lutes. She also wants to increase the opportunities campus-wide so more students can benefit from the opportunities.
"It's a big goal, but it's doable," Brown said, "because so much of the work is happening already."
Student-faculty research provides students the opportunity to get to know professors on a different level, Brown said. It also provides in-depth lessons that "spill over outside the classroom," she said, lessons that students carry with them through job interviews, careers and professional development.
It impacts written and oral communication skills, as well as a student's ability to engage new parts of their brains. It teaches them how to ask questions and adapt to challenges on the fly.
"It has all of these built-in characteristics that live outside of your discipline and outside of your classroom," Brown said. "It brings students and faculty into community."
Making research at PLU more visible and accessible elsewhere will allow that work to be shared with folks around the world and lead to stronger recruitment of future students, Brown said.
"It's a wonderful way to uphold the academics of the university as a whole," she said.
ENGAGING EVERYONE
Brown's passion is watching students thrive. She said the most rewarding part of her job is seeing first-year students come to campus with their future ahead of them and transform over the course of four years into confident human beings who go out and change some aspect of the world.
She said PLU's faculty are an important piece of that. She told them in her speech last week that teaching is one of the most honorable, influential careers.
"You matter," she told them. "Every day, you make a difference in the lives of students with whom you engage."
As the melting pot of students continues to change, Brown is confident she can help faculty do the same.
"Recognizing the need to change is huge," she said.
Under her leadership and that of other administrators, PLU is taking that goal to heart, using authentic introspection to build upon its academic excellence.
"This message is being carried throughout the university by everyone," Brown said. "It's going to take everybody doing something about it."