Currently Reading:
Lutes learn about law enforcement, policing issues in the U.S.
Lutes learn about law enforcement, policing issues in the U.S.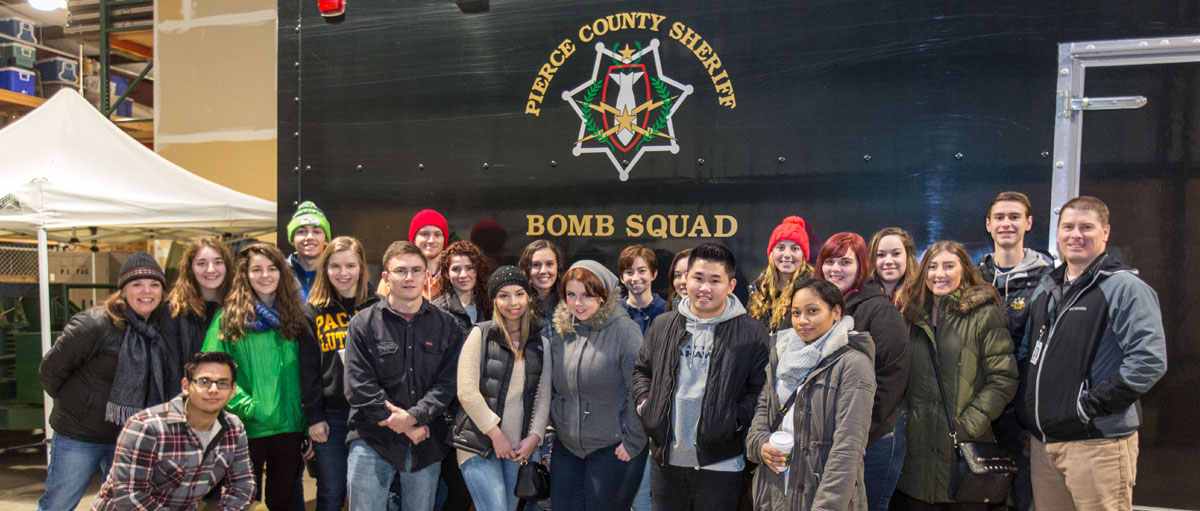 February 3, 2017
By Matthew Salzano '18
PLU Marketing & Communications
TACOMA, WASH. (Feb. 3, 2017)- You know it's a good class when even the professor goes home shouting: "You're not going to believe what we learned today!"
Joanna Gregson, professor of sociology, says she told her husband just that throughout her January Term course "Policing in American Society." It was one of many intensive monthlong courses offered to Lutes during J-Term, during which students meet four to five days a week for about three hours at a time.
Gregson's special topics class pulled from the expertise of Campus Safety Director Greg Premo, as well as six guest lecturers who work in law enforcement. Special topics classes, which are taught outside the typical curriculum in a given department, usually concern a professor's unique research interests or offer insight into contemporary issues outside the standard course sequence.
Gregson, who worked with criminology as a graduate student, thought the policing course was well suited, since police have been at the center of public discourse.
Gregson wanted to create an interesting experience for students who chose to stay on campus rather than study away during J-Term — an experience that avoided students sitting idle in a classroom.
So, she called up Premo, who has worked 16 years for the Pierce County Sheriff's Department, the organization PLU contracts to run Campus Safety. He and Gregson created the course with help from the guest lecturers, such as Pierce County Sheriff Paul Pastor. It included field trips to the precinct and the Pierce County Jail.
Premo says the speakers were selected because of their knowledge of the topics within the course, which included policing philosophies, ethics and discretion, race and policing, and use of force.
"I can only speak to these areas to a certain degree," Premo said, "so having someone who works directly in that specialty area gives the students an opportunity to ask questions to someone currently working in that area."
The roughly 20 students enrolled in the class claimed a variety of majors — including those outside sociology — such as communication, computer science, psychology and music.
Mitch Perantie '19, who intends to major in sociology, says the course changed his perspective on police in the U.S. "Not just on policing, but people policing each other in communities," Perantie said, adding that the class gave him "a new appreciation for why police officers do what they do."
Madeleine Willard-Herr '19, a sociology major, also said the class "allowed her to see the police in a totally different way." She said it was cool to get off campus and meet so many guest speakers.
Willard-Herr and Perantie both said Gregson accomplished her goals of offering a course that's interesting and experiential.
"It's probably the best class I've taken," Perantie said. "Probably the safest, too."
During one lecture, Deputy J. Reigle shared his personal experience doing patrol work, which he said he loves.
Reigle, who is in charge of recruiting for the sheriff's department, challenged students to look at images of police officers from volatile situations in the past few years, such as officers in riot gear in Ferguson, Missouri, and explain what they were seeing.
While Premo helped develop the course, he says he learned from the experience, too.
"I just didn't consider that many people don't realize what the police do on a daily basis," he said. "I hope this class has given the students some insights into what the police do and why it is so important in our society."