Currently Reading:
PLU alumna serves as interim director of Tacoma's Rainbow Center
PLU alumna serves as interim director of Tacoma's Rainbow Center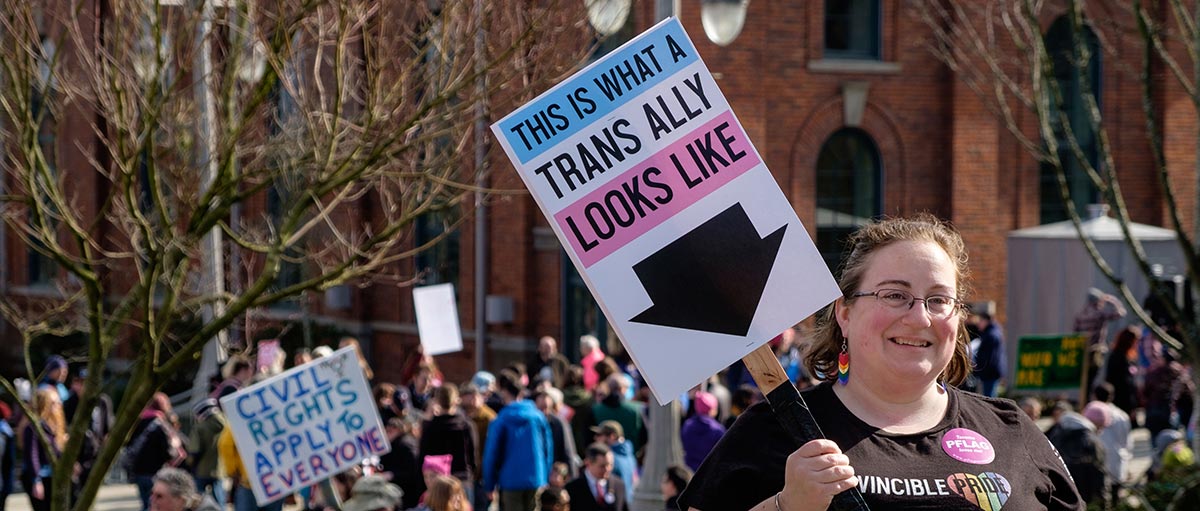 March 8, 2017
By Brooke Thames '18
PLU Marketing & Communications
TACOMA, WASH. (March 8, 2017)- Laura Brewer '03 was no stranger to activism when she started volunteering at the Tacoma Rainbow Center in 2000.
An active Lute, Brewer engaged in a variety of LGBTQ advocacy work on Pacific Lutheran University's campus through Harmony, known today as Queer Ally Student Union.
Now, Brewer is ushering in the next era of leadership at the Rainbow Center as interim director. She's running the organization until a new leader is appointed this spring.
The center sits on Pacific Avenue in downtown Tacoma, distinguished by the rainbow flag in the window. The organization supports the local LGBTQ community by providing access to a variety LGBTQ resources, including the center's own crime-victim advocacy program. The center also hosts a number of community drop-in hours as well as potlucks, educational seminars and film screenings.
"I would describe it as a place where people can come and fully be themselves," Brewer said.
As a co-leader of Harmony at PLU, Brewer participated heavily in raising awareness around LGBTQ issues both on campus and beyond. She also worked as one of the Diversity Center's first LGBTQ peer advisors.
Brewer — who identifies as a pansexual queer female — discovered her sexuality while at PLU. Brewer said she never gained much exposure to other sexual orientations growing up in a small Alaska town. Once enrolled at PLU, her knowledge concerning sexual identity broadened.
"It was kind of exciting to be around that many people," she said. "I really had the chance to meet other people and learn a lot more about other sexual orientations. It was extremely educational."
Brewer said she hails from a religious family, and often felt "stress" when it came to sexuality. She said she struggled reconciling Christianity and queer identity.
"I had heard so much about (how) being queer was a sin, but I didn't feel like a bad person," she said. "Ultimately, I came to realize…I was loved for who I was."
While Brewer's time at PLU helped her feel more comfortable with her sexuality, the campus wasn't immune to larger societal tension surrounding LGBTQ issues. She recalls one incident in which someone painted hate speech, targeted at LGBTQ folks, inside the university's administration building. She also remembers controversy surrounding Christian students who prayed outside the dorm rooms of openly gay students.
"There was a lot going on," Brewer said. "It was a bit of a scary time to be figuring out your sexual orientation."
Still, Brewer found support from Harmony and a variety of faculty members. She said Professor of History Beth Kraig, Dean of Students Eva Frey and Diversity Center Assistant Vice President Angie Hambrick were especially valuable.
"Honestly there were a lot of staff — both queer and straight — who were really fantastic," Brewer said. "While things are a bit different at PLU now, I think they really helped bring it to that point."
Brewer held a variety of jobs after graduating in 2003. She worked as a bank teller, sales associate and barista before joining the Rainbow Center's full-time staff in 2011.
At that time, Brewer constituted one of two staffers at the center. She began as the center administrator, then continuously changed positions as the center hired new full-time staff members. Her title preceding interim director was programs and operations manager.
"I would describe it as a place where people can come and fully be themselves."
- Laura Brewer '03 says of Tacoma's Rainbow Center
Each position has nurtured Brewer's enthusiasm for community connection and engagement.
"I love…learning about people," she said. "Everyone who comes up is different and they all have different stories."
Brewer became the interim director of the Rainbow Center in January, stepping into the position following six years of history with the organization.
Brewer's work is largely managerial. She begins the day by answering emails. When she's through with her inbox, she moves on to the many meetings she holds with staff and other community leaders.
She knew the director before her was busy with many emails and meetings, but didn't realize just how busy that work was.
Brewer laments the lack of face-time she gets to spend with visitors and other her community members in her new role. However, she rejoices in the education she's gained through the experience.
"I think it's also been immensely educational as far as my own self-esteem and ability to know who I am and what I'm capable of," she said.
Brewer will step down from the position once a permanent director is hired. While the job has proved valuable, Brewer said the position does not offer what she's looking for in a full-time position. She prefers assistant positions, where she can help manage but also interact with the community on a personal level.
Brewer and her partner — a transgender man she met while living in Harstad Hall — are also considering adoption. Brewer suspects the director position would be a lot to juggle with a new baby.
"This is an amazing organization," she said. "If I was in a position to feel like I really wanted to be a director, this would be a great organization to be the director of."
For now, Brewer looks forward to being the bridge between the new and old full-time Rainbow Center directors. Brewer said her time at PLU has informed the way she continues to seek out a vocation of service.

"One of the things I loved about PLU was the mission — 'educating for lives of service,'" she said. "The education I got at PLU on how to be a good leader…was really helpful. I'm always glad I went to PLU."