Currently Reading:
Lutes gather at CenturyLink Field to soak up sun and Sounders
Lutes gather at CenturyLink Field to soak up sun and Sounders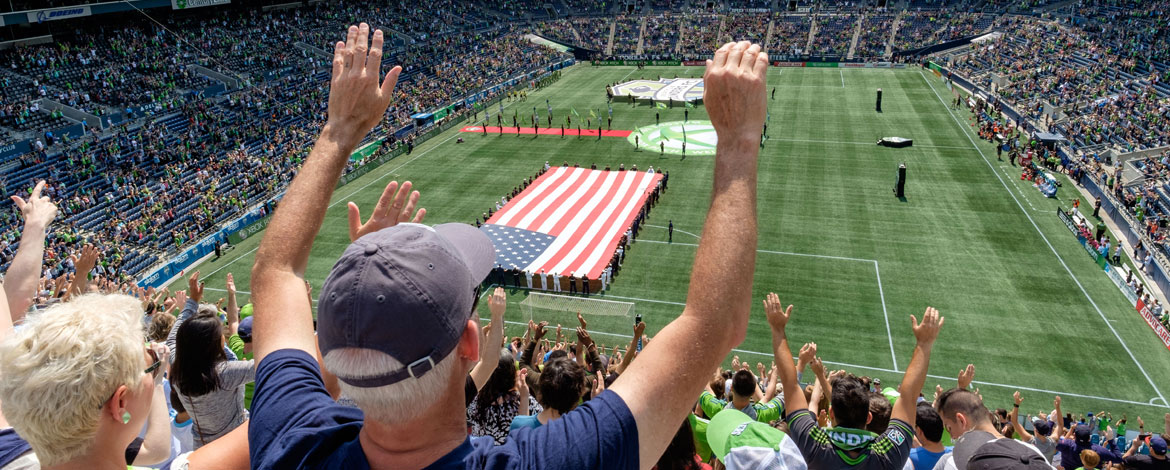 August 14, 2017
By Genny Boots '18
PLU Marketing & Communications
TACOMA, WASH. (Aug. 14, 2017)- Even though Leah Foster-Koth is not an alumna yet, she found herself in good company Saturday, sitting with a crowd of former Lutes at CenturyLink Field in Seattle.
In fact, she hasn't even started at Pacific Lutheran University. But the incoming first-year student jump-started her school pride and joined her father, David Foster-Koth '88, and a group of other alumni for PLU Day at the Sounders.
Graduates spanning generations — from the 1970s to present day — sat in the sun, sipping lemonade, eating peanuts and watching the Sounders shut out Kansas City, 1-0.
The father-daughter duo are Sounders fans who attend games every summer. Leah also is a former soccer player. "My favorite part of the game is when we score," she said. "I love when everyone stands up and comes together."
It took one goal to seal the win for Seattle. Sounders star forward Clint Dempsey scored midway through the first half and the whole stadium, PLU section included, jumped to their feet and erupted with cheers for the home team.
And in the crowd was Leah, the lone representative from the PLU class of 2021, soaking up the last few weeks of summer freedom before classes start.
Even though Leah's parents are both alumni (her mother, Ruth, is a new member of the university's Alumni Board), she fell in love with the campus after visiting her cousin who attended the university.
"She was having such a great time there and she had such a good experience and everybody there was so nice," Leah recalled. "I've never met somebody from PLU that wasn't nice."
That's what her dad remembers most fondly, too — the people.
"The quality of the people is just great," said David, who met Leah's mother at PLU. "It's a pretty special place."
Now, it's time for Leah to create her own PLU experience. She will live in Hong Hall, in the International Honors Program wing, and take classes in poetry, Norwegian and calculus.
And she's ready to leave high school behind:
"I'm just excited about the community at PLU and getting to know people, taking cool classes that are interesting. The whole college experience is something I've been waiting for."