Currently Reading:
Gov. Inslee visits campus for town hall meeting with PLU community
Gov. Inslee visits campus for town hall meeting with PLU community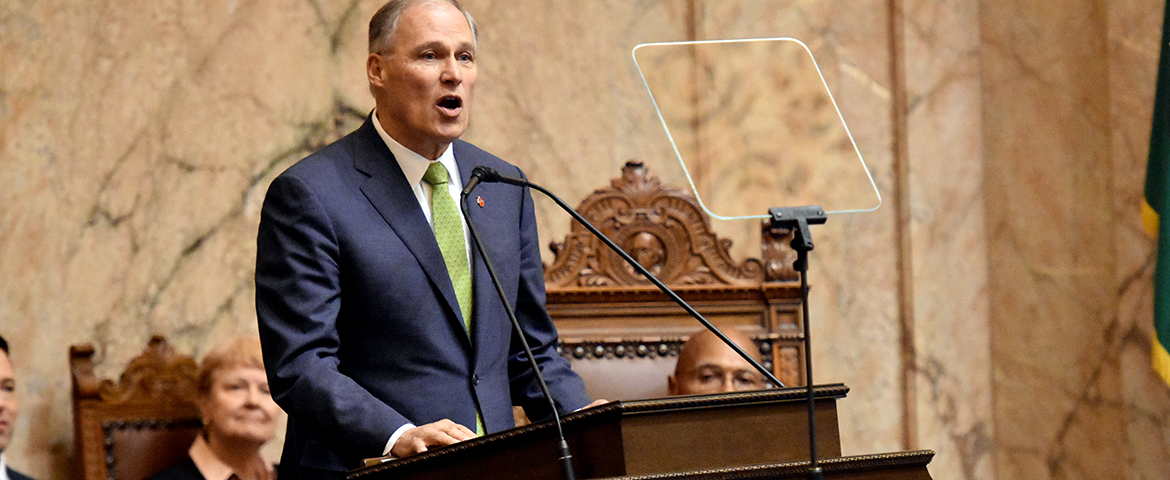 May 10, 2019
By Thomas Kyle-Milward
Marketing & Communication
TACOMA, WASH. (May 10, 2019) — Governor Jay Inslee will be holding a town hall at Pacific Lutheran University's Karen Hille Phillips Center auditorium on Monday, May 13th, at 9 a.m.
Gov. Inslee will field student-submitted questions from an ASPLU Lute Vote moderator on a wide array of topics, ranging from homelessness and the opioid epidemic to his opposition of the Tacoma LNG plant currently under construction, climate change and his presidential campaign.
The governor's visit is part of a three-part celebration of PLU's student body for winning the state-wide Governor's Student Voter Registration Challenge this past November — the PLU flag was flown in front of the state capitol building, Lute Vote student leaders were invited to lunch with Gov. Inslee in Olympia, and finally the Governor's campus visit.
The town hall will be proceeded by a 30-minute "Get-to-Know-Jay" session, beginning at 8:30 a.m. in KHP. This event is free and open to the public. No ticketing is required, seats are available on a first-come, first-served basis.
Want to submit a question for Gov. Inslee?
Submit a question for the governor to answer at Monday's town hall and vote on the ones you like the most!