Currently Reading:
Jordan Levy: Anthropology and a Just Society
Jordan Levy: Anthropology and a Just Society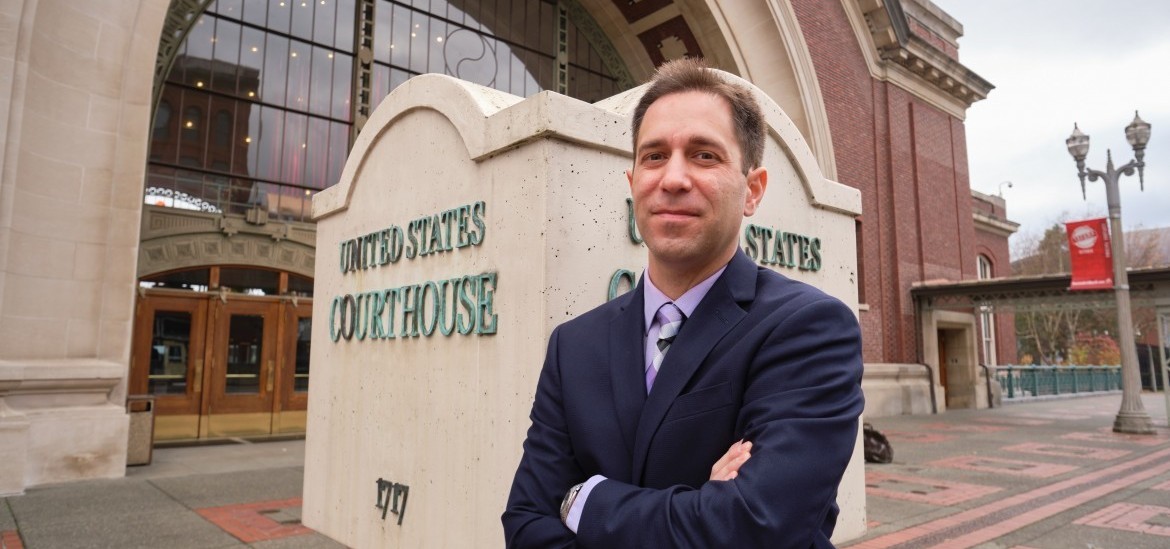 November 15, 2019
By Lora Shinn
Guest Writer for Marketing & Communications
When Jordan Levy first visited Honduras in high school, he had no idea that someday he'd be serving as an expert witness on Honduras in the U.S. court system.
He first visited the Central American nation to perform volunteer work, and then returned annually throughout undergraduate and graduate school for college-related studies and more volunteering. He even met his future wife there, in 2004. 
Today, Levy is a specialist in contemporary Honduras and an assistant professor in Pacific Lutheran University's anthropology department. His research has focused on Honduran governance after the 2009 military coup and the outmigration patterns that followed.
Recently, Levy provided pro bono expert witness testimony on behalf of a young man of Lencan indigenous and Honduran backgrounds, who was awarded asylum under US law after enduring and escaping gang-related violence. Expert witness testimony is a way that sociocultural anthropology scholars are applying research for real-world results.  
Levy's concern and care for Honduran people is rooted in both academic research and personal experience.
"I fell in love with the people and the country, even before I met my partner," he says. "People were friendly, welcoming, and open, and patient with me when I asked questions about Honduran society."
Whenever he returned, he appreciated the hospitality and generosity of time. After he met his partner, he would return to visit his partner's family, then schoolteachers he'd interviewed years before. When he returned to Honduras, instead of feeling culture shock, he felt like he had a second home.
When we spoke on the phone, Levy was at home, on parental leave. His eight-month-old daughter slept soundly as her father discussed his work's importance.
"I want a just society where there's no discrimination against Central American migrants," he says. "There's been an increase in racism and xenophobia, with so much directed toward Central American people."
As an expert witness, Levy relies on research, interviews, and 19 years of first-hand experience visiting and studying Honduras. He's consulted pro bono with seven different firms, although not all required affidavits or trials.
His expertise is essential. His declaration on the unique vulnerabilities faced by Honduran school-age children abandoned by their families was cited nearly 50 times in the most recent lawyers' court briefing.
"I view my role as not judging the credibility of the claim," he says, "but as putting the claim in a broader historical and political context. The lawyers know about immigration law but not Honduran society. Researchers can fill in a valuable knowledge gap."
Young men–especially those of indigenous descent–face a triple challenge, Levy says. They're financially unable to attend school, while also facing police enforcing strict vagrancy laws and gangs seeking new members. 
After Levy's testimony, the judge granted humanitarian asylum on the spot to the young man, and the government agreed to waive appeal; the client was released from detention the same day.
"After reviewing his declaration, writing the affidavit, and participating in multiple conference calls with his legal team, I am so pleased that his case was successful," he says. "Amidst all the horrible things happening in the US against Honduran migrants and asylum-seekers, this is a win."
At some institutions, publishing in journals is the only critical component of faculty work. But PLU also recognizes expert witness testimony as another form of applied scholarship, or using anthropological research to solve practical, real-world problems. As another example, some of Levy's colleagues in archaeology have been consulted by the National Park Service.
"As an engaged anthropologist who takes a position on justice, I'm fortunate to be at PLU, an institution with a strong commitment to social justice," Levy says. "Other institutions wouldn't support expert witness work for faculty. But PLU does."
At PLU, Levy teaches anthropology courses that explore how Latin America studies inform anthropological theory, the impact of free trade policies; the state from an ethnographic perspective; and how international migrants build lives in more than one nation-state.
Many of his students go on into migrant rights advocacy, government, NGOs, or law school. "In all my classes, I aim to show how anthropological research can have real-world effects," he says.
Levy also raises awareness about ongoing Central American social justice struggles, including organizing events to educate the public on land tenure rights in post-coup Honduras, and the local relevance of migrants seeking political asylum in the US. With other PLU faculty, he supports students impacted by current US immigration policies.
His current collaborative faculty-student ethnographic research project focuses on Washington State's Salvadoran and Honduran migrant communities. For the past 18 months, he's attended Pierce and King County community events with a student, from protests to celebrations. They've conducted interviews with Honduran and El Salvadoran immigrants on why they came (and stayed) in Western Washington and their strategies for survival.
Before returning to campus in January to teach, he'll attend an American Anthropological Association workshop on writing more effective affidavits for asylum-seekers.
"The demand for expert witness work for Central American asylum applicants is only going to increase," Levy says, referencing the current immigration climate in the US.