Currently Reading:
Adrian Arrives
Adrian Arrives
A student from Alaska discovers his love for computer science and lands his dream job at Netflix.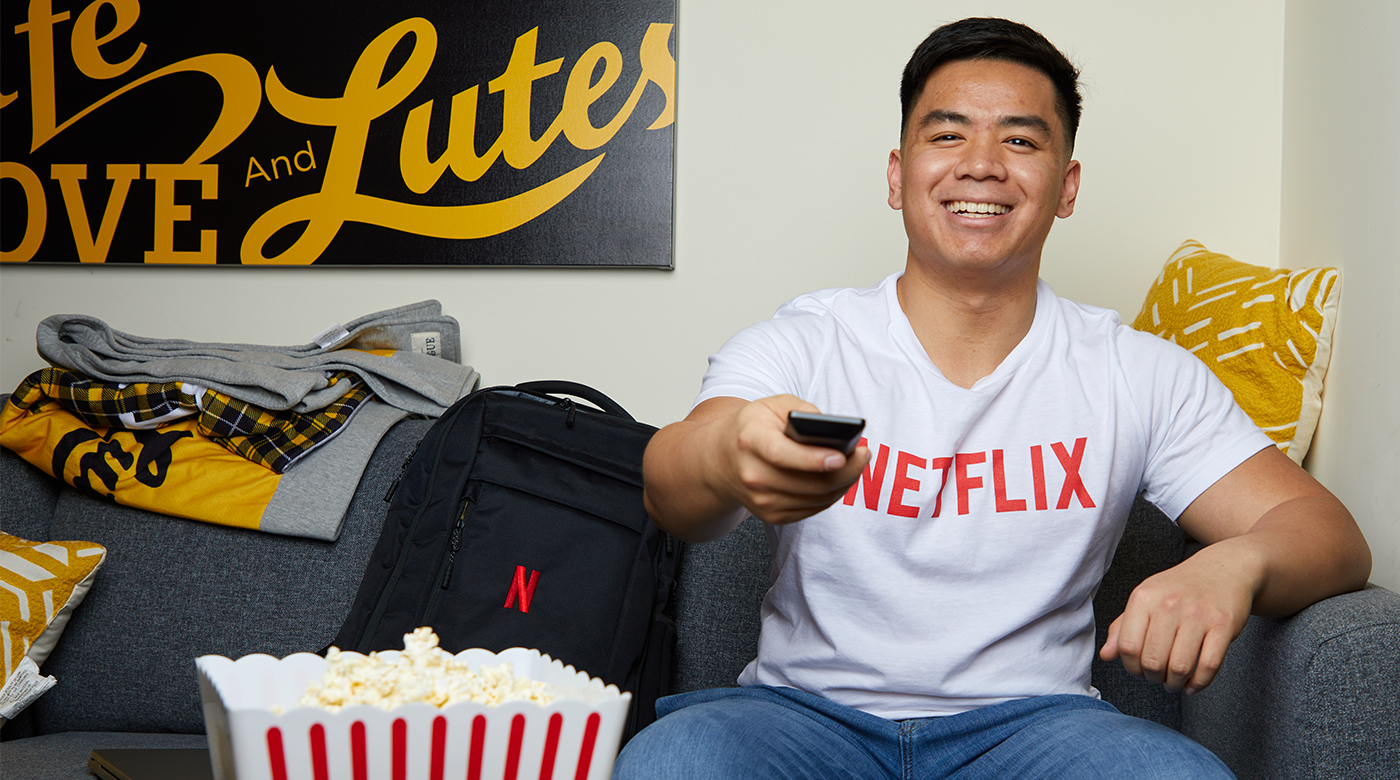 November 1, 2022
By Veronica Craker
ResoLute Assistant Editor
During his senior year, computer science major Adrian Ronquillo '22 filled out 203 job applications.
Despite already having a job offer from a tech company he was interning with, he wanted to see what other opportunities were available to him. One of those applications included a position at Netflix, the popular streaming service based out of Los Gatos, California. 
"I was like 'I'm definitely not going to get this,' but I was doing the shotgun approach, so I really didn't care," Ronquillo said. About a week later he received a notification that his resume had been processed and he was invited to take a technical assessment.
One application and many hoops later, Ronquillo was hired at Netflix as a user experience developer.  
Ronquillo grew up in Ketchikan, Alaska in a close Filipino family. He grew up playing music and initially thought he would pursue it as a career. It was his love of music that brought him to Pacific Lutheran University. 
"I saw that PLU had an awesome music program, so I was like 'Yeah, I think I'm going to PLU,' " he said. "But then I decided to change my major to computer science because I just realized that I like making games and websites. For some reason, sitting down at the computer and typing stuff out and seeing it rendered onto the screen was interesting to me."
Ronquillo learned a lot from his professors, including Jeff Caley, assistant professor of computer science. He took a few classes from Caley, including Computer Organization, Operating Systems and his capstone. 
"Adrian is a great student; he's like the absolute dream student," Caley said. "What really set Adrian apart was how hard he worked."
Caley witnessed Ronquillo's diligence with his assignments, with the student oftentimes working ahead to get his work done. That grit would come in handy when it came to applying for his role with Netflix.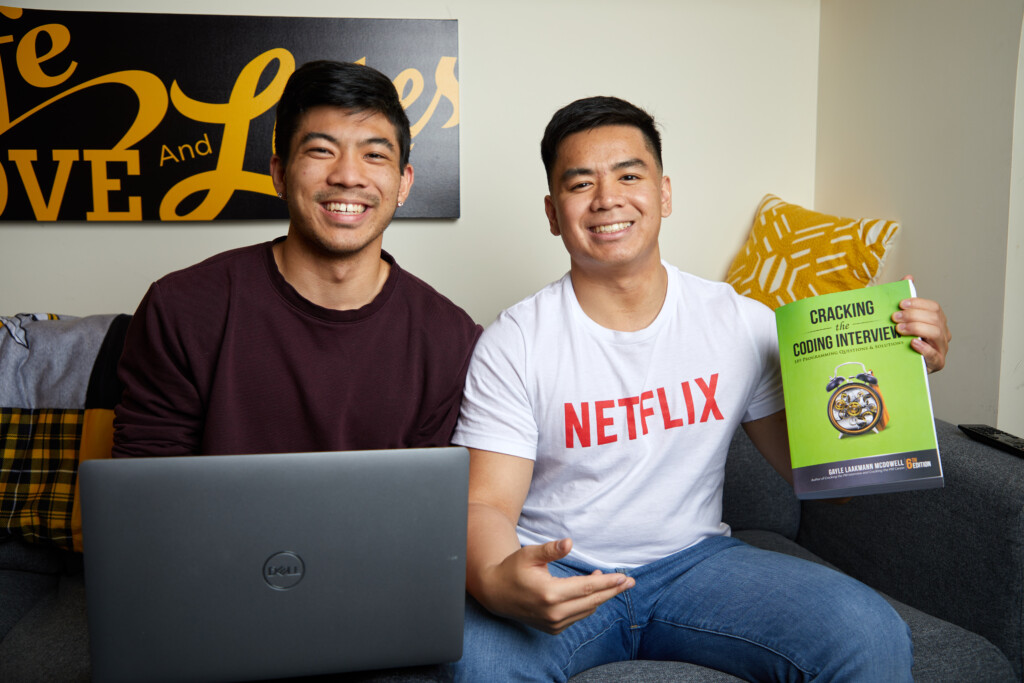 "Software engineering interviews are pretty brutal. There's a lot of different steps that you have to do," Ronquillo said. "The technical assessment is a coding assessment. Honestly, it's pretty much an exam that's like 60 to 90 minutes. You have to complete it before you can get a face-to-face interview." 
To prepare for the assessment, Ronquillo sought help from his friend Cody Uehara '22, a fellow computer science major who spent his senior year interning at NASA. Ronquillo was prepping during J-Term, so he and Uehara had to practice virtually. 
"Technical interviews are very challenging," Caley said. "They give you a programming prompt to solve this problem, and then you write the code to solve that problem. Adrian did a ton of coding early on to prepare and he got really good at them."
Caley was so impressed with Ronquillo's work ethic that he decided to mirror the way he teaches his students to apply for jobs with how Ronquillo prepared. 
"He did what he needed to do," Caley said. "He knew he needed to apply for a lot of jobs. He knew he needed to do a bunch of leak code problems. He knew he needed to have a portfolio and a website. And he did all these things in his capstone."
Ronquillo also worked on updating his LinkedIn profile to make him more attractive to recruiters. He presented his page to his classmates, inspiring them to mimic his formula. 
"It was a wonderful benefit to our capstone class when we were talking about going out and trying to get jobs," Caley said. 
After going through multiple interviews and technical assessments, all that was left was to sit and wait to hear back from Netflix. In the meantime, Ronquillo was offered five other jobs, including the position with his internship at internet company Metronet, headquartered in Indiana.
The internship was Ronquillo's first exposure to working as a software engineer. It's where he says he realized he enjoyed the creativity that comes with user interface and user experience development. At Metronet, he created a feature that allowed users to pay their bills without logging into the website. 
"The fact that I was able to create that feature for Metronet and see the results — for example, it reduced customers having to go to the store and talk to someone face-to-face — that impact was important to me," he says. 
NETFLIX AND NO TIME TO CHILL
A couple of weeks after his final interview, Ronquillo was sitting in a history class when he received a phone call. It was his recruiter asking him how the interview went. Ronquillo says he was disappointed, initially believing this was simply a check-in call, and not the offer he had been hoping to receive. But after listening to Ronquillo's experience, the recruiter informed him that Netflix liked him and they were extending an offer to join their team. 
"I was silent for a couple of seconds, and then I just started cussing," Ronquillo recalls jokingly. "Then (the recruiter) started laughing — it was so funny."
Once his class ended, Ronquillo video chatted with his mom to tell her about the offer and she, along with some of her coworkers, congratulated him. For Ronquillo, there's a certain amount of pride that comes with being a Filipino working in the tech industry. 
"I feel like I'm representing my country and people in a way because Filipinos in the tech industry are super duper underrepresented," he said. "I'm really glad to be working at a big company like Netflix and representing my Filipino heritage."
In August, Ronquillo started his job in the Growth Acquisition department within the partner-payments team.  "I'll be working on the interfaces related to payments that occur outside of the Netflix app and website. For example, if there was a Comcast deal that came with Netflix, I'd work on the interface for that. That's why my team is called partner-payments, it usually concerns payments to Netflix along with external companies which can be considered our partners," Ronquillo said. 
Today, Ronquillo is still in awe that he was able to secure his role with Netflix, especially since he initially believed he would be seeking a career in music. He's thankful for his time at PLU, the friendships he's made and the mentorship he's received from professors. 
"I'm really glad I went to PLU for computer science because of those connections I made," Ronquillo said. "I feel like it was a lot more genuine and a lot easier to create those connections because of how small these classes were. I'm excited for the future."