Currently Reading:
Music professor Gina Gillie discussed her new composition and short film
Music professor Gina Gillie discussed her new composition and short film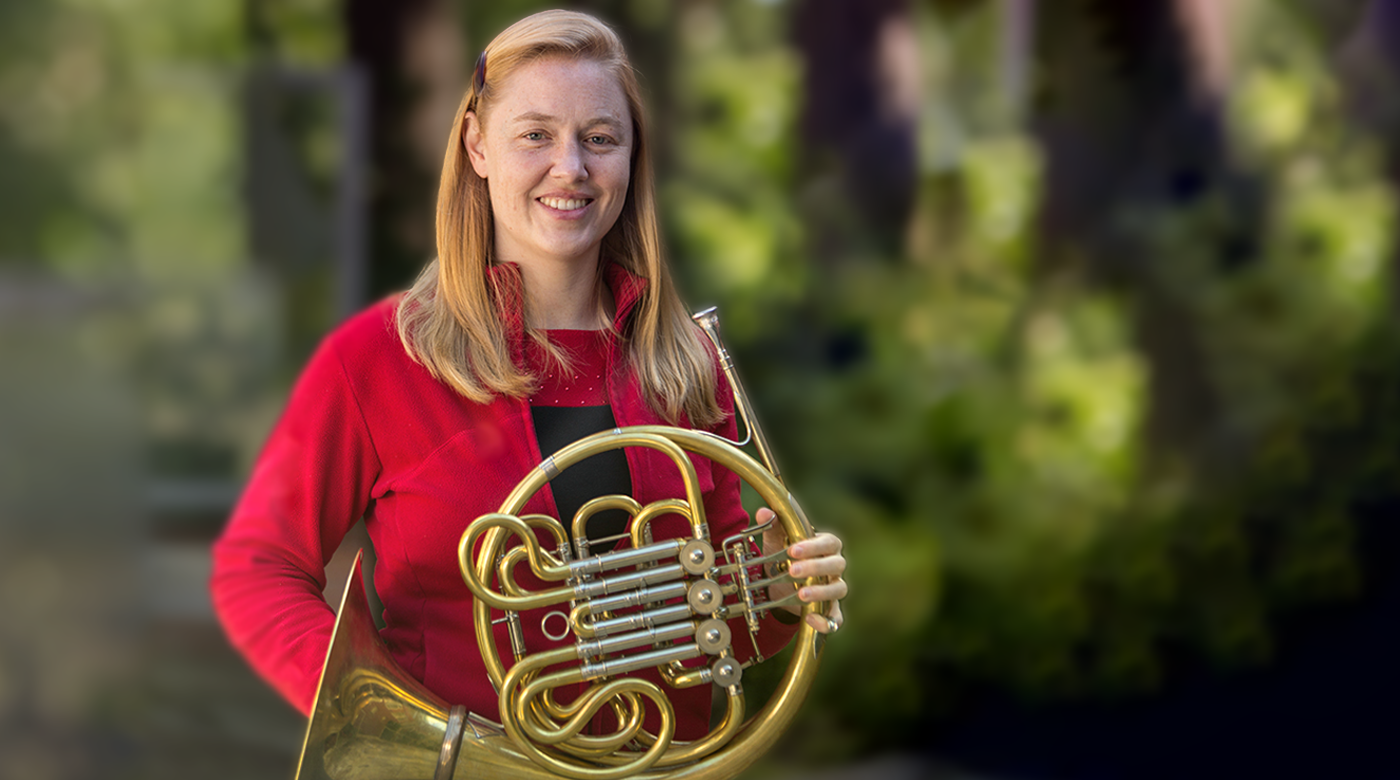 November 21, 2022
By Zach Powers
Marketing & Communications
Professor of Music Gina Gillie recently premiered her first electroacoustic music composition at Seattle Symphony's Octave 9. Titled "Pale Blue Dot for solo horn and fixed media," the piece is inspired by the 1991 photograph taken by the Voyager 1 spacecraft as well as Carl Sagan's prose reflecting on the image. In the photo, Earth appears as a single pixel – "a mote of dust suspended in a sunbeam." For this project, Dr. Gillie collaborated with video editor and PLU student Zixuan Guo.
We recently met with Professor Gillie to discuss this project.
This is clearly a film and composition that have something to say about climate and care for the earth. 
Yes, I think artists can provide critique and commentary on the state of the times in which we live. In my opinion, climate change is the greatest challenge that humanity faces right now. I've struggled as an individual to identify what I can do and how I can help, and it struck me that I should use my most natural talent of creating music to make an impact. In a way, this composition is a form of activism. It's meant to provoke a reaction, cause reflection, and hopefully lead to positive change on the part of those who see it.
What about this combination of image and words did you find so inspiring?
I read the prose some years ago. I thought it was very profound, and I've always had it sitting in the back of my mind. Carl Sagan talks about the vastness of the cosmos, and yet humanity's focus is always very Earth-centric. Everything we've ever known is right here on earth, yet we're so, so tiny in the great scheme of things.
I thought this would be a great concept to write a piece of music about, but I'd never found the right ensemble to write it for. When Mark Robins asked me if I would be interested in writing a piece for Octave 9, it seemed like a great fit for this idea. Part of the point of the commission from the Seattle Symphony was for composers to experiment with the possibilities of the new Octave 9 space.
What about Octave 9 made it a good match?
The space is highly electronic. It has a bunch of speakers in the ceiling for sound mapping, and it has video and visual capabilities. Writing for electronics provided limitless possibilities for a sound concept. It meant I wouldn't be constrained by any particular type of ensemble, and having video to go along with it meant I could tell a visual story as well.
Did you learn any new technology for this project?
I learned how to use a DAW, a digital audio workstation, that I'd previously been a bit intimidated by. You can design pretty much any sound that you can conceive of, so it was a really exciting tool that helped bring this concept to life.
How much did you think about the visuals when writing the music? Or did you write the music from more of the spirit of what, and then match things up later?
My first step was to draw the storyboard for the piece of music. I had the Pale Blue Dot photo in mind, and I knew that would be the starting place. I wanted to begin with a tam-tam swoosh because that was the kind of sound I was hearing for the appearance of that photo. The first section of the piece starts with a macro view of the cosmos, giving us a sense of how vast the cosmos are. After, we travel towards Earth, past the planets, and arrive at a celebration of Earth's beauty.
The second major section of the piece grapples with the effects that humans are having on our only abode. Our only planet. The piece doesn't end on a happy note, it leaves the audience sitting with several images of climate challenges. I don't answer the question, "Here's what we should do." Instead, I aim to inspire audiences to feel an urgency and think about what they can or will do.
You didn't have to look far for a videographer to collaborate with.
No, I did not! I reached out to MediaLab (a student-run media organization at PLU) and was able to enlist the help of Zixuan Guo. After I storyboarded the idea, we both found a lot of images, and then he put them all together. He did the 3D realization of the planets and the transitions between images. It was nice to have somebody doing the logistical video work, so I could just think about the creativity of the project.
What came first, this visual and thematic story you wanted to tell, or the actual music?
I really developed a story before I wrote the music. The story turned into the video, but the music follows the story. I tried to create a sense of mystique and wonder in the beginning, with the water glasses, and a motif that's not quite tonal, but is a "twinkling of the stars" idea. Coming into celebrating Earth, I have a happy theme, then, when it gets dark, I experimented with some Blade Runner-type strings.
 I was going to ask you about film scores, is that a musical medium you're interested in?
I've always loved film scores. My favorite composer of all time is John Williams. I really do like the idea of film scoring, and I've taught a couple of classes on the history of the subject. This project was unique in that I wrote the music before the film ever came to be. It was a reverse process, but just because I made it that way.
Dr. Gina Gillie is a Professor of Music at Pacific Lutheran University where she teaches horn, composition, aural skills, music history, and music appreciation. As an active musician, she performs frequently with faculty groups and in solo and chamber recitals. She is a busy composer who is frequently commissioned to write chamber music for brass and other instruments. Her music has won awards and has been performed internationally in countries including, Australia, Canada, Belgium, Portugal, and Brazil.