Currently Reading:
Theatre Professor Amanda Sweger Finds Family in the Theatre
Theatre Professor Amanda Sweger Finds Family in the Theatre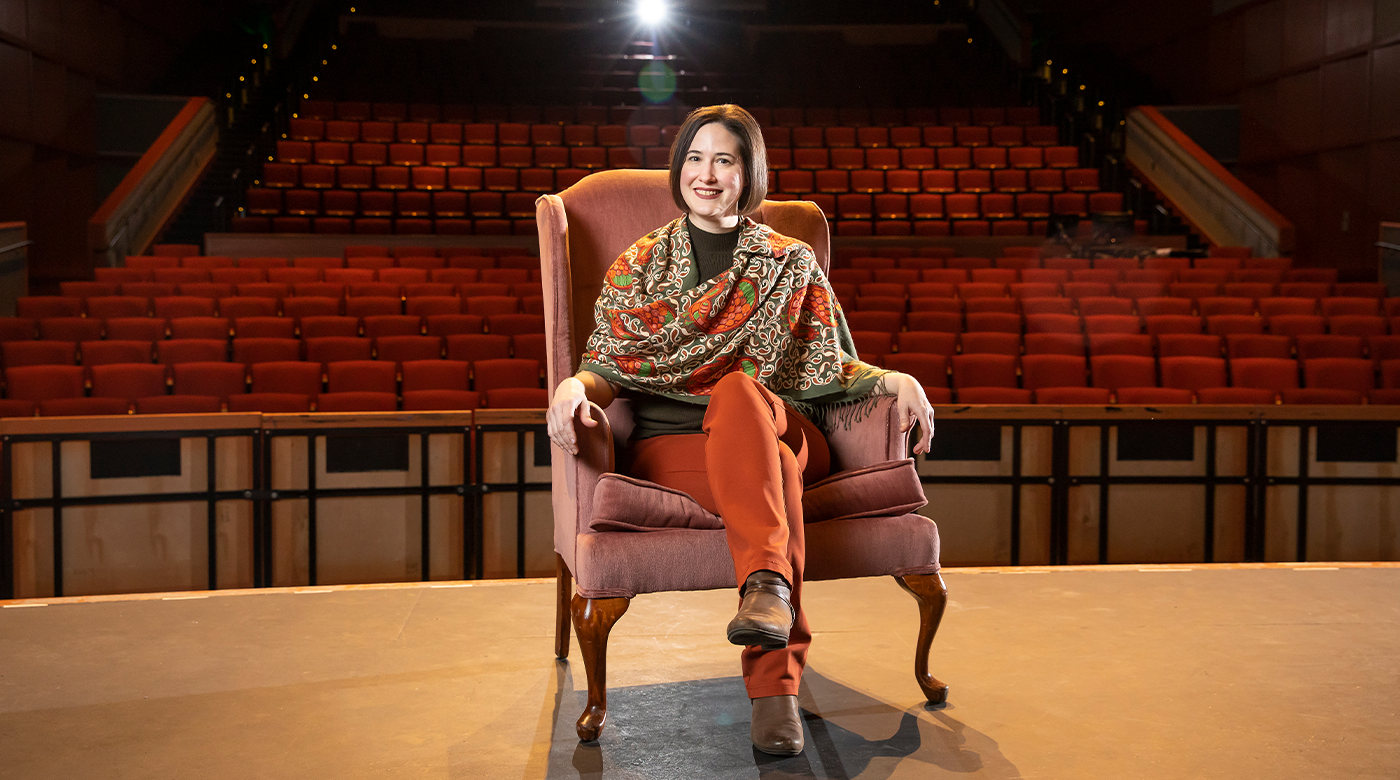 February 17, 2023
By Lisa Patterson '98
PLU Marketing and Communications Guest Writer
Like it did for so many, the theatre called to Associate Professor Amanda Sweger when she was in those awkward teen years. "For the first time, I felt accepted," she said. Yet she quickly realized she didn't like acting or auditioning. So, she spent a year at her community theatre doing everything else — building sets, hanging lights, painting, stage managing and making copies. Those experiences, hard work and camaraderie inspired her to study to be a lighting and scenic designer. "In scenic design, I create the world the characters inhabit, and in lighting design I convey the emotion of moments, often without the audience ever noticing."
In 2012, she moved from the busy Chicago theatre scene to join the PLU faculty, because she realized she wanted to teach others her art. She now has contributed to 31 shows at PLU and has taught numerous students through coursework and hands-on experiences. As the chair of the theatre and dance program, she has found yet another "theatre family" in the Pacific Northwest, and is looking forward to the next curtain rise.
What is the theatre experience like at PLU?
PLU's theatre program is very hands-on, and students are highly involved. We work with the students to do everything. I'm rarely alone. I love giving students the agency to participate and create. 
How would you describe your teaching style?
Controlled chaos with copious reference material. I am methodical on the course site and in planning, and I'm chaotic in the classroom. I'm incredibly animated in the classroom. My lectures are usually active, since I am almost always teaching students how to do something. … My catchphrase has become "Keep messing it up," because we don't know how to do anything until we try.
You have worked on productions in Chicago, Philadelphia and now here in the Pacific Northwest as a freelance set designer. How have those experiences influenced your work at PLU?
 Much of it is done with very little resources. So, I learned how to create. I've worked with the Village Theatre as a scenic designer for Kidstage, which has been a great pathway for our designers as they graduate. And I've lit and scenic designed 10 shows at Taproot Theatre Company.
What do you love most about theatre and scenic design?
In my intro to theatre course at PLU I teach that theatre's cornerstones are "community, empathy and dialogue." Theatre is an art where you have to physically be there to experience its greatest effect: immediacy. … There is a connection between the audience and the performers. The dialogue onstage allows us to see and feel the world differently and continue that dialogue after the show.