Currently Reading:
From Eastvold to Broadway: Justin Huertas '09 and Kiki deLohr '10 debut on musical theater's biggest stage
From Eastvold to Broadway: Justin Huertas '09 and Kiki deLohr '10 debut on musical theater's biggest stage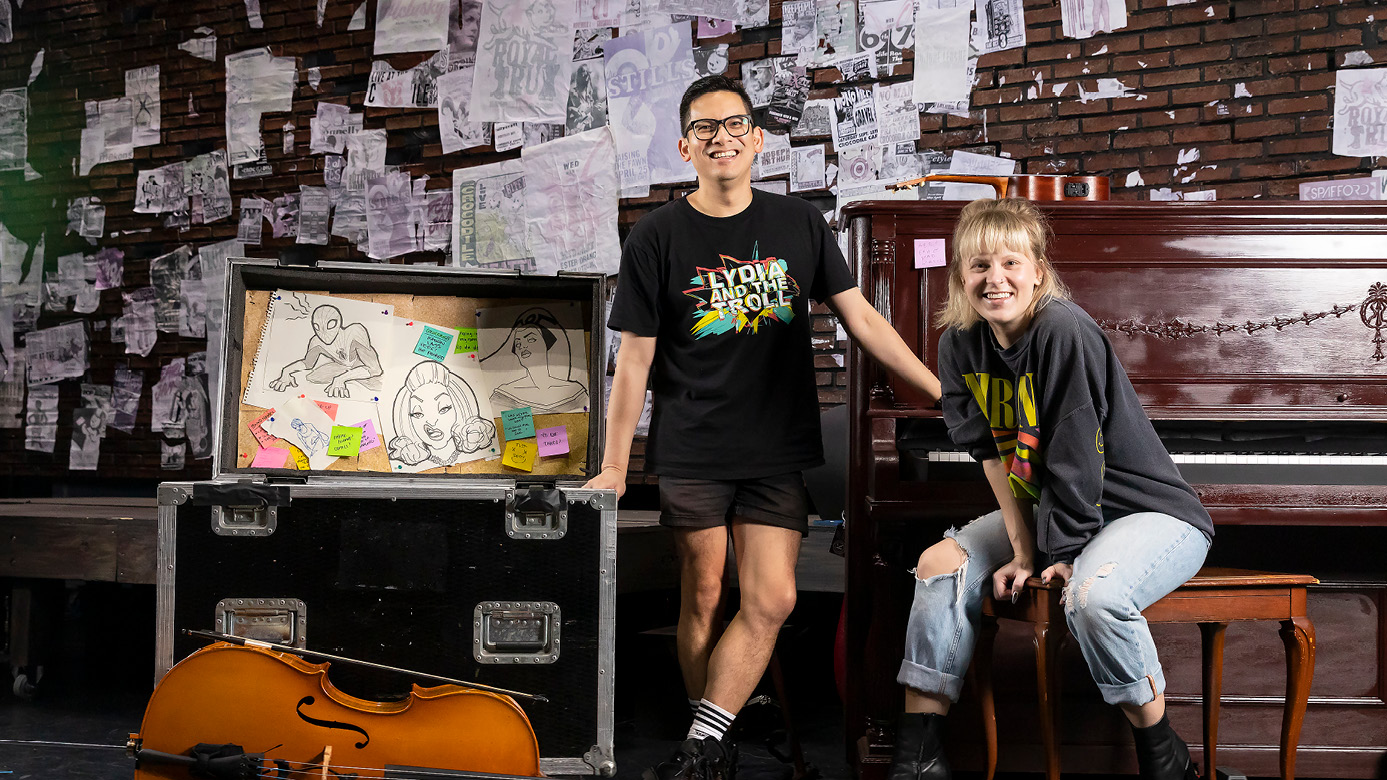 September 13, 2023
By Zach Powers '10
Resolute Editor
It's 11 a.m. in Harlem. Justin Huertas '09 and Kiki deLohr '10 are feeling loose, relaxed — even a bit silly — as they sip coffee outside Sugar Hill Café. In a few short hours they will make their off-Broadway debuts in a musical written by Huertas.
DeLohr and Huertas have won musical theater awards, performed throughout the U.S. and the U.K., and earned glowing reviews from critics every step of the way. Tonight is a milestone in their careers, but they insist it doesn't feel so different from the first play they starred in together: PLU Theatre's 2007 production of "Cabaret."
Huertas beams as he recalls how he, the confident sophomore, encouraged deLohr, the shy first-year student, to audition for a leading role.
"I was like, 'If you audition for Sally Bowles, you're going to be cast as Sally Bowles,'" remembers Huertas. "I bullied her into auditioning."
"Hey, don't bully," scolds deLohr playfully.
"It's okay, because I bullied you into becoming my best friend," Huertas quips back through an adoring smile.
Seventeen years and countless productions later, the two friends still swell with pride as they remember the shock of their older classmates who expected to land the leading roles.
"They were looking at a couple students who were older than us," deLohr says. "And then we came in and just kind of stole those roles."
I Dreamed A Dream
Kiki deLohr sings "Terrible Ride" from Lizard Boy.
Though both had starred in high school musicals, neither Huertas nor deLohr enrolled at PLU intending to major in theater. DeLohr planned to study psychology and Huertas was a music performance major specializing in the cello. After meeting in Acting 101 and landing leading roles in "Cabaret," the two became fast friends and both succumbed to the magnetic pull of the stage.
"It was really cool because, at that point, the theater department was quite small," remembers Huertas. "We got a lot of free rein to explore and try different things."
After changing their majors to theater, Huertas and deLohr began dreaming of what their futures after graduation might look like.
"I never had aspirations to go to New York or anything like that," says deLohr. "I just wanted to make a living doing theater in Seattle. I really wanted to perform at the Fifth Avenue Theatre."
DeLohr, who went by Kirsten deLohr Helland during her PLU years, felt overwhelmed looking for opportunities after graduation. After a couple years of roles at small theaters, a casting director spotted her in a community theater production and she landed the role of Ado Annie in the Fifth Avenue Theatre's 2012 production of "Oklahoma."
Huertas also graduated with aspirations of establishing himself on the Seattle theater scene. He worried that his smaller stature, Filipino ethnicity, and natural disposition toward comedic parts would make it difficult to land leading roles. "I thought I'd only be cast as supporting characters, plucky comic relief, the hilarious best friend, that kind of thing," he says.
He landed a role in a Seattle Repertory Theatre production soon after graduation, but then went months without being part of a show. "I was really grappling with the viability of this career path." Finally, an opportunity broke his way, and he landed a cellist position on an eight-month national tour of "Spring Awakening" in 2012.
Huertas had fostered relationships with Seattle Repertory Theatre Artistic Director Jerry Manning, but Manning didn't learn about his cello virtuosity until he went on tour. Already a fan of Huertas' stage presence and comedic acting, Manning had an idea that would change the trajectory of Huertas' life and career. Manning commissioned Huertas to write a show that he would star in while playing a cello. "That was the beginning of 'Lizard Boy,'" Huertas says.
Not Throwin' Away My Shot
"I had never been a writer, professionally or really at all," Huertas says. "Now this big, Tony Award-winning regional theater wants me to write something? I had no idea what to do."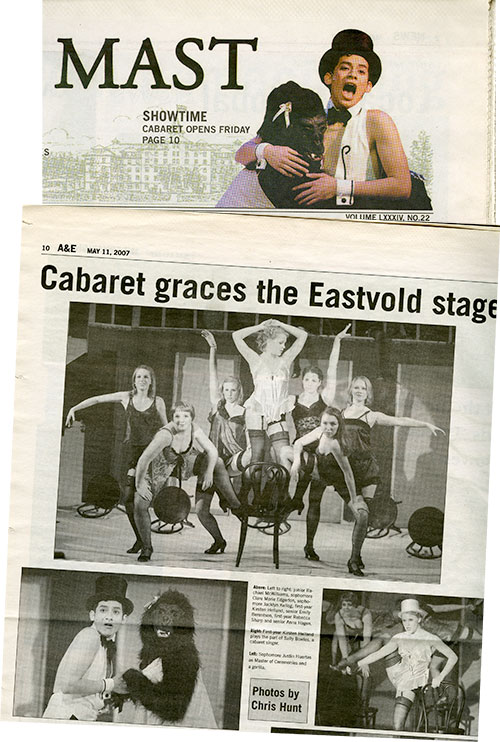 Manning encouraged Huertas to keep a diary on tour and introduced him to playwright Andrea Allen. She would regularly suggest topics for Huertas to explore in his journal.
Eventually, Allen suggested that Huertas journal about his coming out story. He laughs while explaining that when he came out to his friends and family as a teenager they all had already assumed and loved him no less or no more. "I'm very lucky that that was my experience, but it's boring," Huertas says.
When he began writing about it in his journal, he wanted to spice it up. He thought about the comic book superheroes he loved: X-Men, Spiderman and the Ninja Turtles. He wrote a story about a queer protagonist who has green lizard skin — and that skin is the source of trauma and internal angst.
Initially, Huertas didn't know if this quirky story was worth telling, but Manning — who kept his collection of 1960s Fantastic Four comics in his Seattle Rep office — loved it. When Huertas returned home from tour, he began expanding the story and writing the score and songs. He gave his protagonist a name, Trevor. He refined his story — an action-packed, all-in-one-night tale about Trevor falling in love and discovering the truth about his green skin.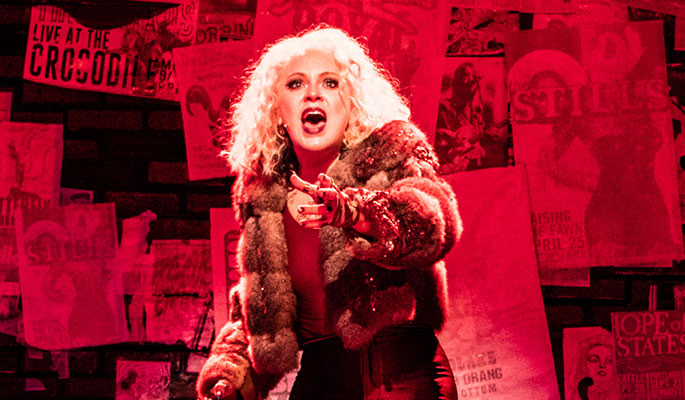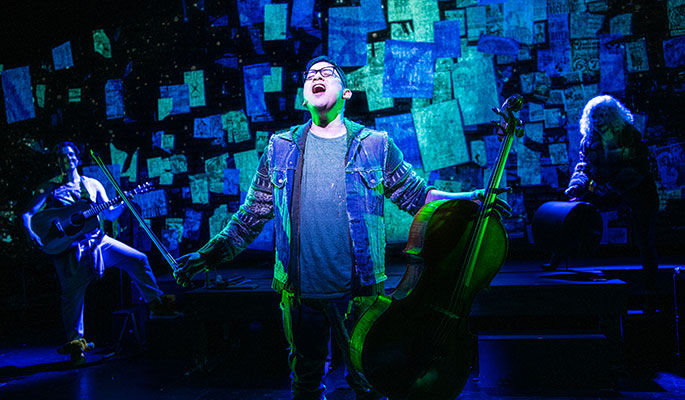 By January 2013 Huertas brought in a second cast member, a Cornish alumnus named William A. Williams, and a third — an actress working mostly at the Fifth Avenue Theatre, someone Huertas knew from college: Kiki deLohr.
While Huertas had been touring and writing, deLohr had been earning a reputation for her booming vocals and intense acting. DeLohr had never worked with the Seattle Rep before, but Huertas wrote a character in his new show, a mysterious villain named Siren, specifically for her.
Something Wonderful
"Lizard Boy" opened at the Seattle Rep in March 2015. Featuring a dynamic, three-person cast that played eight different instruments on stage while harmonizing their way through 16 catchy and sweet songs, "Lizard Boy" was an immediate hit with Pacific Northwest audiences and critics.
"In Seattle Repertory Theatre's premiere of 'Lizard Boy,' Justin Huertas manages to sing, dance and play cello at the same time, while portraying a humanoid reptile with cryptic powers and a Woody Allen-ish bundle of neuroses. And speaking of multi-tasking: It happens in a musical play Huertas also wrote and composed."
- The Seattle Times
"The musical quality of the production is nothing short of astounding, with innovative instrumentation and voice blending and pure harmonization seldom witnessed on Seattle stages."
- Vanguard Seattle
In October 2015, "Lizard Boy" was honored by the Seattle theater community at the annual Gregory Awards. The musical won all four awards it was nominated for, including Outstanding New Play, Outstanding Actor (Musical) for Huertas, and Outstanding Supporting Actress (Musical) for deLohr.
"After 'Lizard Boy' opened, my career really picked up and different kinds of opportunities started coming," says deLohr. Those opportunities included playing two iconic characters back at the Fifth Avenue Theatre, Rizzo in "Grease" and Maria von Trapp in "The Sound of Music."
Meanwhile, "Lizard Boy" announced Huertas as an exciting new musical theater writer. "Theaters around Seattle just started commissioning me to write for them," he says. He's now written nine musicals working closely with theaters like the Seattle Rep, Fifth Avenue Theatre, Arts West and others.
Getting Out of Town
Not only did "Lizard Boy" lead to exciting opportunities for Huertas and deLohr, the show grew legs strong enough to walk down Interstate 5. Its first production outside of the Emerald City was at San Diego's Diversionary Theatre, one of the oldest LGBTQIA+ theaters in the United States. Huertas, deLohr, and Williams reprised their roles, and "Lizard Boy" was a hit in Southern California.
"The 95-minute musical blends comic books, Godzilla mythology, 'Spring Awakening,' cello music and a surprisingly sweet love story in an innovative, funny and wildly entertaining way… Huertas has a sweet, nerdy vulnerability and hopefulness… deLohr is a force of nature as the vicious Siren. She's a powerhouse singer and a talented comedian."
- San Diego Union-Tribune
Next "Lizard Boy" was put up at Mountain View Center for the Performing Arts in Silicon Valley in 2021, followed by productions in Manchester, England in 2021 and Edinburgh, Scotland in 2022. With every new stop, the original cast album earned a bigger audience on music streaming services, and it has now been streamed more than three million times on Spotify.
The original three cast members and the original director, Brandon Ivie, came together for each production, and the show racked up more awards, winning six Bay Area Theatre Critics Circle Awards in 2022.
"Performing in the U.K., in particular, was incredible," remembers Huertas. "That truly felt like a peak. We felt like we'd love to bring it to New York, but we didn't know if that would ever happen."
After the show was a hit at the Edinburgh Festival Fringe, the world's largest performance arts festival, New York finally came calling. Prospect Theater Company, a New York nonprofit dedicated to "fostering and showcasing today's new voices shaping tomorrow's musicals," extended an invitation to produce "Lizard Boy" in the heart of Manhattan's Theater District.
That call came a few months ago.
Give My Regards to Broadway
Opening night is finally here. After meeting with the Resolute team in the morning for coffee, Huertas and deLohr graciously invited us into the beautiful theater they will call home for the next 17 nights. As they pose for portraits on stage, they discuss what tonight's performance means to them.
"I'm going to make my off-Broadway debut as an actor, and as a writer. That's incredible," says Huertas, shaking his head.
"It's really validating," agrees deLohr. "Being here, the excitement people have for the show. It's amazing."
The two friends aren't the least bit concerned about the show itself. "There's really no pressure," says deLohr. "We know this show so well, we know the show is good, and we know that people are going to love it."
Huertas is a bit nervous about attendance. Most theaters across the country sell season subscriptions, which means patrons come to a season of productions curated by a theater director they trust. New York, he explains, is a single ticket town. Meaning tonight's audience will be people who have heard about this show and want to hear this queer story about a lizard from Seattle.
Two hours later, the 200-seat theater is packed with young, hip faces. Some look excited, others seem more aloof, as if they are waiting to be impressed. This may technically be an "off Broadway" production, but we're right on West 42nd Street. We're within a few short blocks of shows like "The Book of Mormon" and "Phantom of the Opera." We're a stone's throw from the Stephen Sondheim Theatre. On or off Broadway, this is an audience with Broadway-level expectations.
Justin Huertas sings "Things I Want" from Lizard Boy.
By the end of the third song, the audience is hanging on every note and line. I can feel the attendees around me enchanted with Huertas' endearing performance as Trevor; delighted by deLohr's menacing and belting Siren; spellbound by the cast's flawless harmonies, and invested in the story. Not only is it clear that the two Lutes belong on this New York City stage, they feel like rising stars. The audience erupts after every song, and rises for a long ovation when the show concludes. The next day, the reviews are in.
"Musicals of late have lacked that creative inventiveness that makes your heart soar, your toes tap, with music and storyline that makes your soul long for more. Enter Justin Huertas' musical Lizard Boy… This show is a breath of fresh air… Everything about Lizard Boy makes you want to stand up and cheer."
- Times Square Chronicles
"Huertas' musical palate runs the gamut from hard rock and bubble gum, to plaintive ballads and vintage patter songs. Even better, his lyrics are always clever, often downright sly, and they never feel forced or banal. Of the more than a dozen titles sung here, not one of them is a dud or merely marks time. Frankly, the Lizard Boy score is far superior to the four nominated scores that didn't win the Tony Award on Sunday."
- The Wrap
"The clear highlight of the evening is deLohr, who plays Siren, the mysterious woman from Trevor's dreams. deLohr's voice is phenomenal, her stage presence uniquely commanding."
- The Broadway Blog
Huertas and deLohr don't know what's next for Lizard Boy. This New York run (June 14-July 1) could be extended, it could lead to a second off-Broadway production, it might even catch the eye of a big producer and head to a Broadway theater. This also might be its only time on a New York stage. While the show's future may be a mystery, Huertas and deLohr know what's ahead for them. They will continue their careers as professional musical theater artists, telling new stories on new stages in new cities.
They will continue to challenge, support and encourage each other as they navigate the world of theater together. Their friendship, after all, began with a challenge, all those years ago at PLU: "If you audition for Sally Bowles, you're going to be cast as Sally Bowles."