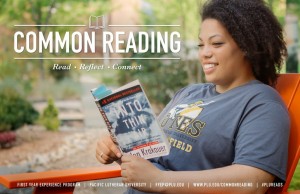 The First-Year Experience Program prepares students for successful participating in PLU's distinctive academic and co-curricular culture by promoting critical thought, impassioned inquiry and effective expression in learning communities that are both supportive and challenging. All first-year students with fewer than 30 transfer credits are required to participate in this program.
Course Offerings
FYEP 190: Inquiry Seminar
These four-hour semester seminars introduce students to the methods and topics of study within a particular academic discipline or field. Students practice the academic skills that are at the center of the General Education Program. Students will find the freshman seminars within each department and will show a title of FYEP 190: Inquiry Seminar.
WRIT 101: FYEP 101: Writing Seminar – WR
These seminars focus on writing, thinking, speaking and reading. Students encounter writing as a way of thinking, of learning, and of discovering and ordering ideas. Working with interdisciplinary themes, students practice the various academic conventions of writing. (4)